Crypto
Best Crypto Penny Stocks to Buy Now
Crypto penny stocks can be easy to profit from if you know what to look for.
Cryptocurrencies have been popular for a while, but are still in a new market. This makes them speculative.
More and more companies are adopting and accepting popular cryptos as payment. Some are even modeling products around them. Like Mastercard and Visa.
Nonetheless, they're speculative, by definition. When trading crypto penny stocks, you must keep this in mind.
Cryptocurrency was born out of frustration with centralized money systems. Specifically, those that are controlled by banks and governments. Although, a much wider audience has jumped into crypto and momentum continues to build.
Crypto penny stocks will ride out the wave, however large and dramatic.
There are many risks to consider. For example, there was a big scandal where Robinhood put a stop to trades on Dogecoin. At first, it said it was "protecting users" and later denied it happened. So, also be careful about which platform you use to trade cryptocurrencies.
Below are some crypto penny stocks that have some room to grow.
Crypto Penny Stocks to Buy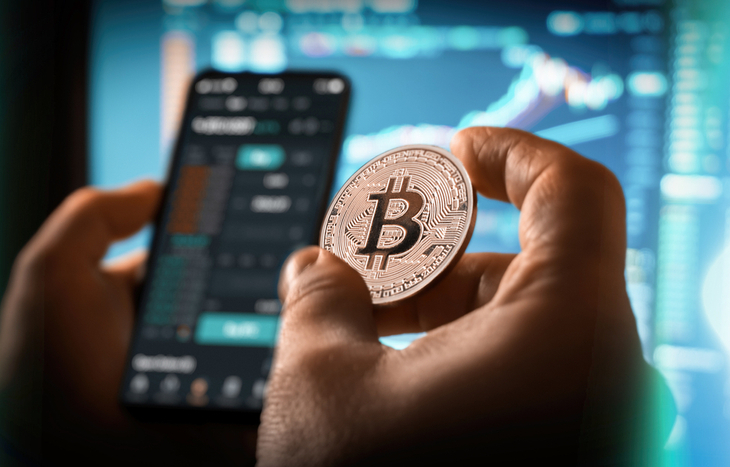 Alpha Esports Tech (OTC: APETF)
HIVE Blockchain Technologies (Nasdaq: HVBT)
Molecular Data Inc. (Nasdaq: MKD)
Bitfarms (Nasdaq: BITF)
DeFi Technologies (OTC: DEFTF)
Before we dig into these opportunities, I want to emphasize the risk again…
Penny stocks are volatile by nature. Crypto penny stocks are even more volatile than that. They can move at ridiculous rates. You can easily lose your entire investment in a matter of seconds when it comes to crypto penny stocks.
In fact, because of this, Robinhood doesn't allow margin to be used on any cryptocurrencies.
Be careful, do your homework (due diligence) on each stock, and avoid randomly choosing crypto penny stocks to invest in.
Best Crypto Penny Stocks
Alpha Esports Tech
I've spoken on a few other posts about Alpha. It's a new company, founded in 2019. It hardly has a record on the stock market, and was only listed a few months ago, in June 2021. And its stock has already had a couple of nice spikes.
What makes this one of the best crypto penny stocks is the industries it's involved in.
Alpha is a tech company that focuses on esports. And if you didn't know, esports are competitive video games that are played between two or more people or teams. Often, there are spectators, too.
It's probably not what you're thinking… just someone in their room playing against another player?
No. These can be huge events. People gather, just like for a traditional sports game. There are stands and tons of multi-colored lights. I recommend doing a quick search for photos. It's pretty incredible.
The esports industry is growing significantly. And it's still young, too. Alpha is a major player in this arena.
Other than esports, Alpha is involved with ecommerce, blockchain and mobile gaming. And all those industries are young and growing. So that makes Alpha poised and ready for enormous growth over the coming years.
If you're looking for bigger companies in the video gaming space, check out these top video game stocks.
HIVE Blockchain Technologies
HIVE is the first publicly traded crypto mining company. It strives to HODL its earnings and thrives on 100% green power. When I say 100% green power, what I mean is that it uses hydroelectric, solar, wind or a combination of those.  HIVE is located in Canada, so it's in a prime place to take advantage of the many rivers that run through the country.
HIVE primarily mines for Bitcoin and Ethereum.
Be very careful if you plan to invest in this crypto penny stock. There's a disclaimer on its website that gives visitors a warning. There are scammers trying to impersonate this company on stock exchanges. The warning says they appear to be offering financial services.
HIVE is NOT a financial services provider. So make sure you look at HIVE's stock description before you invest. If it says they provide financial services, it's not the same company. Find a safer stock exchange and you can buy some HIVE there.
Molecular Data Inc.
Molecular Data Inc is a Chinese company that deals with chemicals. It uses in-house technology and Software as a Service (SaaS) to solve some of the pain points along the value and supply chain.
The company offers e-commerce, financial and logistics solutions. Its website brags that it was "the largest chemical e-commerce platform in China in 2018 and 2017." So it knows what it's doing.
Molecular Data owns multiple platforms and websites. It also recently partnered with investors to introduce global blockchain centers that will hold and manage data. This could be a huge step up for the company and stockholders.
It's also recently been recognized in China's Industrial Internet Industry as one of the Top 30 Outstanding Enterprises.
As one of the best crypto penny stocks, its corporate governance looks good as well. The founder is an expert in biotechnology and has 11 patents to his name. And the CEO has over 24 years of financial and investment management experience.
Overall, Molecular Data is a great company if you want to get into a biotech company with an edge in the tech arena. If you're interested in more biotech stocks under $5, check out that link as well.
Bitfarms
Bitfarms is one of the largest crypto mining operations in North America. It uses hydroelectricity, and mines nearly 13 bitcoins daily. Due to its operations, this is another direct crypto penny stock to buy.
The river it powers its facility from is constantly running. It doesn't dry up or stop flowing. So there is constant, cheap energy being given to this crypto mining operation. This is a more sustainable and lucrative model.
On top of that, it also has an onsite repair lab where it can make its own repairs. There is no need for the company to pay for someone to come onsite, do a few tweaks, then charge thousands of dollars. It's all done in-house.
DeFi Technologies
Crypto is making its way into our lives a little a at a time. DeFi takes crypto blockchain technology and applies it to finances.
DeFi strives to disrupt the financial landscape by breaking the bureaucracy of centralized finance. Consumers get full control of their financial assets. DeFi also strives to provide financial services to those who have none.
They've got a solid leadership team. They posses a strong commitment to the mission. And they're at the front of a transformative industry. DeFi could be a great business to invest in.
Investing in Crypto Penny Stocks and Beyond
Crypto penny stocks provide investors with new ways to grow funds. And they give business owners and clients new ways to complete everyday tasks. These companies are helping revolutionizing the financial market. And they're gaining worldwide attention.
Surely it's worth our time to start paying attention, too. If you're looking for some of the best cheap crypto currencies to buy directly, check out that article. You can also sign up for the free Manward Financial Digest e-letter. With that, you'll hear directly from crypto expert Andy Snyder. He's been sharing with readers the tokens that he thinks will be shaping the future.
---
Vanessa Adelman graduated with an Interdisciplinary degree. She majored in Entrepreneurship, Painting, Music and Film. Shortly after, she received a copywriting mentorship with Mark Morgan Ford. Then, she earned her AWAI Verification. Now, Vanessa freelances in the financial direct response industry. She's been investing since 2016. In her free time, she enjoys books about money and wealth. She loves being with her boyfriend, hunting, fishing and going on outdoor adventures.