Delta stock is off to a volatile start in 2021. However, will airlines continue to struggle due to travel restrictions around the world? What does this major airline have in store over the coming months?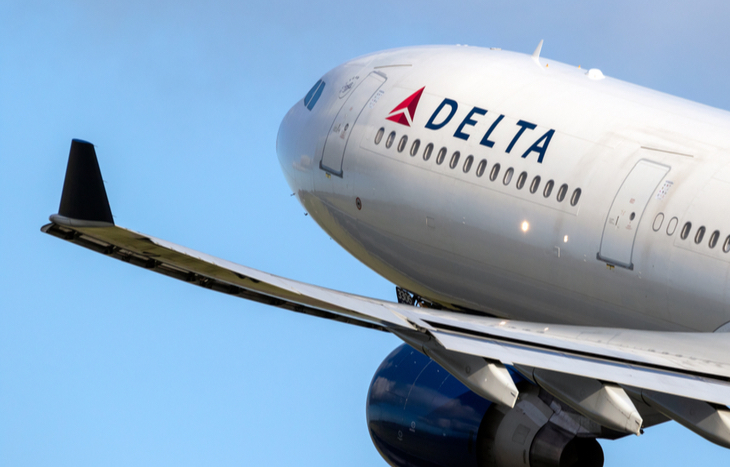 Delta Stock is Coming Off Worst Year in Company History
It's no secret that Delta Air Lines (NYSE: DAL) is coming off its worst year in the company's 95-year history. But will this trend continue into 2021?
Delta isn't the only airline who took a beating in 2020. In fact, all major airline stocks took a hit. This includes United Airlines (Nasdaq: UAL), Southwest (NYSE: LUV) and American Airlines (Nasdaq: AAL).
Yet, Delta is hopeful it will turn things around this coming summer. And that can only mean good news for Delta stock and its investors.
The company is already preparing for a post-coronavirus travel boom by bringing back 400 pilots over the next few months. This is due to the anticipated travel demand in the summer.
According to the New York Times, Delta lost more than $12 billion in 2020. That's a hefty price to pay. And those losses will continue to grow as long as travel restrictions are in place.
Therefore, Delta is hoping America will return to some sort of normalcy before the summer hits. But that doesn't seem to be realistic at the moment.
Vaccine rollouts are well behind schedule and COVID rates are reaching new heights on a daily basis. Only time will tell if Delta stock can rebound during the back-half of the year.
Delta Stock Price Breakdown
Delta is currently trading around $40 a share. However, it was trading around $60 before the pandemic began.
Once COVID-19 led to shutdowns across the United States in March of 2020, Delta stock fell as low as $17.51. But it's slowly worked its way up after a disastrous year.
And there are promising signs according to the latest reports. Reuptable Argus Research analyst, John Staszak, upgraded Delta Air Lines to a buy rating. He believes the company will profit returns in the second half of 2021.
"While the first half of 2021 will be difficult, with management projecting a 60%-65% decline in 1Q revenue, we expect a return to profitability in the second half of the year and in 2022," Argus forecasted. "We note that management expects to lower operating costs by 35%-40% in the first quarter despite the recent increase in fuel costs."
Argus also projects Delta to end the year with a liquidity of $18 billion. It began the year at $16.7 billion.
Critical Year for Airline Stocks
This is a critical year for airline stocks to regain all the momentum lost in 2020. Travel was as strong as ever before the pandemic brought everyone to a halt. But these companies are making major adjustments in what many investors consider a "make or break" year for airlines.
United Airlines is coming off record losses in the billions. Southwest's net losses were also in the billions. The industry, at-large, lost money at never-before-seen levels.
Delta stock was hit as hard as any of its competitors. But there seems to be a light at the end of the tunnel if current projections become a reality.
2021 may be a resurgent year for airline stocks after all. A lot of these projections rely heavily on travel restrictions and the expectation of high travel demands this summer.
And if everything goes to plan, Delta will be ready as it continues to bring back more pilots. Investors, however, will have to keep a close watch on travel updates, vaccine rollouts and worldwide restrictions.
Building Wealth Through the Stock Market
Investing in the stock market is one of the best ways to build wealth in your life. That's why it's so important to find the most profitable ways to invest your money.
Sign up for the Liberty Through Wealth e-letter below to discover the best techniques to building wealth. Financial independence is attainable if you invest your money wisely. And the experts with Liberty Through Wealth do the research for you and provide invaluable tips and analysis.
Investors will watch airline stocks closely throughout the year as the industry tries to rebound as a whole. Therefore, you won't want to take your eyes off Delta stock this coming summer.
---
Corey Mann is the Content Manager of Investment U. He has more than 10 years of experience as a journalist and content creator. Since 2012, Corey's work has been featured in major publications such as The Virginian-Pilot, The Washington Post, CNN, MSNBC and more. When Corey isn't focusing on Investment U, he enjoys traveling with his wife, going to Yankees games and spending time with his family.