Crypto
DEPO Crypto: Why This Small Cap Crypto Is Surging
The DEPO crypto token is a perfect example of how the entire market doesn't move in unison. Since hitting its all-time high in November, Bitcoin has retreated close to 40% in value. Ethereum is down around 34% during that some time frame. And Solana is down a whopping 46% in value.
However, the relatively new DEPO token is up a staggering 1,058% since early November. But to be fair, DEPO is still a penny crypto. It's trading for around $0.16 a token. And its self-reported market cap is just over $48 million. (By comparison, the market cap of Bitcoin is upwards of $789 billion.) So it doesn't take nearly as much interest to push the prices of DEPO crypto higher. On top of this, the DEPO token just debuted the second half of 2021. And it's not uncommon for a new project to see big gains early.
Nonetheless, the interest is there. And it looks to be growing. Plus, to be frank, we like what we see on the DePo project's wish list. DePo has set out to connect the entirety of the crypto-sphere in a decentralized multi-market aggregator.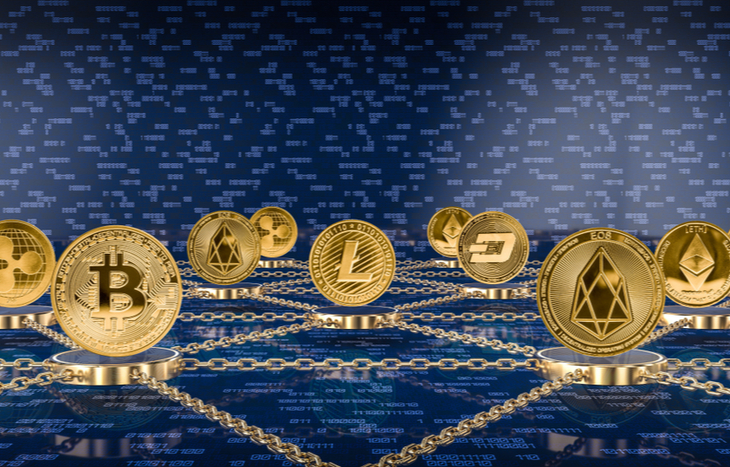 We've seen plenty of similar projects in the past. Stellar has been connecting financial institutions to its blockchain. Connecting with Polkadot allows users to interoperate with a variety of blockchains connected to its network. And while there are plenty of other projects promising to connect the decentralized operations, DePo and its native DEPO crypto stand out. Here are some of the details…
DEPO Crypto and Its Powerful New Interface
We'll start with some of the basics. DEPO crypto has a fixed cap of one billion tokens. And 30% of that total is locked in Unicrypt for a full year. This is done to prove to potential investors that there is a solid long-term road map.
On top of this, there is solid staking potential for this token. This is in addition to a 50% revenue share with holders. And in the near future, the developers behind this project are looking to introduce a tiered referral system to boost interest via word of mouth.
But beyond the DEPO crypto itself is an even more interesting project. Instead of releasing another decentralized exchange, DePo has developed a way to fuse together the order books of various other exchanges all into its own protocol.
This gives investors and traders one interface to use across various platforms. This solves a major headache for investors that have several accounts that they use for access to different tokens. Just the idea that it might not be necessary to go through the know-your-customer (KYC) actions to sign up for access to another exchange makes us warm inside. All you have to do is connect your wallet and execute the order on the DePo decentralized application (dApp). Do note, this is for desktop use only for the time being. And it's helpful to have the MataMask extension on your browser.
Lastly, it's worth noting that DePo's smart contracts have been audited by Safe Solidity and Cyber Unit. On both accounts, the DePo's processes fully passed muster. It always makes sense to be weary of new tokens. There are lots of crypto scams out there. But this one seems to pass the sniff test. And if its list of partners continues to grow, we imagine big things for DEPO crypto as well.
The Bottom Line on DePo
The developers behind this project have already welcomed a veritable who's who in the crypto world into their ecosystem. You can see who the dApp already plays nicely with here. But do know many of the more popular decentralized exchanges are already on the list. What's available on the likes of PancakeSwap, SushiSwap, Uniswap, OpenSea, QuickSwap, etc. should all be able to be accessed through DePo. And that should be enough to excite most crypto investors.
As long as DEPO crypto powers this tool that can provide easy access to so many tokens, NFTs and various DeFi products, the sky really is the limit. At this point, it just boils down to how fast word spreads about DePo… And of course, how fast adoption happens.
That's not to say this is a surefire slam dunk though. If other investors aren't quite as enthusiastic about what DePo is doing, it could never quite catch on at a large scale. But because it helps deal with one of our least favorite aspects of crypto investing, we hope it does. All of those glitchy decentralized exchanges with third-party facilitators (and the seemingly countless steps necessary to buy a token) can go the way of the dodo for all we care. But we'll have to wait and see how many others agree with us.
---