If you signed any type of agreement in 2020 then there's a good chance that you did it virtually. During this process, you were probably sent a virtual document where you "signed" by simply typing in your name. Piece of cake. DocuSign stock gives investors access to one of the companies that helps make this possible. It pioneered the use of the eSignature.
DocuSign currently has about one million paying customers and hundreds of millions of users. It claims to save you $36 in materials per agreement and complete the process 80% faster. If I had to speculate, I might say that the latter is more valuable for companies that have a high volume of contracts to deal with.
In the company's own words…
[DocuSign's] value is simple to understand: legacy, paper-based agreement processes are manual, slow, expensive, and error-prone. We eliminate the paper, automate the process, and connect it to all the other systems that businesses are already using.
This is certainly a strong value proposition. However, what does it mean in terms of a DocuSign stock forecast? Is DocuSign a buy or sell? With DocuSign earnings coming up, this is a question a lot of investors are asking.
Let's take a quick look at a DocuSign stock forecast…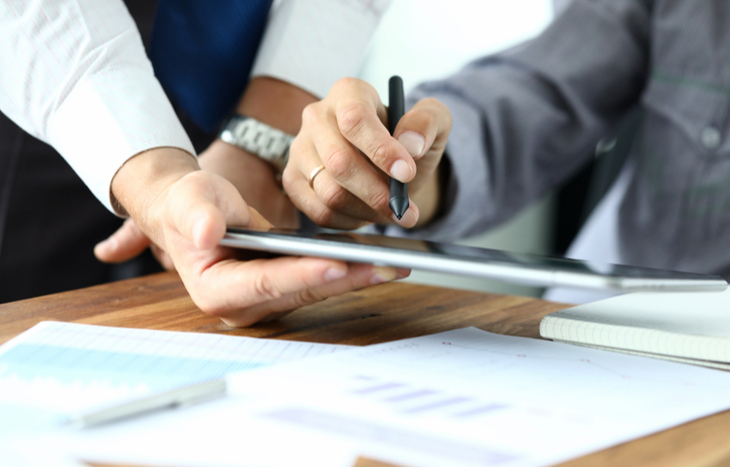 NOTE: I'm not a financial advisor and am just offering my own research and commentary. Please do your own due diligence before making any investment decisions.
DocuSign's (Nasdaq: DOCU) Recent Stock Movements
NOTE: DocuSign reports earnings after the market closes Thursday, September 2nd. Listen to DocuSign's upcoming earnings call here.
Founded in 2003, DocuSign is a fairly young company and just went public in 2018. Since going public at about $40 per share, DocuSign stock has accelerated about 650% and currently sits are around $300. That said, keep in mind that the bulk of this growth came after the COVID-19 pandemic as DocuSign was one of the "artificial winners" of the pandemic.
When I say "artificial winner" I don't mean to discredit DocuSign's business. I just mean that its business was enhanced due to restrictions that were put in place by the government. Since nobody was allowed to be in the office, people couldn't physically sign documents and had no choice but to use DocuSign (or a similar service). Similar things happened with companies like Fiverr, Zoom, Amazon and Shopify, who all offer valuable pandemic-era digital services.
DocuSign stock rose about 200% during 2020 and is up 35% so far in 2021 compared to 20% for the S&P 500.
So how will the upcoming DocuSign earnings announcements impact its stock?
DocuSign Earnings
There are a few outcomes to expect from the upcoming DocuSign earnings report. It could report that growth has slowed now that the worst of the pandemic is over. It could report that growth accelerated faster than it expected as more businesses continue to adopt eSignature. Or it could report that growth has continued as expected.
Whatever the outcome, it's important to remember that it's difficult to tell how investors will react to DocuSign earnings news. It's not uncommon for a company to beat earnings but for its stock to fall. For example, DocuSign could beat earnings but do it by less than investors were expecting, which would likely result in a drop in stock price.
DocuSign stock could also beat earnings but lower its guidance for the rest of the year, which could also result in Docusign's stock price dropping. This is the nature of trying to predict short-term stock movements.
Currently, Wall Street expects DocuSign to report $0.40 per share and bring in revenue of $487.50 million. This would be about a 42% year-over-year increase in revenue as they reported $342.21 million in 2020 ($0.17 per share).
Also, in 2019, DocuSign posted annual revenue of just $700 million. Its management team has placed the company's total addressable market (TAM) near $50 billion, which gives you an idea of just how much room the company has to grow.
In its previous earnings report, DocuSign posted strong growth across the board. This includes a 58% in Q1 revenue, 61% in Q1 subscriptions, and 125% net dollar retention (NDR).
Net dollar retention is a churn metric that measures the percentage of recurring revenue retained from existing customers over time. Below 100% NDR would mean that churn or downgrades were greater than growth. According to Baremetrics, companies should shoot for about 120% which puts DocuSign above the mark.
As it doesn't currently earn a profit, it has no price-to-earnings ratio.
This brings us to the most important question: should you buy or sell DocuSign stock?
DocuSign Stock: Buy or Sell?
After the invention of email, the concept of driving to the post office to stamp and mail a letter seems a little clunky and time-consuming. The same thing could be said today for contract management. After using DocuSign's eSignature technology, it's hard to imagine ever printing out a contract and physically signing it again (unless it's some type of special occasion).
Based on this alone, DocuSign is in a strong position. It can capitalize on a market that most likely won't be shrinking anytime soon. Even though the adoption of eSignature's was accelerated by the pandemic, it's also most likely an inevitable transition as it's just so much easier and faster than the existing method.
As far as the DocuSign earnings report this week, it's difficult to tell how investors may react in the short term. There are also currently a lot of macroeconomic factors to consider such as the risk of the delta variant as well as rising interest rates. Both of these have the potential to impact DocuSign's stock regardless of their earnings report.
With that said, when looking at a longer timeline, there's a good chance that DocuSign's business is much larger a few years down the road than it is right now.
One last thing to note is that, like all businesses, DocuSign has a slew of competitors to be aware of. The biggest is Adobe but the list also includes HelloSign, Airslate and SIGNiX. It's always wise to examine competitors to see if there are any companies that are better poised to dominate the industry.
I hope that you've found this DocuSign stock forecast valuable. Best of luck if you are investing around DocuSign's earnings report. As usual, all investment decisions should be based on your own due diligence and risk tolerance.
If you're looking for even more investing opportunities, consider checking out…
You can also sign up for Trade of the Day below. It's a free e-letter that's packed with investing tips and tricks. You'll hear directly from trading and investing experts.
---
A University of Miami grad, Teddy studied marketing and finance while also playing four years on the football team. He's always had a passion for business and used his experience from a few personal projects to become one of the top-rated business writers on Fiverr.com. When he's not hammering words onto paper, you can find him hammering notes on the piano or traveling to some place random.