Since 2020, the digitization of the world has accelerated rapidly. In the face of the pandemic, remote work quickly became the norm. Two years later, many companies are still operating fully remotely. Very few have returned to a full-time 9am-5pm schedule in the office. As of now, it doesn't look like this trend is reversing anytime soon. For companies that offer digital collaboration tools, this could potentially mean years of increased profitability. Due to this, many investors have been keeping an eye on Dropbox stock.
Dropbox (Nasdaq: DBX) just reported its FY 2021 earnings on February 17. It notched yet another year of revenue growth as well as its first year of GAAP profitability. Could this trend of remote work be a major tailwind for this cloud computing company? Let's take a look at Dropbox stock forecast and find out.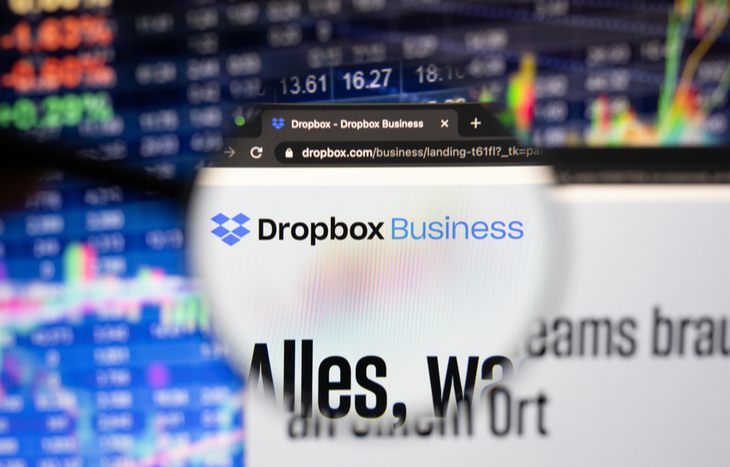 Dropbox Stock Forecast
Dropbox is a leading global collaboration platform. It allows users to store, share, and work on digital documents online. Since these files are stored on Dropbox's cloud, its users can access them from anywhere. Dropbox operates using a freemium model. Its base plan is free and gives users 2 gigs of storage data. Paying users have a choice between two different tiers. The cheaper plan costs $9.99. The premium plan starts at $16.99. As of 2021, Dropbox has 700 million users in 180 countries.
Recent Announcements:
Dropbox doesn't really generate a lot of headlines. In fact, when I searched the news section on its site, it was mainly just financial releases. However, there were a few recent announcements to note:
Laying off 11% of its workforce. In January 2021, Dropbox fired 315 workers. It did this so that the company could better focus on "key initiatives."
Buying back $1.2 billion in stock. In February 2022, Dropbox announced a stock repurchase program.
Recently acquired DocSend. DocSend is a secure document sharing and analytics company.
Let's take a look at how these announcements impacted Dropbox stock.
Dropbox Stock Predictions
Dropbox just recently released its Q4 2021 earnings. It beat analysts' expectations but the stock actually dropped slightly on the news.
Here are the main takeaways:
Q4 revenue of $565.5 million, up 12.2% YoY. This beat expectations by 1.27%.
Q4 EPS of $0.41. This beat expectations by 12.44%.
FY 2021 revenue of $2.16 billion, up 12.7%.
FY net income of $125 million.
In 2021, Dropbox stock finished up 5%. However, since 2018, it is down approximately 20%. With that said, let's take a look at whether Dropbox stock is a buy or not.
Is Dropbox A Buy? Potential Upsides
Dropbox's business model is incredibly strong. To start, the cloud computing industry is very lucrative. In today's world, almost every individual and business needs some type of cloud computing. Additionally, Dropbox uses a subscription model and makes about $135 per paying user. This translates into very strong annual recurring revenue (ARR). In 2021, Dropbox had annual recurring revenue of $2.26 billion.
This style of revenue (ARR) makes most companies drool. This is because it's so much easier to keep existing customers than it is to acquire new ones. Additionally, once users have signed up, it's much easier to upsell or cross-sell them new products. This is especially true in the cloud computing space where switching tools is such a hassle. This is part of the reason why Dropbox's revenue has grown consistently for years.
Another notable figure was Dropbox's GAAP gross margin. It reported FY 2021 gross margin of 79.5%. Very strong.
On top of that, Dropbox is still led by its founder. Drew Houston founded Dropbox in 2007 and still serves as its CEO. In general, founder-led companies tend to be more successful. These are most of the upsides to buying Dropbox stock. It has a strong business model, consistent growth, and could ride the tailwinds of remote work.
Last, Dropbox also just delivered its first full year of GAAP profitability in 2021.
With that said, let's take a look at some of the downsides to buying Dropbox stock.
Is Dropbox A Buy? Potential Downsides
The biggest downside to buying Dropbox stock is competition. Dropbox operates in the cloud computing industry. As mentioned, this industry is profitable but very crowded. Dropbox competes directly with Amazon Web Services, Microsoft Azure, Google Drive, and iCloud. That's like entering a 1v1 basketball tournament only to find out that Lebron James, Michael Jordan, Kobe Bryant, Magic Johnson, and Shaq are also playing. To succeed, Dropbox will need to beat out all of these tech goliaths.
In the short term, the cloud computing market is big enough for Dropbox to carve out a piece. However, in the long term, it's tough to see Dropbox really thriving. For reference, Dropbox reported FY 2021 revenue of $2.2 billion. During the same period, Amazon Web Services earned $62 billion. To be fully honest, I'm not an expert in the intricacies of each tool. However, it doesn't seem like Dropbox has a sustainable competitive advantage over any of these other services. AWS, Azure, Google and iCloud have much bigger product ecosystems that make them more attractive to consumers. Due to this, it's hard to imagine Dropbox ever gaining notable market share.
Additionally, Dropbox stock just doesn't seem to move much. Google finance has Dropbox data back to 2018. Since then, it is down approximately 20%. For the most part, it has hovered between $20-$30 per share. This is during times of record volatility. In 2020, many "pandemic stocks" like Zoom, Peloton, Etsy experienced record growth. Some of these stocks rose over 300%. It's interesting that a digital collaboration company like Dropbox barely moved.
I hope that you've found this Dropbox stock forecast to be valuable! As usual, please base all investment decisions on your own due diligence and risk tolerance.
---