Duke Energy stock is on investors' radar as it outperforms the S&P 500 in 2022. People want to know the latest information on the company behind the stock and if they should invest. Here's what you should know…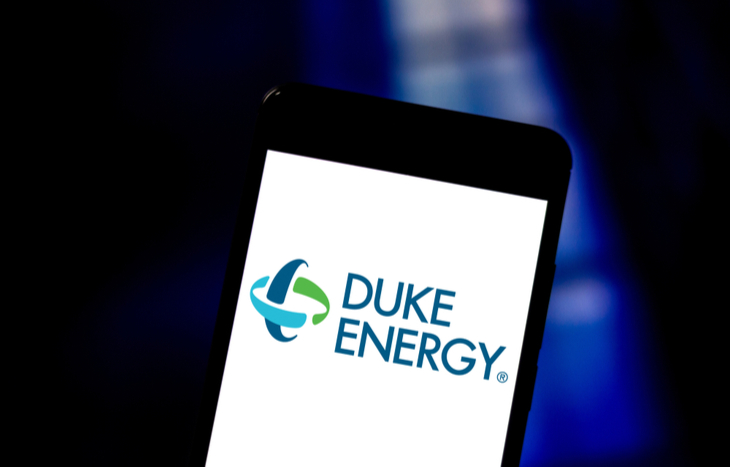 The Company Behind Duke Energy Stock
Duke Energy (NYSE: DUK) is the largest electric utility company in America. It's a Fortune 500 company headquartered in Charlotte, North Carolina. Moreover, it's credited among Fortune's 2022 "World's Most Admired Companies" list and Forbes' "America's Best Employers" list.
Duke Energy offers electric utility services to 8.2 million customers and gas services to 1.6 million customers. It operates across six states including North Carolina, South Carolina, Florida, Indiana, Ohio and Kentucky. Furthermore, the company collectively owns 50,000 megawatts of energy capacity.
Duke Energy is also taking big steps to push for green energy. In February, Duke Energy announced plans to execute an aggressive clean energy transition, saying…
We're executing an aggressive clean energy transition to achieve our goals of net-zero methane emissions from our natural gas business and at least a 50% carbon reduction from electric generation by 2030 and net-zero carbon emissions by 2050. The 2050 net-zero goals also include Scope 2 and certain Scope 3 emissions.

In addition, we're investing in major electric grid enhancements and energy storage, and exploring zero-emission power generation technologies such as hydrogen and advanced nuclear.
Many energy companies will have to take strides to adopt climate-change strategies as we move to the new energy reality. And Duke Energy is taking a leadership role within the energy industry in its game plan to go green. So, what does this mean for Duke Energy stock? First, let's look at the company's performance…
Duke Energy Stock Price Prediction and its Performance So Far
Duke Energy stock recently reported its earnings for annual 2021. The company reported operating revenue of $25.1 million, representing 5% growth from its $23.9 million in 2020.
Moreover, the company reported earnings per share of $4.94 in 2021. This represents a staggering 187% increase from the year before. And this presents a good opportunity for investors of Duke Energy stock.
Furthermore, Duke Energy stock is up nearly 9% so far in 2022. This may not seem like a big deal. However, when you consider that the S&P 500 has fallen nearly 12% this year, this isn't too bad at all.
Duke Energy stock is a long-term player. It's up over 36% in the past five years and over 1,000% since it came to the market. And these numbers climb even higher when including dividends. So, how much could Duke Energy stock return for investors in the next few years?
Is the Duke Energy Stock Forecast Promising?
Advantages of Duke Energy Stock
Duke Energy is a consistent dividend provider with a track record dating back over 96 years. Duke Energy stock is a good choice for investors looking for a high yield to add to their portfolios. Furthermore, the company has a history of rewarding its investors with dividend raises. The dividend payout has risen annually for the past 16 years.
Furthermore, Duke Energy has a $37 billion growth capital plan that will go until 2024. The company predicts that these projects will drive earnings growth of 4% to 6% (along with dividend growth similar to that).
Duke Energy's long-term plans to go green are crucial as we race toward clean energy. Moreover, the company's carbon emissions have gone down by over 40% since 2005. And the company's commitment to be net-zero on carbon emissions by 2050 makes the Duke Energy stock forecast look promising.
Disadvantages of Duke Energy Stock
A mild environment and volatile market activity can have a major impact on Duke Energy's short-term financial results. Although these are temporary issues, they should have little to no impact on the company's long-term growth.
In the long run, Duke Energy stock faces risks with potential changes from increasing environmental regulations. Also, the company faces considerable risk when it comes to implementing new projects worth billions.
Each state sets Duke Energy's rates. However, this is a lesser risk as Duke Energy's operating regions are generally supportive regulatory environments. Furthermore, they're characterized by positive population growth and strong economic development.
The future of Duke Energy looks promising. So, is now a good time to buy Duke Energy stock?
Is Now a Good Time to Invest in Duke Energy Stock?
Overall, the Duke Energy stock forecast appears to be strong. As the largest electric utility in the country, it possesses a wide scale with a diversified portfolio of complementary businesses. The company is positioned for growth with its projects and efforts toward cleaner energy.
Duke Energy stock could be intriguing to investors who want to see dividend income flow into their accounts. Moreover, if you can buy and hold, the company will likely raise its dividend even more in the years ahead. For other dividend investing opportunities, check out these top monthly dividend stocks.
Moreover, make sure to do your own research before investing in Duke Energy stock. The markets are always moving and you should be aware of the risks involved. There are also many other investment opportunities to consider today…
---