Crypto
Ethereum Classic Price Prediction: How Long Can It Keep Going Up?
When it comes to making an Ethereum Classic price prediction, there are some key technical indicators to look at. But first, let's go over some fundamental details.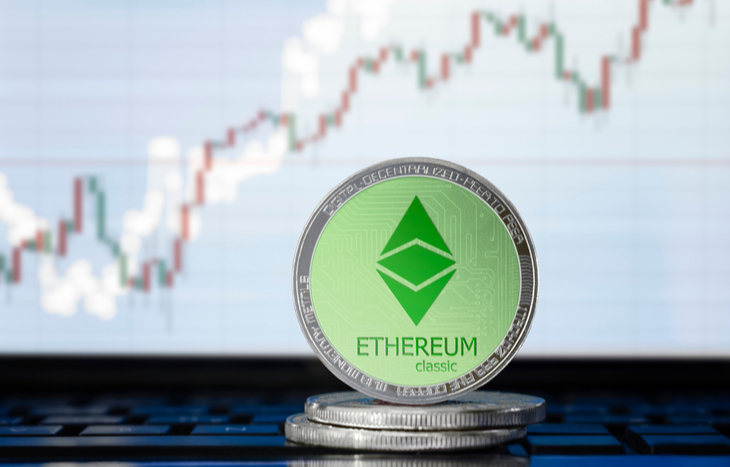 Ethereum Classic (ETC) is a different version of Ethereum (ETH). Both of these cryptos support the use of "smart contracts." Smart contracts are programs stored on a blockchain. They are most often used to automate tasks when certain conditions are met. For instance, if a transaction is made, a smart contract can rapidly execute the agreement so that all parties involved immediately know the outcome.
A key difference between Ethereum Classic and Ethereum is that Ethereum runs on a proof of stake model. This means that the more coins someone owns, there more mining power they have. Ethereum Classic runs on the more common proof of work model. This is a way of validating transactions and mining new tokens by way of a decentralized consensus mechanism.
The other key difference between these two cryptos is that while Ethereum Classic has a permanent supply of 210 million coins, Ethereum's supply can change. This means momentum and increased demand can have an even bigger impact on Ethereum Classic's value because supply is limited. But there's even more reason to be bullish on Ethereum Classic… despite the wild run it's already been on.
On to Our Ethereum Classic Price Prediction
Ethereum Classic's price seemingly shot up out of nowhere. While Bitcoin, Ethereum and Dogecoin have been garnering much of the attention this year, Ethereum Classic operated under the radar. But this late bloomer is quickly making up for lost time. And now that it's broken far above the price it had previously seen resistance at, it appears the sky is the limit.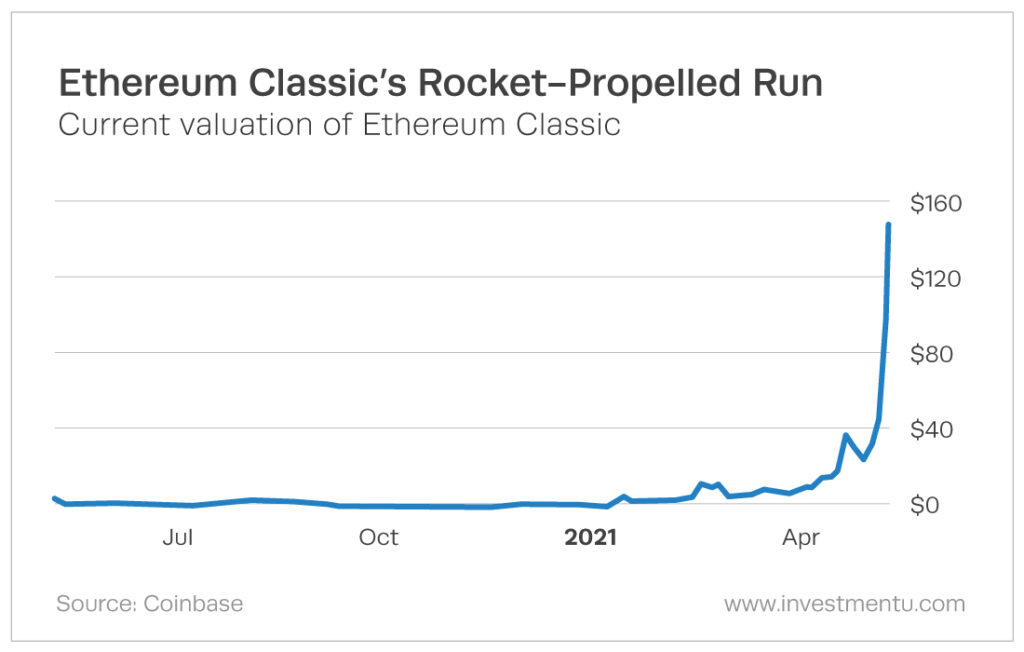 But what goes up this fast can easily come down just as quickly. Earlier this year, Ethereum Classic found resistance around the $40 mark. But now that it is trading far above its 50- and 200-day moving average, there's clearly a bullish opinion circulating in the markets. And this could provide a level of support for the crypto's value should a correction take place.
Looking back at Ethereum Classic's history, we see that once it's broken past resistance price points, it's unlikely to fall back below those levels. The big exception, of course, was the significant correction that hit it (and all cryptos) in 2017. But it's also clear that Ethereum Classic is currently overbought. Any investment that surges more than 2,200% in just five months is simply overperforming. You can't redline an engine for too long without burning it out.
Ethereum Classic Price Prediction: The Bottom Line
Ethereum Classic has been a sleeper crypto for a good chunk of the year. But thanks to a major update to Mantis (you can watch the YouTube announcement here) that brought added levels of security and usability, it seems investors began to get interested. And it doesn't hurt that Ethereum Classic is a close relative to the second-biggest crypto out there.
Once the action cools down and Ethereum Classic drops down to a more reasonable price (probably around $100), it's likely to stabilize for a bit before picking back up.
Adoption of Ethereum Classic is clearly growing. And we've seen a spike in recent interest in the coin from institutional investors. Grayscale Investments – a subsidiary of Digital Currency Group – recently released the Ethereum Classic Investment Trust. In the process, CEO Barry Silbert revealed that the company holds 3.6% of the total Ethereum Classic supply. According to Silbert…
We're excited about Ethereum Classic (ETC), as opposed to Ethereum (ETH), because ETC has a fixed supply and the potential to serve as the smart contract and micropayment layer to the Internet of Things.
This bodes extremely well for Ethereum Classic in the long run. Demand for cryptocurrencies as a whole continues to rise. And now investors large and small are recognizing Ethereum Classic's potential as not just a store of value, but also as a safe haven asset against market volatility. That means this crypto is currently far below where its price should be headed. But for short-term investors, it's still a little overheated. So when it comes to making an Ethereum Classic price prediction, the feeling is that we haven't seen anything yet…
If you'd like to stay up to date on all the action guiding the crypto markets, we suggest signing up for Manward Financial Digest. In it, crypto expert Andy Snyder helps guide investors through all the confusing ups and downs affecting cryptocurrency while pointing out the coins poised to take off.
Read Next: The 5 Best Cryptocurrencies to Invest in for 2021
---
Matthew Makowski is a senior research analyst and writer at Investment U. He has been studying and writing about the markets for 20 years. Equally comfortable identifying value stocks as he is discounts in the crypto markets, Matthew began mining Bitcoin in 2011 and has since honed his focus on the cryptocurrency markets as a whole. He is a graduate of Rutgers University and lives in Colorado with his dog, Dorito.