Fanatics stock has the potential to shake up the market. In fact, many investors continue to speculate that a Fanatics IPO is coming sooner rather than later. However, this retail company isn't planning to make its debut before the end of the year. Let's take a closer look at Fanatics and why it's becoming a hot topic in investing circles.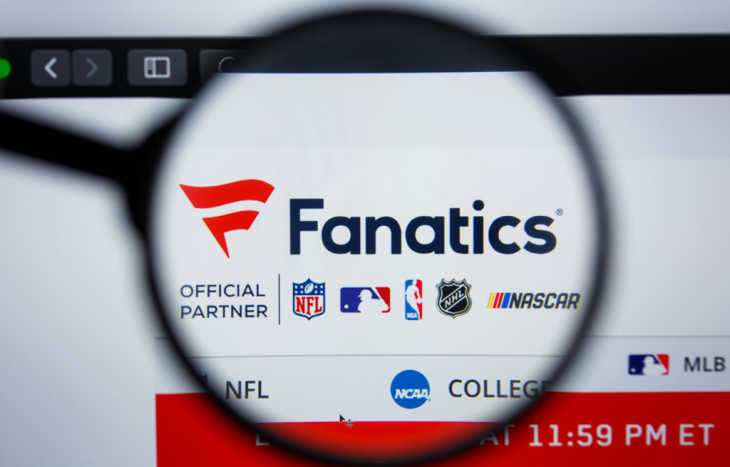 Fanatics IPO: Is Fanatics Stock on the Way?
Fanatics is an American online manufacturer and retailer of licensed sportswear, memorabilia, collectibles, trading cards, non-fungible tokens (NFTs) and other merchandise. Moreover, it's recently decided to expand into the rapidly growing online sports betting industry.
In 2021, speculation was raging that a Fanatics IPO was coming after the company reached deals with Major League Baseball (MLB), the National Football League (NFL) and the National Basketball Association (NBA) to become the sole producer of each league's trading cards. Fanatics also bought Topps in January of 2022 for a reported $500 million.
These deals represent Fanatics' power within the industry. Yet, Fanatics stock was not in the cards up to this point. But now it's an e-commerce giant in the sports industry with a valuation of $27 billion after its latest $1.5 billion funding round.
This alone is making investors optimistic over its market potential. And its historic growth has many experts believing an intial public offering is inevitable. The only question is when.
The Story Behind Fanatic's Historic Rise
Michael Rubin is the CEO of Fanatics. Rubin bought Fanatics from its founders, Alan and Mitchell Trager, in 2011. He merged the company with his own apparel and logistics company known as GSI Commerce. He went on to sell GSI Commerce to eBay (Nasdaq: EBAY) later that year for $2.4 billion at the age of 38.
However, he bought back the sports e-commerce business at a cut price and secured the Fanatics name for the new company moving forward. Rubin was also a part owner of the NBA's Philadelphia 76ers and the NHL's New Jersey Devils before selling his ownership stakes to focus on Fanatics.
As you can see, he knows the in's and out's of the sports industry and business in general. Furthermore, he has the network and know-how to make Fanatics the premier place for sports merchandising. And quite frankly, he's already done it. Fanatics already has deals with the "Big 3" sports to produce its trading cards. It also has partnerships with NASCAR, the NHL, MLS, Formula 1 and other major sports organizations around the globe.
It's a fascinating story. And it's why many investors believe Fanatics stock will be a game changer if the company decides to go public. In my opinion, a Fanatics IPO makes perfect sense. And the company's growth suggests it will be worth more than $100 billion if and when it hits the stock market.
Will Fanatics Go Public?
Seasoned investors are always looking for startups and other businesses that have stock market potential. However, there aren't many out there with the power and size of Fanatics that aren't already publicly-traded. And with the leadership of Michael Rubin, there seems to be no limit to the company's potential in the sports merchandising industry.
In addition, its expansion into online sports betting is another sign of the company's forward-thinking strategy. In general, Fanatics is becoming a household name. You've probably used its website to purchase your favorite team's jersey, hat or other memorabilia at some point or another.
However, a Fanatics IPO is purely speculative at the moment. There are no plans in place for Fanatics stock to hit the market. While it seems likely to happen in the future, there isn't a timetable in place that is public knowledge.
Many experts believe Rubin is waiting for the current market downturn to subside. Others believe he's waiting for the company's valuation to hit $100 billion. Nevertheless, investors will be lining up for this stock if it does go public down the road.
Investing in IPO's
Learn more about the IPO process before making any investment decisions on new listings. Overall, these stocks can be extremely volatile for the first few days, and even weeks, after trading begins.
To further expand your investing knowledge, sign up for one of the best investment newsletters. There are many experts with decades of stock market experience who provide daily insights, trends and financial analysis for no cost at all. Therefore, you won't be behind the news if and when a Fanatics IPO makes headlines.
The next big stock market mover is out there. Do your due diligence and expand your research. This will help you protect your portfolio and also help you find more investment opportunities while you wait for Fanatics stock.
---