Year-to-date, Fisker's (NYSE: FSR) stock is down around 26%. Fisker has a new way of making electric vehicles, which may lead to great things for the stock. Fisker is an electric vehicle maker. Like many of its competitors, Fisker stock forecast has had a rocky year so far.
Investors may need patience if they believe in Fisker stock. The company has not yet sold its first electric vehicle. Though its first model, named Fisker Ocean, will start production in November 2022. Fisker has already received over 30,000 retail orders and 1,600 fleet orders for the new model.
The Fisker Ocean is an electric five-passenger SUV. Owners of the SUV can drive it between 250-350 miles on a single charge. The Ocean also comes with all of the newest driver assist bells and whistles that electric vehicle owners have come to enjoy.
Fisker expects its Fisker Ocean Ultra model to retail for $49,999. In addition, the company expects its Fisker Ocean Sport model to retail for $37,499.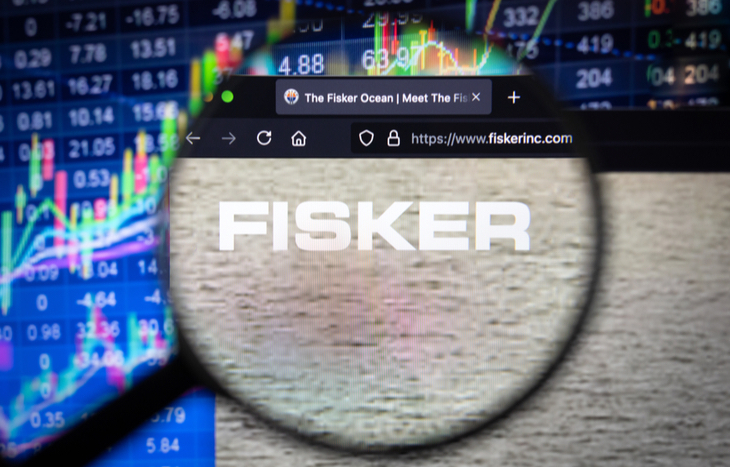 A New Approach to Production
Fisker stock forecast boasts an asset-light approach to making its electric vehicles. The company calls its model the Fisker Flexible Platform Agnostic Design (FF-PAD). According to Fisker's most recent annual report, FF-PAD is a process that allows the design and development of a vehicle to be adapted to any given electric vehicle. Its asset-light model means that Fisker will be able to produce its cars with less money than other electric vehicle makers.
FF-PAD helps electric car makers with rapid decision-making, focused supply chain management, and outsourced production. It also reduced development costs and time-to-market, which created a new business model for the industry. Fisker's model can get new car models into the market faster, more efficiently and with more modern and advanced technology than competitors.
Traditional carmakers can invest billions of dollars to build plants. Fisker aims to reduce the amount needed to make its cars by having partners to the work. Through agreements with other companies like Magna International (NYSE: MGA), the company plans to outsource. These companies will build the parts and components for Fisker electric vehicles.
By using a network of partners, Fisker can dramatically reduce the amount of money it spends on manufacturing.
Keep reading for more info on Fisker stock forecast.
Convenient Vehicle Service
When new Fisker models hit the market, they'll need service like any other car. The company plans on making service easier for owners. Customers will not have to make an appointment with the service station and lose access to their care while 'in the shop.'
The company says there are two reasons that their cars will need work. First, can find problems all by itself. In addition, the driver may notice something wrong with the car.
When either of these things happens, the Flexee app notifies owners. Next, the driver can schedule a pickup at a convenient time and location. After that, service providers will pick up the car, fix it, and deliver it back to the driver. Fisker expects that drivers will eventually be able to have work done on their vehicles without being present.
The company's service model will also be built through partnerships. Fisker plans to create a network of auto shops that agree to do service requests, pickups and deliveries. Because the network will not require Fisker to build dealerships to do the work, the service network will save the company a lot of money.
Keep reading for more info on Fisker stock forecast.
Fisker Stock Forecast
On February 16, Fisker put out a press release about its results for 2021. The release noted that the company has about $1.2 billion in cash. The money will be enough to fund the launch of the Fisker Ocean. In addition, orders for Fisker Ocean grew more than 400% to an annual pace of 55,000.
On top of that, the company announced its follow-up model, the Fisker PEAR. The company has agreed with Foxconn (TAIWAN: 2354.TW) to make the cars in the U.S. Further providing value to the company, Foxconn is based in Taiwan and is already integrated with the auto supply chain.
Readers may be worried about Fisker's outsourcing. As you probably know, the process will rely on its supply chain. Recently, the global supply chain has had some severe issues. COVID-19-related shutdowns and low employment have led to massive slowdowns. Carmakers have been one of the hardest-hit industries. Supply chain issues are a risk that investors must think about.
The press release also included Fisker stock forecast's 2022 business outlook. The company expects total expenses for the year to fall between $715 million to $790 million. The company broke out expenses into three items. Fisker expects research and development costs to be between $330 million and $380 million. Selling, general and administrative costs expected between $105 million and $120 million, and capital expenses between $280 million and $290 million.
---