Prices of energy stocks are soaring, with oil and gas stocks particularly high. The conflict between Russia and Ukraine has caused gas prices to skyrocket, driving up their corresponding stocks. While that spike may not last, energy stocks can be great stocks to buy as they pay regular dividends and consistent returns. In this article we'll examine the best energy stocks to buy now. 
Hence, if you are looking for some good stocks to buy during a period of economic uncertainty, energy stocks are a strong candidate to buy and hold in the current climate and beyond.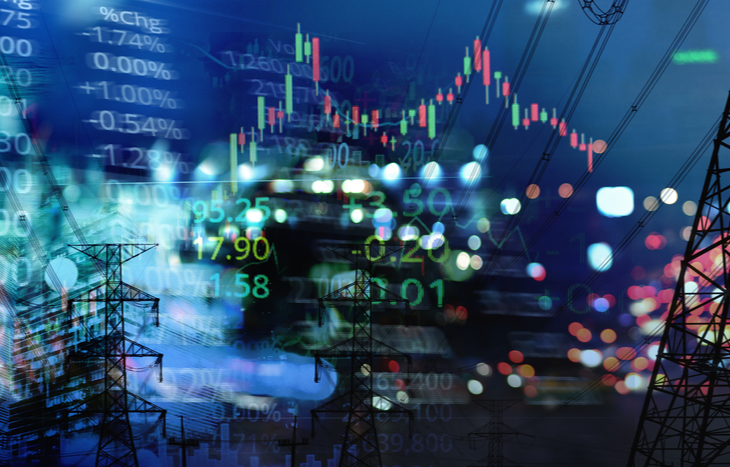 Top Five Energy Stocks To Buy In 2022
Here are some of the best energy stocks to buy in 2022:
NextEra Energy (NYSE: NEE)
Brookfield Renewable (NYSE: BEP)
ConocoPhillips (NYSE: COP)
Shell PLC (NYSE: SHEL)
Chevron Corp (NYSE: CVX)
No. 5 NextEra Energy
NextEra Energy is one of the largest electric utility companies in the U.S., so it's a natural choice for this list of energy stocks to buy. But it's also a leader in renewable energy generation; in fact, that is how the company is positioning itself today. With over 70 GW of renewable energy capacity, it has the fourth-most in the country. To give you an idea of its size, NextEra provides electricity to more than 11 million residents in Florida alone.
NextEra (NEE) has a market cap of over $150 billion, quite large among energy companies. Its net income was $1.2 billion in Q4 2021 with a healthy profit margin of 24%. Its share price has also climbed steadily in the past two years, up about 65% since its pandemic low in March 2020. It also pays a dividend of about 2%. Look for shares of NEE to continue selling higher in the next year.
No. 4 Brookfield Renewable
Brookefield Renewable is a Toronto-based energy company that operates a portfolio of hydroelectric, wind, solar and storage facilities. It generates power in North America, Colombia, Europe, Brazil, China and India. It also has an energy transition segment that distributes biomass, cogeneration and pumped storage.
Brookfield Renewable has a market cap of about $25 billion. Its share price has about doubled since its low in March 2020; however, its share price declined throughout 2021. Recently though, its shares have spiked, putting them back over the $40 mark. It also pays a dividend of about 3%, which is good for the energy sector. The company is not currently profitable, but it has increased its net margin by nearly 67% year-over-year (YOY). However, analysts don't expect a big increase in its share price – or even a decline. Thus, this energy stock to buy is best to hold for its dividends or to diversify your strategy.
No. 3 ConocoPhillips
ConocoPhillips is the largest crude oil producer and owner of exploration leases in Alaska. The company is a diversified oil and gas producer with approximately 1.3 million net undeveloped acres as of year-end 2020. According to the company, its average cost of supply was $30 per barrel in 2020 with a resource base of 15 billion barrels.
In terms of market cap, ConocoPhillips is large, though not as large as NextEra, valued at about $125 billion. However, its stock is undervalued according to some analyses. In addition, the company's share price has nearly quadrupled since March 2020. Its dividend yield is just under 2%, and in Q4 it had a net profit of 17%. Shares of COP are on about the same trajectory as NEE over the next year.
No. 2 Shell PLC
Most consumers equate Shell with its gas stations featuring its yellow and red logo. But this energy stock to buy now, which was founded in 1907 and is based in London, is shifting its focus beyond gas. In fact, the company has pledged a commitment to reduce its emissions to net-zero by 2050. The goal is to align with the Paris agreement's most ambitious goal of limiting global temperature rise to 1.5 degrees celsius. But for now, the company continues to produce oil and gas.
Shell is quite a large company. It has a market cap of $192 billion and had $85 billion worth of revenue in Q4 2021. The company's income was negative in Q3, but in Q4 it was profitable again with a net margin of 13%. Its stock price has nearly doubled since 2020 and it pays a dividend of nearly 4%. Despite this, it is undervalued according to some analyses. Look for its share price to increase modestly in the next year.
Energy Stocks to Buy No. 1 Chevron Corp
Chevron is the second-largest energy company in the U.S., primarily producing oil and gas. It also produces chemicals and operates over 6,800 Chevron gas stations. While Chevron has been focused on oil and gas in the past, it is also involved in the research and development of renewable energy sources, such as renewable fuels for planes.
This company is worth nearly $325 billion in terms of market cap and has benefited greatly from the resumption of travel with the easing of the pandemic. Its share price has more than doubled since March 2020 and it is up by about $50 just since the beginning of 2022, making it a great add to your list of energy stocks to buy. It also pays a dividend of more than 3%. 
Chevron earns a consistent profit and its net margin of 11% in Q4 2021 was up more than five times YOY. The company had revenues of about $45 billion, although its net change in cash was a loss of $230 million. Analysts expect the price of CVX to remain relatively flat over the next year, though, as mentioned, the stock does pay a decent dividend.
---