It's no secret that gas station stocks are rising through the roof. And the driving force behind them are the insane gas prices. They have been climbing since before Russia attacked Ukraine. And that only made prices go higher. Countries, including the U.S. began boycotting Russian oil. And other goods and services. And since the U.S. imported oil from Russia, that gave prices another huge surge.
Apparently, we are dipping into our own oil reserves to keep ultra-high prices at bay. And that can only last for so long before that will drive up cost even higher. So, long story short, gas prices are rising. They've hit an all-time high, and are continuing to rise. Plus, more people are getting out and taking vacations. Which will also contribute to its inflation.
And, things are almost back to normal as far as coronavirus goes. So, that is just one more factor in a long list that are pushing gas up.
There's no telling how high prices could go this year. They could go much higher. Or, they could top out where they are now. That doesn't look likely, but it's possible.
And, gas stations are another source of business that enjoy these high prices. Because people are buying more gas with better profits. Which means more profit along the entire supply chain. Especially the gas stations who are selling it to consumers.
So, I've put together a list of some of the best gas station stocks to do some research on.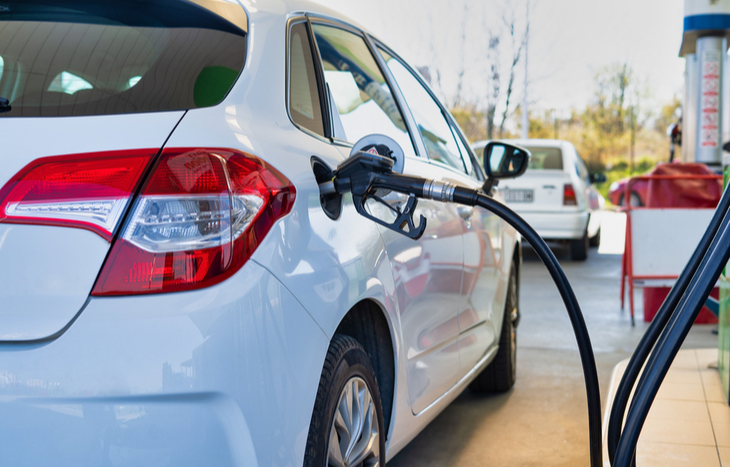 Best Gas Station Stocks
Marathon Petroleum Corp (NYSE: MPC)
ExxonMobil Corp. (NYSE: XOM)
Valero Energy Corporation (NYSE: VLO)
Chevron Corporation (NYSE: VLO)
BP Plc (NYSE: BP)
Phillips 66 (NYSE: PSX)
Murphy USA Inc. (NYSE: MUSA)
ConocoPhillips (NYSE: COP)
Total Energies SE (NYSE: TTE)
Petrobras [Petroleo Brasileiro ADR Reptg 2] (NYSE: PBR)
Gas Station Stocks to Buy
No. 10 Marathon Petroleum Corp
Along with some large growth lately, Marathon sports a 3% dividend yield. This gas station stock headquarters in the U.S. in Ohio. It recently partnered up with Neste. Neste is a Finnish company, in the renewable oil and gas industry. And it's planning to create a project together. It's called the Martinez Renewable Fuels Project. The company is using it to help support California's initiative for climate change.
No. 9 ExxonMobil Corp.
Although this gas station stock has not reached all-time highs, it's chugging its way up there. And, it's had some very intense growth these past few months. Which makes sense. Because these gas station stocks reflect the oil and gas price pattern. Exxon also has an awesome dividend yield of over 4%.
They have large ambition. And recently, Exxon made it clear they want to achieve net-zero emissions. The company is doing that by creating a facility that captures and stores carbon.
No. 8 Valero Energy Corporation
This gas station stock is a little different that the others. It sells gas and oil, of course. But, also acts as a marketer. This stock had some huge growth in 2018. And now, it looks like it's headed that way again. Plus, Valero gives a dividend yield of over 4%.
They've recently been attending investor conferences. And, is continuing to pay down its debt.
No. 7 Chevron Corporation
Chevron gives a dividend yield of 3.4%. Many of these gas station stocks produce dividends. And that's great, but don't buy them only for the dividends. Sometimes, if the stock price rises, the dividend will, too. And sometimes, when it rises, the dividend will fall. It all depends on the company. The dividend is not directly linked to share price.
So, to know how the company raises and lowers dividend yield, you've got to do your due diligence.
No. 6 BP Plc
With a 4.75% dividend, BP has certainly made a comeback since its huge spill back in 2010. They're a British company. And it's headquarter in England. As of one the world's "supermajor" oil and gas companies, they are among the largest. Recently, they gave some insider information. The press release specified they'll be pulling out their investment in Rosneft. And Rosneft is a Russian oil and gas business.
No. 5 Phillips 66
This gas station stock is a brand owned by ConocoPhillips. And it produced Phillips 66 to leverage its midstream assets. Recently, the company attended the Goldman Sachs Global and Clean Energy Conference. They've also announced greenhouse gas reduction plans. And bought up all stocks of Phillips 66 Partners.
The stock sports an almost 5% dividend yield.
No. 4 Murphy USA Inc.
This gas station stock is a spin-off of Murphy Oil, and has been ranked on the Fortune 500 list. And, the company owns a few different brands. Including MurphyExpress and Quikchek. They make sure to place gas stations near Wal-Mart stores. So, it makes fill-ups convenient for the customer, and naturally brings more business.
Plus, leadership looks great. They have a full committee of advisors and leaders. And they're very organized about how those leaders influence the company.
No. 3 ConocoPhillips
Dividend yield for this gas station stock is around 2.5%. And, ConocoPhillips not only have gas stations, it also explore for and produce oil and gas. The company recently sold its assets in Indonesia. And, they've been very busy trading debt. ConocoPhillips does business across 14 countries. And, the company employs almost 10k people. Plus, they have an incredibly long history. It began all the way back in 1875 with the founding of Continental Oil and Transportation.
No. 2 Total Energies SE
A French company, this gas station stock is one of the "supermajor" oil companies in the world. And, it has plans for 13 million customers in Europe by 2025. The company hires over 100k employees. Another neat aspect of Total Energies is that it invests in "carbon sinks." Basically, they buy land and forests. Then, the company manages and plants trees that will soak up a bunch of carbon and turn it into oxygen.
Gas Station Stocks No. 1 Petrobras [Petroleo Brasileiro ADR Reptg 2]
This Brazilian gas station stock has plans to be the best in the industry. And for Petrobras, that goes for gas and oil, safety and ethics. The company's mission states the following: it exists to provide energy that ensures prosperity in a safe and ethical way.
And the company's vision is to be the best in value creation, with a focus on oil and gas.
---