Investors are eager for the Flexport IPO. The company is pivotal to the freight forwarding industry with its automation and modern logistics platform.
So, when can investors expect to see Flexport stock on the public market?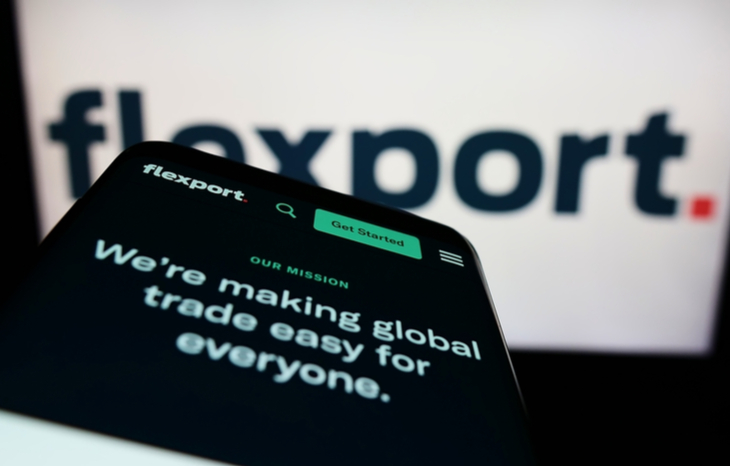 Flexport IPO: About the Business
The purpose of Flexport is to modernize and fix the freight forwarding industry. Think of the company as an operating system for global trade. The company started as a solution to a problem. International shipping processes were stuck in another decade, so Founder Ryan Peterson recognized the potential to disrupt the freight forwarding industry in 2013.
Overall, freight logistics and transportation is a trillion-dollar industry. Moreover, it covers a lot of different aspects of global trade. Freight forwarding includes the coordination of shipping, packaging, loading and hand-offs. As a result, goods can get from the manufacturer to another location to a market, customer or final point of distribution.
Using software-as-a-service (SaaS), Flexport helps businesses manage international shipping and supply chains. It offers leading cloud-based software and analytics services for global trade. The company provides a global logistics platform and freight forwarding services to enhance the user experience in global trade through innovation.
In other words, global traders can access this platform to easily conduct business. It automates the process, making it easier for both clients and suppliers. Moreover, it offers a unique, forward solution to problems surrounding an outdated industry. And with a Flexport IPO, investors will have a chance to buy into this groundbreaking technology.
In 2021, the company moved nearly $19 billion in gross merchandise to clients. Flexport offers its software to over 10,000 clients and suppliers in 112 countries.
Moreover, the company is an innovative leader in its industry. The company's number 1 spot on CNBC's 2022 Disruptor 50 List speaks for itself.
Flexport Tops 2022 CNBC Disruptor 50 List
The global shipping industry, in general, demonstrates a lack of accountability and transparency. Moreover, It's filled with opaque regulations and is slowed down by analog processes.
Furthermore, according to Andreessen Horowitz's David George, the logistics business is a "massive, massive space with very, very little technology in place."
However, Flexport technology is leading the disruption of the dated, trillion-dollar global business. George added…
They have a massive addressable market where the technology in that market is basically broken. They have about a 2% market share in their market and they win 75% of the time when they're in front of customers, so that's a very simple formula.
With the company holding the top spot on CNBC's Disruptor 50, investors are wondering when they can get their hands on Flexport stock. It's safe to say the freight forwarding industry needs to undergo a significant overhaul. Flexport is at the forefront of industry disruption. So, how do the company's finances compare?
The Company Lands $8 Billion Valuation Ahead of Flexport IPO
The San Francisco-based company has raised $2.2 billion to date. The company's latest funding round took place in February 2022. Andreessen Horowitz and MSD Partners led the Series E funding round. Shopify, DST Global, Founders Fund and Softbank also participated.
The funding round raised $935 million. Moreover, it landed the company a staggering $8 billion valuation. According to Pitchbook data, the hefty valuation is nearly three times its last reported 2019 valuation. And it shows the importance of automation and data processing in the freight forwarding industry. At the time of the announcement, Peterson said…
This investment signals that the market recognizes the need for a tech-enabled logistics ecosystem that has the visibility and resilience to handle unexpected challenges of any scale.
The company's disruptive focus and innovative software reflect in the company's hefty valuation. Furthermore, the company reported impressive financial figures in the funding announcement.
The company reported consistent growth from around $30 million in 2014 to $1.7 billion in 2020. More impressively, Flexport nearly doubled its revenue from 2020 to 2021, bringing in $3.2 billion. In addition, 2021 was the company's first positive year in earnings before interest and taxes (EBIT). And Peterson claims Flexport is on track for revenue of $5 billion in 2022.
The cash infusion will fund plans to expand into new markets and speed up technology development. So, what does this mean for the Flexport IPO?
Flexport IPO Filing Details
There have been no official announcements or plans from the company for the Flexport IPO. The company has not officially filed its registration statement with the Securities and Exchange Commission (SEC) to begin the IPO process. However, investors are anticipating a potential public debut in the near future.
Based on the recent Flexport CNBC article, the company isn't planning on making a public debut anytime soon. Petersen announced that he faced internal pressure amid this past year's market volatility and inflationary pressure. He resisted, saying…
I thought that the market was kind of overheated. I mean, there's always people who would love to see that, to celebrate that, but we decided it was better to stay private and yet put some money on the balance sheet given the craziness of the markets and we're very, very happy that we did.
Based on the information, the company is staying private for now. However, check back here for the latest updates on Flexport stock.
As always, make sure to research before you invest. IPOs can be volatile for the first few months. And share prices can change quickly. But if IPO investing interests you, check out our top recent IPOs and our IPO calendar. We update it daily to give you the latest news on upcoming and filed IPOs.
Furthermore, if you're interested in other investment opportunities focused on software as a service, check out these top 30 SaaS stocks to consider adding to your portfolio.
---