Crypto
4 Easy Strategies to Earn Free Crypto
If you want to boost your cryptocurrency holdings there are four easy ways you can earn free crypto. Some of these strategies are easier than others but they're all surprisingly lucrative. This is especially true for people committed to holding their crypto for the long term. For example, strategies like using a crypto-rewards credit card or staking your crypto can generate over 3% in returns. This might sound small but over the long run, it can make a big difference. With that said, let's dive into four easy strategies to earn free crypto.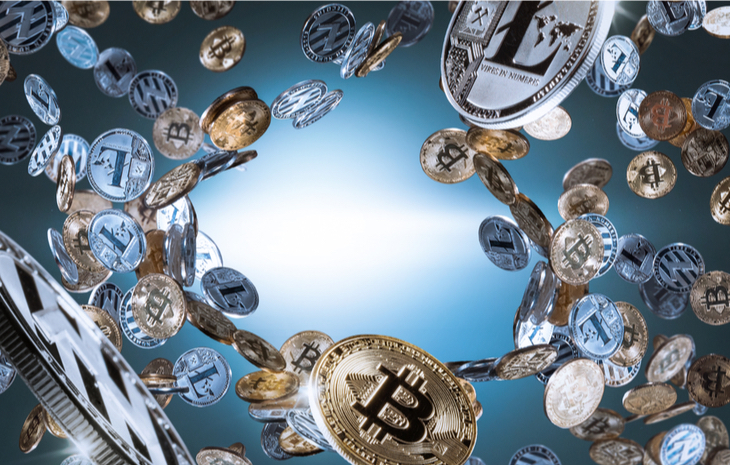 Strategy No. 1: Earn Free Crypto Just For Signing Up
Right now, the cryptocurrency industry is still incredibly new. Due to this, major crypto exchanges are all competing with each other to attract new users. This means that they provide plenty of rewards to encourage people to sign up for their services. If you want to earn free crypto, one of the easiest ways is simply to sign up for crypto products. This can be anything from a crypto brokerage account to a credit card. Here are a few examples of ways that you can earn.
Open a New Crypto Account
Almost every major crypto exchange offers some type of sign-up bonus. It's easy to assume that these bonuses are small. However, in some cases, exchanges are giving away as much as $250 in Bitcoin just for joining. If you plan on buying Bitcoin anyway, you might as well leverage one of these deals to pad your crypto wallet.
These offers are constantly changing so I won't go over all of them in detail here. However, here are a few of the biggest exchanges that typically offer some type of signup bonus:
Coinbase
Crypto.com
Sofi
Blockfi
Celsius
Nexo
Voyager
Gemini
Opening an account is a fairly straightforward way to earn free crypto. However, some exchanges take it one step further.
Learn to Earn
Coinbase recently started giving away crypto in exchange for watching educational videos. This is actually a really smart move for Coinbase. A lot of data shows that educating potential customers is one of the best ways to win them over. If people use Coinbase's site to learn about crypto, they will be more likely to use it to buy/sell crypto. By offering a small incentive to convince people to learn about crypto, they are probably creating thousands of lifetime Coinbase users. Binance is another platform that offers learn and earn crypto rewards.
If you wanted to learn more about crypto anyway then you might as well leverage this style of rewards program.
Crypto Credit Cards
A handful of crypto companies have started offering credit cards that offer cashback in cryptocurrency. Crypto.com offers a card and has even partnered with several major companies. For example, you can earn crypto rewards for money spent on Netflix, Spotify, Amazon Prime, and more. However, Crypto.com's card only pays your rewards in their own coin (CRO). For some people, this might reduce the attractiveness of the program.
If you are looking to earn rewards specifically in Bitcoin then Blockfi is another company to check out. It offers a credit card with a 3.5% Bitcoin-back introductory offer. After this initial offer ends, the rate falls down to 1.5%. Even at the lower rate, this offer is still on par with other credit cards.
Since the majority of people use a credit card anyway, getting rewarded in crypto is an easy next step. If you don't want to add any new crypto services, there are still other ways that you can earn free crypto.
Strategy No. 2: Stake Your Crypto
If you're not familiar with crypto staking then you'll want to check out my article on crypto staking here. Basically, it's one of the easiest ways to put your existing crypto to work in order to earn more crypto.
The process involves pledging your crypto to the network for an extended period of time. During the time that your crypto is staked, you will not able to sell it. Doing this is good for the network because it helps establish security and integrity. In exchange for staking, the network pays you a small return. In general, you can expect to earn anywhere from 3%-15% from staking your crypto. This isn't necessarily a huge return. But, when you consider that most banks offer .06% in a savings account, these rates are actually really attractive.
Crypto staking is usually only available for coins that use a proof-of-stake model. However, Crypto.com allows you to stake Bitcoin, which uses a proof-of-work concept. By staking your crypto, you can earn an annual percentage yield. This way, you are earning interest on your crypto and letting it grow year over year. This is essentially just free crypto in your pocket.
Strategy No. 3: Yield Farm Your Crypto
There are actually a few strategies that are similar to staking your crypto. These are collectively referred to as yield farming crypto. They all involve earning a return on crypto that you already own. For example, you can lend it, borrow it, or let exchanges use it for liquidity. There are dozens of variations of these strategies and I go much more in-depth on yield farming crypto here.
The main takeaway is that there are a few ways that you can pledge your crypto holdings to earn a return. The return you can earn varies a lot based on the coins you are pledging and how much of them you own.
Strategy No. 4: Leverage NFTs to Earn Free Crypto
Non-fungible tokens (NFTs) are not the same thing as cryptocurrency. However, they can still be leveraged to earn free crypto. Most NFT projects are really about community building. Usually, this is done by releasing a collection of unique digital collectibles (like Bored Apes). When the drop is announced, it comes with a forecast of what the project hopes to achieve. Investors then buy these collectibles in anticipation of the future of the project. It's essentially a way to raise money that, in theory, is no different from investors buying stock based on future revenue projections.
Airdrops
One major aspect of most NFT projects is airdrops. An airdrop is a distribution of cryptocurrency, tokens, or more NFTs that is sent to existing NFT holders. These rewards are generally sent as a thank you to members for being part of the project. It's kind of the defi equivalent to a dividend payment. Depending on the project, holding NFTs can actually be a great way to earn free crypto.
One thing to keep in mind is that this strategy for earning free crypto is entirely dependent on the NFT project. Lots of projects use airdrops to send rewards to members but others might not use them at all. Before buying an NFT, I'd recommend doing a lot of research into the project that is behind it. It should be fairly easy to learn a lot about the project from their website, Discord, Reddit, or Twitter.
On top of that, I'd also do some research on the people that are running the project as well. These are the people that will ultimately be responsible for bringing the project to life.
I hope that you've found this article valuable for learning four easy strategies to earn free crypto. Please remember that I'm not a financial advisor and am just offering my own research and commentary. As usual, please base all investment decisions on your own due diligence.
---