You many know General Mills (NYSE: GIS) stock as the maker of its famous breakfast cereal brands. Those brands include Cheerios, Cinnamon Toast Crunch, Cocoa Puffs, Cookie Crisp, Golden Grahams and Wheaties, the Breakfast of Champions. The company also makes packaged pancake mix, Bisquick.
General Mills brand power goes beyond cereal. For instance, the company also has a portfolio of popular snacks like Annie's, Bugles, Chex Mix, Gardetto's, Nature Valley and Yoplait.
The list keeps going into packaged bake mixes. You have probably made Betty Crocker brownies, a Genera Mills brand. In addition, the company makes Pillsbury crescent rolls and cinnamon rolls.
Not to bog you down with more brands, but there are more. General Mill's impressive list of brands also include Green Giant canned vegetables, Haagen-Dazs ice cream, Hamburger Helper, Old El Paso salsa, Progresso soup and Totino's pizza rolls.
According to General Mills most recent annual report, the company is also supplier of branded and unbranded food to the North American food services and commercial baking industries. General Mills makes their food in 13 different countries and sells it in more than 100. On top of everything, General Mills even makes pet food.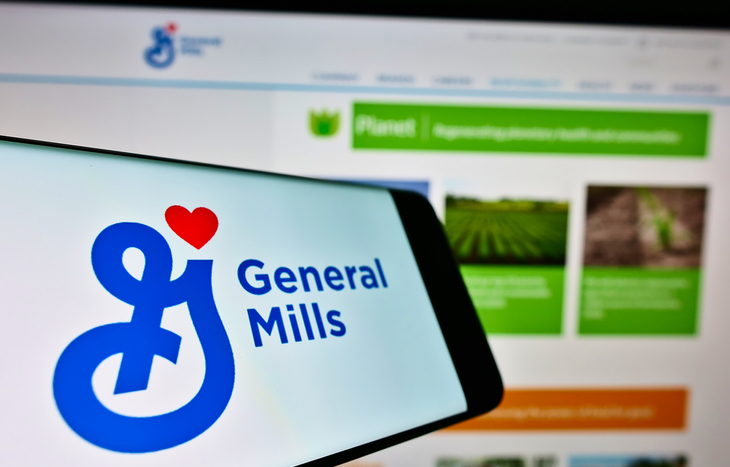 General Mills Stock Forecast
Analysts have a 12-month price target of $69.60 on General Mills Stock, on average. The current price of General Mills Stock is $68. So, the analyst's average price target would return less than 2% over the next year if it were to materialize.
Of all the 12-month price targets, the highest was $75 and the lowest was $64. The high price target is 9.6% above General Mills current stock price. On the other hand, the lowest price target is 6.4% below General Mills current stock price.
In May, General Mills put out a press release that had its outlook for full-year 2022. Due to the company's ability to deal with the current inflationary environment in the U.S., the company raised its outlook on many metrics.
For example, in its prior outlook, General Milles thinks organic sales will growth in a range of 4% to 5%. In addition, the company previously thought it earnings per share would shrink in a range between -2% and -1%. The company now believes adjusted earnings per share will grow between 0% and 2%.
For the year ending in May of 2022, analysts forecast that General Mills will report adjusted earnings per share of $3.83. In 2021, the company reported adjusted earnings per share of $3.79. So, the company's forecast for adjusted earnings per share growth implies adjusted earnings per share in 2022 of $3.83, in line with analyst's forecasts.
General Mills will announce its fourth quarter and full-year financial results on June 29. At 8 a.m. Central Time, the company will host a webcast where General Mills managers will talk about the results. You can find a link to the webcast here.
Is General Mills Stock a Buy?
On average General Mills analysts rate the stock a 'Buy.' Over the last three months, 12 analysts who issued a rating on the stock seem to be optimistic about it.
So far this year, General Mills stock is up almost 2%. That return doesn't seem to be all that appealing until you compare it to the rest of the stock market. For instance, the broader S&P 500 stock index is down nearly 19% this year. Even though the stock has only produced 2% this year, it has done better than the S&P 500 by a whooping 17%.
A quick valuation of General Mills stock shows that the stock is trading at a P/E ratio of 18x. The stock's current P/E ratio is a bit higher than its five-year average P/E ratio of 16x. That may indicate that the stock is slightly more expensive now than it has been in the last five years. The stock also pays a dividend yield of 3%.
General Mills also bought back shares. When companies buyback shares, they reduce the number of company shares. When company shares are reduced, future profits are split between a smaller number of shareholders. Share buybacks can increase the company's P/E ratio.
Through the first nine months of its fiscal year, General Mills bought back 8.8 million shares of stock. The company spent $550 million on the buybacks and reduced the number of General Mills stock by 1% to about 614 million shares.
Stock Earnings
During its third fiscal quarter, General Mills reported adjusted earnings per share of $.84. That number is an increase of 2% over the same quarter last year. Analysts had forecasted General Mills to report adjusted earnings per share of only $.77. The company beat the forecast by $.07 or over 9%.
In addition, the company reported $4.5 billion in net sales and organic net sales growth of 4%. Due to higher inflationary pressure, General Mills also noted that its adjusted gross margin fell to 31.4% for the quarter. fortunately, net income grew 11% to $660 million
In a press release about the results, CEO Jeff Harmening said, "Our solid execution in a highly volatile environment enabled us to close the third quarter with improved momentum."
After the press release came out, managers from General Mills hosted a webcast to talk about the quarter. When they were done talking, the managers took questions from listeners. You can find a link to a replay of the webcast here.
General Mills to Sell Hamburger Helper Brand
In a May 25 press release General Mills announced that it had agreed to sell its Helper and Suddenly Salad businesses to Eagle Family Foods Group. General Mills will get $610 million in return for the businesses. The company expects the deal to close in the first quarter of fiscal 2023.
In the press release General Mills Group President, North America Retail, Jon Nudi said, "With this divestiture, we are continuing to reshape our portfolio and advance our Accelerate strategy. This transaction improves our North America Retail segment's growth profile and allows us to increase our focus on brands and categories where we have the best opportunities to drive profitable growth."
---
BJ Cook is a long-time stock nerd. He has held several roles in the equity research world and earned the right to use the CFA designation in 2014. When he's not writing for Investment U, you can find him searching for new investment ideas. Outside the investment community, BJ is a die-hard Cubs fan.