Investors looking for the next renewable energy breakthrough company may want to consider Gevo stock (Nasdaq: GEVO). Working alongside electric vehicles, Gevo is trying to reduce the world's dependence on fossil fuels. According to the company's latest annual report, the company's goal is to reduce greenhouse gas emissions for the parts of the transportation industry that can't benefit from electrification.
While their current focus is on jet fuel for airplanes, Gevo also has its sights on gasoline and diesel currently used in cars and trucks. Gevo's products are mostly hydrocarbon drop-in alternatives to petroleum. That means their hydrocarbon fuels can be used in place of petroleum without changing the engines that use the fuel.
Gevo's fuels are plant-based. Basically, the company takes plants and turns them into renewable fuel. Plants take in carbon dioxide and turn it into carbon to grow. Gevo stock takes the carbon from the plant and makes hydrocarbons used to fuel vehicles.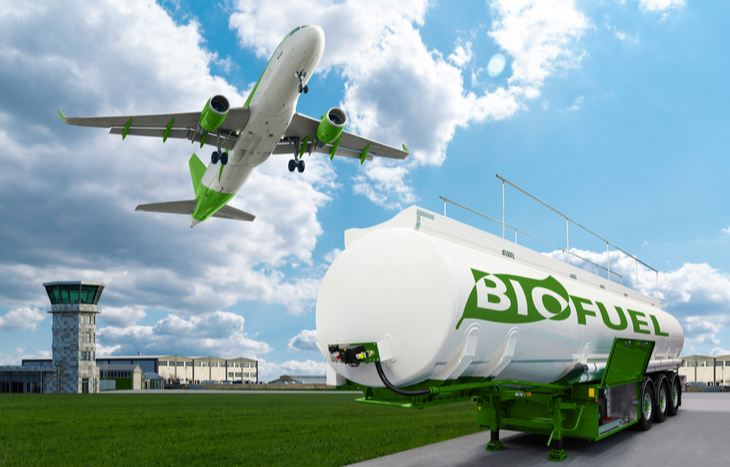 Net-Zero Projects
Last year Gevo said that each new facility built to make renewable fuels would produce zero greenhouse gas emissions on a net basis. The first Net Zero project, appropriately named Net-Zero 1, is under construction in South Dakota. The company chose the location in South Dakota because of its sustainable corn supply, access to railroads, and renewable energy potential.
Of course, the project will need a lot of energy to run. Part of the project is to build a wastewater treatment plant. The plant should be able to produce about 30% of the energy needed to run Net-Zero 1. The other 70% will come from wind power.
Gevo stock estimates that the entire project will cost $700-800 million. When finished, Gevo expects Net-Zero 1 to be able to produce 45 million gallons of liquid hydrocarbons per year. Currently, the company has contracts to sell all of the fuel that it can make. Those contracts should lead to about $1.5 billion in sales over the life of the contracts.
On top of that, Net-Zero 1 expects to make 350 million pounds of animal feed per year. Down the road, Net-Zero 1 may also be able to make renewable natural gas.
Renewable Natural Gas
In addition to making sustainable fuel for vehicles, Gevo stock can also make renewable natural gas. Gevo takes manure from local dairy farms and turns it into natural gas. Cow manure is one of the main sources of methane in our atmosphere. The methane captured by Gevo's natural gas projects can help reduce methane's harmful effects on the ozone.
Though still in its startup phase, Gevo's natural gas business will be able to make a huge amount of natural gas upon completion. The company expects the project to be finished in the second quarter of 2022. In the meantime, Gevo is applying for tax credits under the federal Renewable Fuel Standard Program and the Low Carbon Fuel Standard.
Gevo stock expects to start making sales from the project as early as this year, depending on the time of approval of tax credits. If the company is successful, Gevo stock could benefit in the short term.
Going Green With Gevo Stock
Investors have been asking for companies to reduce their carbon footprints to help climate change. Sources say that president Biden has been discussing a target date of 2050 to get airlines off fossil fuels. If that happens, these changes would likely help companies like Gevo stock that produce sustainable aviation fuel (SAF).
In addition, the SEC is likely to propose new disclosures about greenhouse gas emissions. The new rules would require stock companies to tell investors how much they impact climate change.
With all of these likely changes, many airlines have already taken steps to get ahead of the curve. In doing so, some of those airlines have chosen to do business with Gevo. Delta Air Lines, Air Total, and Scandinavian Airlines have signed contracts with Gevo to buy SAF.
Some Oneworld Alliance members recently agreed to buy 200 million gallons of SAF per year from Gevo. Oneworld members include airlines like Alaska Airlines, American Airlines, and British Airways. Though buyers do not expect delivery of the SAF until 2027, Gevo expects to make $800 million in sales from the contacts.
These things could all be great news for Gevo stock.
The Long-Term for Gevo Stock
With tensions between Russia and Ukraine rising, the world has taken a closer look at its dependence on oil. Many countries are opposed to the Russian invasion. Because Russia is one of the world's largest oil producers, some countries have issued sanctions on Russia, including a ban on their oil exports.
Since many countries, especially in Europe, rely on Russian oil to fuel their economy, Russian oil bans have been elusive. Reducing the world's dependence on fossil fuels would help our climate, but it could also reduce future conflicts as we have now.
Gevo stock could be part of the answer in the long run.
---