Keeping up with the oil market nowadays is a full-time job in itself. After going on a tear while Russia started its invasion of Ukraine, oil prices took a step back yesterday, settling around $110 per barrel. Still, investors continue buying oil stocks during war to manage risk.
Oil prices are up 44% so far in 2022, with pressure building in the oil market. Meanwhile, the U.S. is moving to ban Russian oil imports while others are pledging to reduce.
At the same time, officials are meeting with leaders in Venezuela and Saudi Arabia to ease supply. Moreover, reports yesterday suggested OPEC member United Arab Emirates (UAE) favors a production increase.
Despite the optimism leading to lower oil prices yesterday, the market is flat today as the UAE backtracks on its statement.
The roller coaster ride continues in the oil market. If you are looking to profit from higher oil prices, keep reading to discover the best oil stocks during war.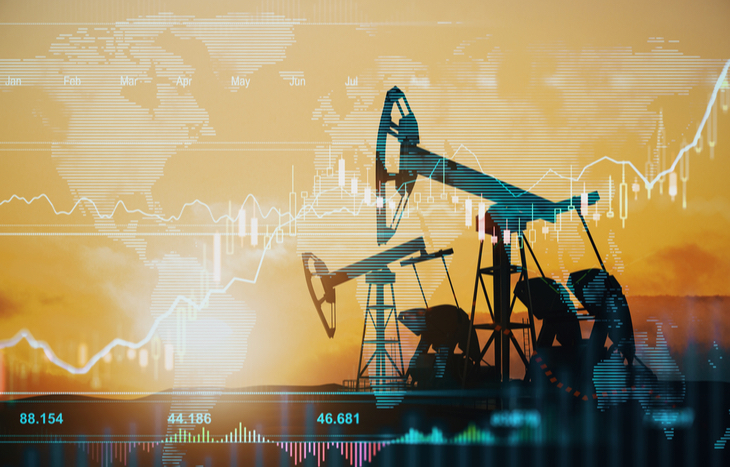 The Different Types of Oil Stocks
Despite what many people believe, not all oil companies are the same. In fact, each company plays a critical role in producing oil and gas. To explain, the three main roles in the oil industry include:
Upstream
Midstream &
Downstream
Upstream companies are involved in finding oil reserves and extracting, while midstream transports the product. Then, downstream companies will process and sell the final good.
Furthermore, some companies are involved in the entire process, from extracting to selling. And lastly, you can buy companies providing equipment or services to the industry. So far, oil stocks are outperforming the market, with the Energy Select SPDR Fund (NYSE: XLE) up 15% since the start of the war.
Nonetheless, buying oil stocks during war is proving to be an excellent hedge. See which companies are wining with higher oil prices below.
Best Upstream Oil Stocks During War
Upstream oil companies see some of the highest returns in the industry. For one thing, as oil prices rise, these companies see their top lines skyrocket.
But there is a clear winner that's up close to 100% so far in 2022.
Occidental Petroleum Corp (NYSE: OXY): One of the largest oil companies in the U.S., Occidental is getting much bigger. In fact, the company's market cap has doubled since last year and almost triple from the year before, sitting around $53 billion.
Oxy stock is up almost 50% since the start of the war as investors look to cash in on rising oil prices. After Warren Buffet stepped in to help outbid rivals for Anadarko Petroleum, the company became an investor favorite. And more recently, the value investor increased his stake in the company with over 10% ownership. Could OXY become the next Berkshire Hathaway (NYSE: BRK.A) target?
Best Midstream Oil Stocks During War
Midstream companies generally follow the success of upstream firms. Yet the group is not seeing the explosive returns achieved in upstream oil stocks during war.
At the same time, it's one of the most critical parts of the operation producing high cash flow.
ONEOK Inc. (NYSE: OKE): As a leading midstream provider, ONEOK is also seeing higher earnings growth. The firm's revenue has grown by over 100% in the past three quarters.
After the pandemic, ONEOK reduced its CAPEX spending to save funds. As a result, the company is seeing high free cash flow (FCF) and is returning it to shareholders via dividends (5.60% yield).
Best Downstream Oil Stocks During War
Downstream oil companies are often the most familiar brands because they sell and market them. Even though these companies are trading higher, they are still being outpaced by upstream oil stocks during war.
With this in mind, downstream companies include the following.
Marathon Petroleum (NYSE: MPC)
Valero Energy (NYSE: VLO) &
Phillips 66 (NYSE: PSX)
Likewise, during the pandemic, these companies saw demand diminish. But refined products are in high need now as gas prices touch ATHs. And most important, demand doesn't look to be slowing, with many nations looking to move on from importing products from Russia.
Best Overall Oil Stocks
On top of producing some of the highest returns so far in 2022, integrated oil stocks offer industry-leading dividends.
Exxon Mobile (NYSE: XOM): As the largest oil company in the U.S, Exxon is up 35% YTD with heavy trading volume since the start of the war. Most important, Exxon has a long history of rewarding shareholders through dividends (4.04% yield) and maintaining a solid balance sheet. That said, it should come as no surprise investors are flocking to XOM stock.
Chevron (NYSE: CVX): Chevron is the second-largest oil company in the U.S, with over $155 billion in annual revenue. Not only that, but the company is making a strong transition to renewable energy. In particular, Chevron's latest acquisition of Renewable Energy Group will help position it for the future of energy.
In summary, these companies are involved in the entire oil process. Although the business model does have risks, integrated oil companies generally see some of the highest returns when oil prices are high.
Is It Worth Investing in Oil Stocks During War?
After years of underperforming, oil stocks are back in fashion. For one thing, the economy was promising to transition to renewable energy, putting further pressure on oil. As a result, many oil companies were unwilling to ramp production and risk lower oil prices.
Now, things are changing, and the war is tightening the oil market. Even though Russian oil only makes up about 8% of U.S. imports, the new ban is still causing record gas prices.
With this in mind, owning oil stocks during war is proving to be one of the most effective ways to protect your portfolio. That said, if U.S. oil companies increase supply, it will drive down prices. But, for how long? And will they be willing to do that after what's happened in the past?
Either way, the U.S can also pull from the strategic petroleum reserve if it wants to. Although this will require paying it back at some point, it could benefit domestic oil companies in the long term.
Investing in war is a risk. Nobody knows how long it will last or if it will escalate. Oil is one sector that's outperforming so far. Check out other stocks to buy during war to see how you can protect your portfolio.
---