After announcing a 4-for-1 stock split, GameStop (NYSE: GME) launches its highly-awaited NFT Marketplace. Meanwhile, GME stock is trending on social media as a potential short squeeze target. Will the king of short squeezes do it again?
While traders on Reddit debate whether GameStop is doomed or destined after the split, the company is aggressively targeting growth. After seeing revenue peak in 2016, GME's revenue has fallen significantly.
As the market evolves, GameStop looks to keep its place. For example, the three best-selling gaming consoles (PlayStation, Xbox and Wii) also offer their own marketplace to buy games.
Furthermore, the growth of online shopping is taking away from GameStop's business. Consumer favorites like Amazon (Nasdaq: AMZN), Walmart (NYSE: WMT) and Target (NYSE: TGT) are all contributing to the growth in online sales.
As a result, GameStop is introducing a new strategy to turn the company around. GME is focusing on two areas.
Strengthening in-store shopping
Pursuing growth opportunities
With its introduction to Web3 complete and a stock split coming, will GME stock be the target of another short squeeze? Here are five things to know before buying.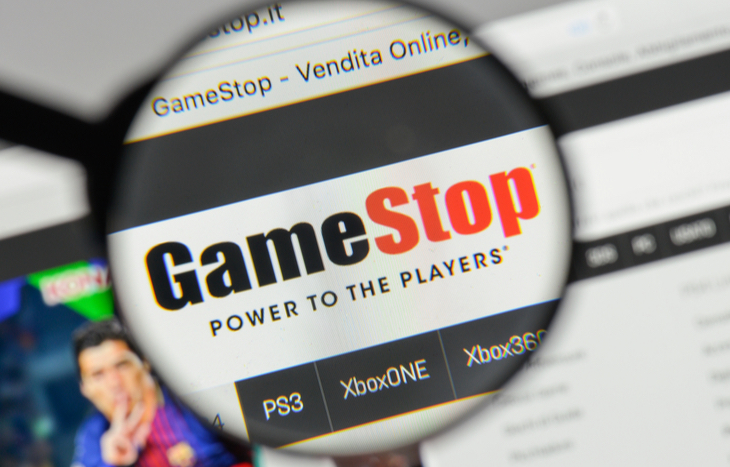 No. 5 GameStop Launching NFTs
Shortly after launching its digital wallet, GameStop is announcing the launch of its highly anticipated NFT Marketplace. The launch comes as GME looks to expand its Web3 ability while giving consumers new outlets to interact with the brand. In other words, NFTs are an example of GameStop pursuing "growth opportunities."
In fact, the company sees Web3 playing a major role in gaming. GameStop's CEO, Matt Furlong, says, "We firmly believe that digital assets are core to the future of gaming" on its Q1 earnings transcript.
The new marketplace allows users to buy, sell, and trade NFTs. Meanwhile, the platform is built on the Ethereum blockchain.
Users can connect their wallets or use the company's digital wallet. As GameStop builds its capabilities, it plans to expand into Web3 gaming with more creators.
GameStop's Furlong sees NFTs as a $41 billion addressable market. Will the company grab its share of the vast market? Or will its new investments prove to be its ultimate demise?
No. 4 GME Stock 4-for-1 Stock Split
GameStop announced last week it approved a 4-for-1 stock split of common stock. The split comes in the form of a dividend.
In other words, for every GME share held, investors will receive three more. For example, if you own 100 shares of GameStop stock, you will have 400 after the split.
The shares will be sent after the stock market closes on July 21. Starting on July 22, the new shares will begin trading on the NYSE. With this in mind, will the split cause a short squeeze as traders promote it on social media?
For one thing, there is an idea being passed around that since the split is coming in the form of a dividend, it will cause a squeeze. Before you buy GME stock, for this reason, know the transaction does not change how much short sellers owe. But there may be other reasons to believe a short squeeze is coming.
No. 3 GameStop Leadership Changes
The day after announcing the GME stock split, the company parted ways with its CFO Michael Recupero. In GameStop's 8k filing, the company says Michael's employment will be terminated effective immediately. At the same time, Diana Saadeh-Jajeh, currently Senior Vice President and Chief Accounting Officer, will take over.
Before joining GameStop in 2020, Ms. Saadeh-Jajeh worked as the VP of Global Finance Operations & Transformation at Juul Labs since 2018. Juul is a controversial e-cigarette company. According to the CDC, disposable e-cigarette use rose 1,000 percent among high school users from 2019 to 2020.
Many claim Juul was responsible for the rise by marketing flavored high potency nicotine pods. In fact, the FDA ordered the company to remove its products in the U.S. last month.
Recupero has been in the position for less than a year after serving as Amazon's CFO. Although the release has little information, it can be seen as a sign of GameStop's direction. The leadership change comes after the company said it would make additional cuts to keep costs down.
No. 2 Will GME Stock Short Squeeze
GME stock is trending up again today as investors digest the recent GameStop news. While most of the market is down today after yesterday's inflation report, GameStop stock is up 5%.
Is the short squeeze underway? Here are a few things to keep an eye on.
GameStop has a relatively high short interest. According to Fintel, GME stock short interest is over 20%.
GME stock is known for explosive rallies. Last January, GameStop surged over 2,500% in less than a month as shorts covered their positions. The rally became known as the start of the meme stock.
At the same time, we are in a different environment than at the beginning of 2021. Last year, low-interest rates were fueling growth. The fed is looking to slow growth now as inflation hits its highest since 1981.
Meanwhile, GameStop as a business is in much different shape. The company has used several higher-priced equity sales to pay down debt. With this in mind, GameStop has little debt and a few big opportunities ahead of it.
No. 1 Is GME Stock a Buy or Sell
After struggling to keep up in a rapidly changing market, GameStop is looking to turn things around. The company has used stock sales to reduce debt while financing growth opportunities.
For one thing, the company sees digital assets as vital to the future of gaming. We will look back at GameStop's transition to Web3 as either being genius or foolish in the long run. So far, the company is well-positioned to fund growth with over $1 billion in cash and less than $50 million in debt.
But GameStop will need to continue fighting for its spot in an increasingly crowded market. With all major consoles selling software and big box retailers beefing up their digital sales, where does GameStop fit in?
For this reason, the company plans to continue spending to earn its place. GME stock will likely continue seeing big fluctuations this year as investors determine which direction the retailer will take. I expect at least another shakeout before EOY.
After the 200D SMA acted as resistance yesterday, GME stock is breaking through today. Will the move provide fuel for the short rally traders are waiting for? Or will it be another false breakout, like in late March?
Either way, GameStop's sales are cyclical. The company earns the majority of its revenue in Q4. In 2021, 37% of sales came in the fourth, with 42% in 2020.
Look for GameStop to continue its push into the holiday season. If the transition is successful, we should see sales start picking up again. With this in mind, this may provide the fuel traders are looking for to push GME stock higher.
---