I'm not a big fan of investing in gold or gold companies for the long-term. I'll explain why below this list of stocks. Although, if you're looking to play short-term trends, these are some of the best gold mining stocks around. If you catch them at the right time, you can outperform the market.
On top of that, these gold companies can help to diversify your portfolio. The mining industry offers many opportunities and I'll share more investment ideas below. But to start, let's look at the list of gold mining stocks, along with some company highlights…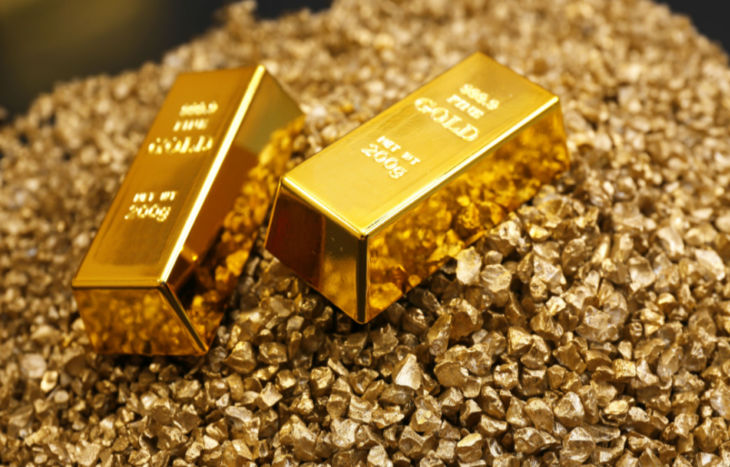 Gold Mining Stocks
Barrick Gold Corp. (NYSE: GOLD)
Newmont Corp. (NYSE: NEM)
Franco-Nevada Corp. (NYSE: FNV)
Agnico Eagle Mines Ltd. (NYSE: AEM)
Wheaton Precious Metals Corp. (NYSE: WPM)
Eldorado Gold Corp. (NYSE: EGO)
Gold Mining Company Highlights
Barrick Gold is a Canadian company that produces gold and copper. It operates mines and projects in 18 countries. And you can find them in North and South America, Africa, Papua New Guinea and Saudi Arabia.
Barrick Gold is easily one of the best gold mining stocks based on volume and scale. In 2021, the company produced 4.4 million ounces of gold. And this year, it expects close to the same level of production.
Newmont is another huge gold mining company. It's based in Colorado but owns gold mines around the world. You can find the company's portfolio of assets, prospects and talent in North America, South America, Australia and Africa.
Newmont produces roughly 6 million ounces of gold each year. That's the largest output on this list of stocks. And Newmont also produces other metals such as copper, silver, zinc and lead.
Franco-Nevada is another Canadian gold company. Although, it's a gold-focused royalty and streaming company. It provides investors with gold price and exploration optionality while limiting exposure to cost inflation.
So, it's not a direct gold mining stock but it works directly with gold miners. And the company has continued to grow over the years. In 2021, it topped 700,000 gold equivalent ounces.
Agnico Eagle Mines is based in Canada and also operates in multiple countries. This gold mining stock gives investors access to operations in Canada, Australia, Finland and Mexico.
The company is well diversified and in 2021, its payable gold production came in just above 2 million ounces. And for 2022, Agnico Eagle Mines is forecasting gold production of roughly 3.2 to 3.4 million ounces.
Wheaton Precious Metals is another major Canadian mining company. It has streaming agreements for 23 operating mines and 13 development stage projects.
The bulk of its production is silver, but it also helps to produce gold, as well as other precious metals. Last year, Wheaton Precious Metals' diversified portfolio of assets delivered production of just over 750,000 gold equivalent ounces.
Eldorado Gold is the smallest gold mining stock on this list. Although, it's still far-reaching with mining, development and exploration in Turkey, Canada, Greece and Romania.
Last year, the company produced about 476,000 ounces of gold. And for full-year 2022, Eldorado Gold is forecasting production of 460,000 to 490,000 ounces.
If gold prices move higher this year, these gold stocks should do well.
Why I Avoid Gold Long-Term
First, I want to emphasize that the gold mining companies above are some of the best in the business. And as mentioned, if you buy in at the right times, you can see big upswings that beat the market.
Although, in the long-run, there are better investing opportunities. And here are just a few reasons why I avoid investing in gold…
Unlike the world's best companies and farmland, gold doesn't produce anything. And on top of that, it has little application. People pay a lot to dig it out of the ground and refine it. Then from there it sits around doing nothing. On top of that, some people even pay to keep it safe with safety deposit boxes, insurance, etc.
Nonetheless, one common reason people buy gold is to hedge inflation. And yes, it has worked as an inflation hedge over the long-run. That's when looking at multi-decade timeframes. But in any given year, two years, five years and even 10 years, gold prices are too volatile.
If you're looking to hedge against inflation in the short-term, treasury inflation protected securities (TIPS) are a better way to go. And for the long-term, a broad portfolio of stocks is even better. Over the long-run, stocks not only hedge inflation, but far outpace it.
Investing Beyond Gold Mining Stocks
With that all in mind, here are some other stocks to consider…
Once again, the gold mining stocks above are some of the best in the industry. If you're looking to play some short-term trends, they might be a good way to go. Gold stocks can amplify gains from increases in gold prices.
Although, it's good to consider other investments as well. And if you're looking for expert insight, consider signing up for one of these free investment newsletters. They're packed with investing research, tips and tricks.
---