For worried investors wondering what to do during inflation, the CPG sector is a great option for investment opportunities. And Hershey (NYSE: HSY) is a favorite for high inflation environments. This article will take a closer look at the Hershey stock forecast. And you can decide if this is the right investment opportunity for you.
The beloved candy company, Hershey Co., is more than just a candy bar powerhouse. Through numerous acquisitions over the years, the company owns Jolly Rancher, Twizzlers, Pirate's Booty, SkinnyPop, Dot's Pretzel's and many more. However, none of these are as profitable as Reese's. Reese's peanut butter cups are the second-most-popular candy in the U.S.
Hershey has always set ambitious goals to help create positive change. The company creates change across global, environmental and social areas. In order to stay accountable, the company tracks their progress and uploads it to their website. You can find their priority goals along with their progress here.
Hershey's acquisitions have no doubt contributed to Hershey's success as the fifth-largest candy company in the world. Hershey stock has brought in roughly $9.3 billion in sales over the past 12 months. In addition, a Hershey stock forecast has shown an impressive total return of over 47,000% since 1980.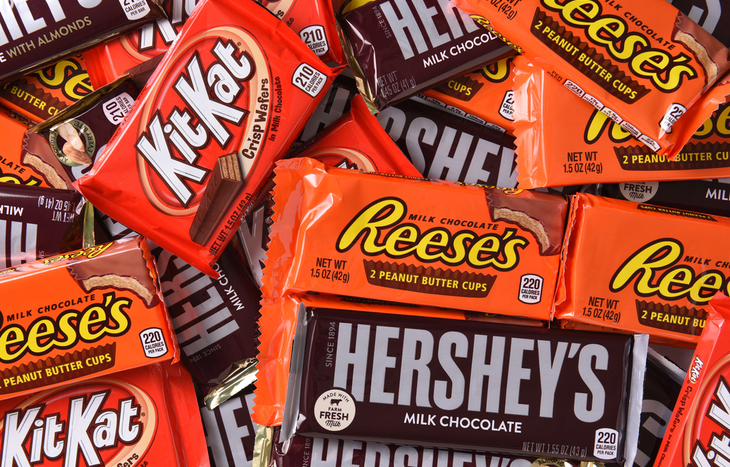 Investor Interest: How to Sweeten your Portfolio
Investors are interested in Hershey stock for two main reasons.
Pricing power
Strong profit margins
It's important to note that Hershey's costs regarding their products, are typically impacted by commodity prices. This is especially true with cocoa and sugar. When these prices rise, Hershey raises the retail sellers' price to maintain profitability. Candy companies have the luxury to raise prices without impacting consumer demand. A candy purchase is significantly less than everyday items.
Another reason many investors favor Hershey stock is because of its profit margins. In looking at the Hershey stock forecast over the past 12 months, its operating margins have hit an all-time high of 23.7%. This is up from about 18% ten years prior. Because inflation usually negatively impacts profit margins, it's important to point out that candy products typically do well in high-inflation environments.
As of June 2022, Hershey has a $43.3 billion market cap. The stock is up 8.6% so far this year and up 22.6% in the past year. The stocks price-to-earnings ratio is 27.18 and its past 12-month revenue is $9.3 billion with a 17.3% profit margin.
Hershey's Acquisitions
Hershey's recent acquisitions have resulted in much success. It's brands such as SkinnyPop, Pirate's Booty and Dot's pretzels have seen an increase in sales. For instance, in Q1 2022 SkinnyPop sales increased 13.4%, Pirate's Booty grew 55.4% and Dot's Pretzel's grew 103% YOY. These percentages are fantastic and will contribute to Hershey's overall growth and success.
A large-cap stock such as Hershey might not show hyper-growth. However, with successful and lasting brands, consistent pricing power and high demand in salty and sweet snacks, expect to see consistent returns with or without inflation.
The pandemic hasn't seemed to slow down Hershey in the least. According to Michele Buck, Chairman, President and CEO, "In 2021, we delivered a record year in terms of business performance and made significant strides across some of our most important ESG priorities. Cocoa sustainability, responsibility, sourcing our ingredients, diversity, equity and inclusion (DEI) and our environmental agenda." She continued the Hershey stock forecast report by saying "In March, we announced a new science-based greenhouse gas reduction goal to cut our absolute Scope 1 and Scope 2 emissions by 50% and our absolute Scope 3 emissions by 25% by 2030. We've made significant progress and are almost half-way to achieving our goals."
Hershey focuses on issues that are of the utmost importance to their stakeholders and investors. If you're unsure as to whether you want to invest your hard-earned cash into one of the largest chocolate manufacturers in the world, check out their investor resources page here. With the stocks growing portfolio, they are investing in the future and returning cash to shareholders. And if you'd like to watch their annual stockholders meeting, click here.
Concluding Thoughts on Hershey Stock Forecast
Hershey is an extremely profitable company, and with its acquisitions of powerhouse brands, the stock is set to continue its growth. Analysts believe Hershey stock is a safe investment due to its consistent growth. With Hershey stock acquiring solid gains, it might be time to start adding something sweet to your portfolio. I hope you enjoyed this article on the current Hershey stock forecast. Make sure to do your own analysis of the stock before making any investment decisions.
---