Car rental company Hertz Global Holdings (Nasdaq: HTZ) may look like a buy as its share price has approximately doubled since September 2021. Like most stocks, though, there is more to the picture. It's important to take a deeper dive into Hertz stock forecast to determine whether it looks like a buy.
For instance, Hertz has been suffering major declines in revenue as a result of the pandemic, even filing for bankruptcy in the first half of 2020. A bankruptcy declaration is not necessarily something investors need to worry about. However, it always helps to have a better picture before deciding to invest.
In this Hertz stock forecast, we will take a look at the bigger picture of the stock, how it's recovering from the pandemic and whether it's worth adding to your portfolio.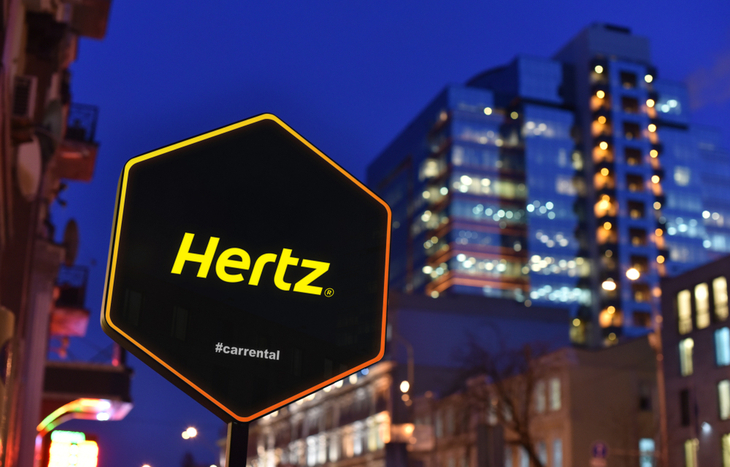 Hertz Stock Forecast
What is Hertz?
Hertz is the second-largest car rental company in the U.S. with almost 424,000 vehicles in service in 2020. Additionally, it plans to add 229,000 vehicles to refresh its line of vehicles. Hertz owns several smaller car rental agencies, including Firefly Car Rental, Thrifty Car Rental and Dollar Rent a Car.
Hertz has a long history; in fact, its roots go back to the beginning of mass-produced automobiles. In 1918, Rent-a-Car Inc. was founded by Walter L. Jacobs with just 12 Model T Ford vehicles in operation. It grew to 600 vehicles in just five years, and in 1923, John D. Hertz purchased Rent-a-Car Inc., giving way to the Hertz company.
Today, Hertz is based in Estero, Florida, and has more than 12,000 corporate and franchise locations.
Initial Public Offering
After its bankruptcy, shares of Hertz stock began trading over the counter on July 1. But on November 9, 2021, Hertz stock was added to the Nasdaq under the ticker HTZ. It's been a bit bumpy but the long history helps with a Hertz stock forecast. Before this most recent IPO, Avis was the only major car rental stock trading on a major exchange.
Hertz's 472.69 million shares priced at about $26.50 per share give it a market cap of around $12.5 billion. As part of the IPO, Hertz decided to buy some of its shares back from shareholders, aiding in the current share price.
Pandemic Woes and Bankruptcy
Like most car rental companies, the COVID-19 pandemic was not kind to Hertz. Its year-over-year (YoY) revenue fell roughly 46% in 2020. It fell another 33% in the first quarter of 2021, which does not look good for Hertz stock forecast. In the last quarter of 2020, it resulted in a net income of roughly -$289 million.
Clearly, the losses were not sustainable, and it filed for Chapter 11 bankruptcy on May 22, 2020. As Hertz noted in its press release, it was energized by the bankruptcy proceeding.  It has shed $5 billion of debt and is bringing in $5.9 billion of new equity capital. The release also notes that the company has reduced its corporate debt by nearly 80%.
Hertz Stock Price Prediction
It's far too early to observe any sort of pattern in the new Hertz stock forecast chart, but we can make some predictions about it based on the old HTZZ listing. Shares of HTZZ began trading at just under $27 over the counter before quickly falling to around $15 by the end of July 2021. The price has remained mostly flat until its rapid increase in October. It went from about $22.50 in mid-October to roughly $35 at the beginning of November. Most recently, the price hit close to $25 at the time of the Nasdaq IPO.
It's difficult to make out a trend line if we look at the price of HTZZ going back to July 1 as the price in mid-November was nearly the same. However, we certainly see an upward trend if we take mid to late September as our starting point.
As more people rent cars, and with Hertz being added back to the Nasdaq, look for it to continue the upward trend on its share price.
Quarterly Financials
In addition, its quarterly financials have seen a huge improvement since its bankruptcy filing, which is positive for Hertz stock forecast. After posting huge losses in 2020 and for the beginning of 2021, Hertz started posting YoY gains nearly across the board. It posted triple-digit second quarter YoY gains for its revenue and operating income of 125% and 197%, respectively. The company still was not profitable at that point, posting a net profit margin of close to -9%, although that was a YoY increase of 91%.
Things started to look great for Hertz in the third quarter of 2021. With a $2 billion revenue, $605 million net income and $815 million operating income, Hertz stock forecast is looking up. And most importantly, turning the quarter in terms of profitably, posting a third-quarter profit of 27%.
The only red number on its third-quarter sheet is its revenue projection, which it cut short by just over 2%. Nevertheless, its revenue is showing much improvement in comparison to last quarter.
Should You Buy Hertz Stock?
There are a lot of reasons to be optimistic about Hertz stock forecast right now. Although 2020 was a difficult year for the company, resulting in bankruptcy, it was able to shed a lot of debt while also adding billions in new capital. Since then, the car rental company has been added once again to the Nasdaq, making it easier for retail traders to buy on the open market.
If you're looking for even better investment opportunities, sign up for Trade of the Day below. Get expert tips and tricks straight from two of the best trading experts. It's completely free!
Of course, as a consumer cyclical stock, Hertz is bound to be affected by economic cycles, just as we saw with the pandemic. Right now, though, people are traveling more and looking to rent more cars. With Hertz in a much better spot after its restructuring and finally turning the profitability quarter in the third quarter, it looks to be a good buy among cyclicals.
---
Bob Haegele is a personal finance writer who specializes in investing and planning for retirement. His hefty student loan burden inspired him to pay off his loans, and now he's helping others get their finances in order. When he's not writing, he enjoys travel and live music.