The Hertz IPO raised $1.3 billion. The rental car giant offered 44.5 million shares at $29 per share. Although this isn't the company's first initial offering, it still presents a unique investment opportunity. Here's the latest update…
Hertz IPO: About the Car Rental Giant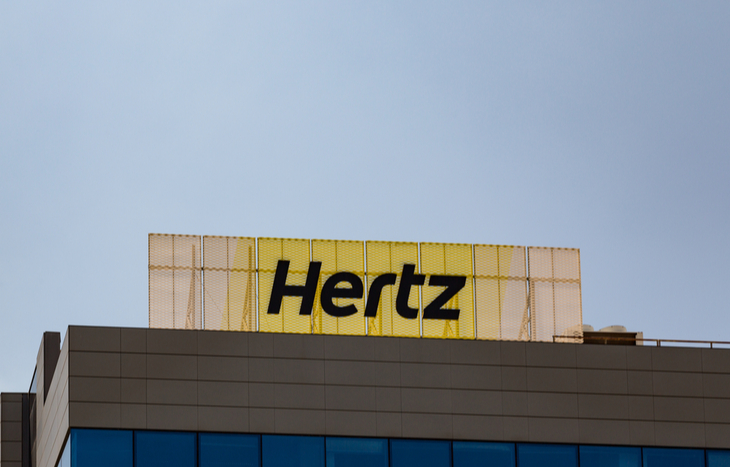 Hertz provides rental car services and car sales worldwide. It is one of the most recognizable brands in the rental car industry. Additionally, Hertz operates a 24/7 car-sharing business in international markets and sells vehicles through Hertz Car Sales.
Hertz is the largest worldwide airport general use car rental company. It has over 1,600 airport locations in the United States. Additionally, the company has more than 1,300 airport locations around the world.
The firm operates various car rental brands worldwide. The company operates primarily through its Hertz, Dollar and Thrifty brands. The company also offers its Firefly brand.
Hertz is the company's top-tier brand that offers premium services. It's one of the most recognized brands in the world. The company prides itself on its commitment to quality and customer service. Hertz has won numerous top-of-the-line vehicle rental awards domestically and internationally in recent years.
Dollar is Hertz's smart value brand in the U.S. and Canada. It's catered to financially-focused travelers looking for the most cost-effective options. The Dollar brand's main focus is serving the airport vehicle rental market. It targets family, leisure and small business travelers.
Thrifty is the company's deep value brand in the U.S. and Canada. It's catered to savvy travelers who enjoy the "thrill of the hunt" to find a good deal. The Thrifty brand's main focus is serving leisure travelers in the airport market. The brand intends to be the rental company you can save and splurge on as you see fit.
Firefly is Hertz's deep value brand for price-conscious leisure travelers on a global scale. Firefly operates in local area airports in select international leisure markets.
Hertz Buys 100,000 Teslas in Electric Vehicle Expansion
Hertz is making electric vehicle (EV) initiatives following the company's bounce back from bankruptcy. The Hertz IPO caught the eye of investors after the company announced an investment with Tesla (Nasdaq: TSLA).
Hertz is striving to offer the largest EV rental fleet in North America. As part of its commitment, the company announced an order of 100,000 Tesla Model 3 vehicles in October. The 100,000 Tesla's account for approximately 22% of the company's global fleet today. The order is set to complete by the end of 2022.
Hertz is also teaming up with Uber (NYSE: UBER) to make up to 50,000 Tesla EVs available for Uber drivers to rent by 2023. In the filing, Hertz stated…
We also announced an exclusive partnership with Uber to make up to 50,000 Tesla EVs available for drivers to rent on the Uber network in the United States by 2023. We believe that this arrangement will improve driver-level economics and offer a superior experience relative to internal combustion vehicles.
The company's commitment to sustainable initiatives gives hope for Hertz's future. However, the company noted that outside factors could impact these efforts. Some factors may include semiconductor chip shortages or other constraints.
Hertz IPO Following Chapter 11 Emergence
Hertz was heavily impacted by the pandemic-induced decline in travel. In May 2020, Hertz filed voluntary petitions for relief under Chapter 11.
Following a quick economic and travel rebound, a bidding war began to revive the company. Knighthead and Certares provided the company with $5.9 billion in capital. The funding helped Hertz to shed more than $5 billion in debt. Furthermore, the company emerged from bankruptcy a year later in June 2021. It's now controlled by an investor group led by Knighthead and Certares.
Following the company's emergence from bankruptcy, Hertz CEO Paul Stone said…
Today marks a significant milestone in Hertz's 103-year history. Through the relentless efforts of our Board and team, we are moving forward in an incredibly strong position with an exciting road ahead of us. Now with a solid financial foundation, a leaner, more efficient operating model, and ample liquidity to invest in our business, Hertz has outstanding potential to drive long-term profitable growth. Both in the U.S. and around the world, we are poised to capitalize on our industry leadership, deep operational expertise and iconic global brand.
The Hertz IPO is coming as travel rebounds somewhat and demand for rental vehicles picks back up. Now that the company has lessened its debt, let's dive into the finances.
Hertz IPO: A Look at the Finances
Detailed financial information is in the Hertz IPO prospectus, allowing you to gain more insight into the company's finances. If you're in the market for HTZ stock, let's look at the details.
Hertz highlights some key information for investors. The company's profit and loss statement and balance sheet data are as follows…
Revenue: Hertz recorded a sharp drop in revenue. Hertz recorded $9.5 billion in revenue in 2018 and $9.8 billion in 2019. However, Hertz's revenue dropped over 45% to $5.3 billion in 2020. For the nine months ended September 30, 2021, the company reported $5.4 billion in revenue.
Net Income (Loss): Hertz's net losses have increased. The company recorded $227 million in net losses in 2018. Net losses dropped to $50 million for the 2019 year. However, Hertz's reported net losses skyrocketed to $1.7 billion in 2020. Although, for the nine months ended September 30, the company recorded $627 million in net income.
Total Debt: Hertz has lowered its reported debt. The company recorded $17.1 billion in total debt as of December 31, 2019. As of September 30, 2021, Hertz's total debt stands at $8.7 billion.
Cash: Hertz's cash flows have increased. The company recorded $865 million in cash as of December 2019. By the end of 2020, cash grew to $1.1 billion. Furthermore, the company has $2.7 billion in cash as of September 30, 2021.
Hertz IPO: Use of Proceeds
The Hertz IPO will raise $1 billion in gross proceeds. Hertz stated that it will not receive any of the proceeds from the offering. The company has filed for selling shareholders to sell $1 billion of stock in the Hertz IPO.
Proceeds will go to selling stockholders. According to a press release, Hertz will pay $300 million to repurchase shares from stockholders. The company expects to fund the repurchase with cash on hand.
So how much money can the Hertz IPO raise? Let's look at the filing details…
Hertz IPO Raises $1.3 Billion
Hertz shares trade under the HTZZ ticker on an over-the-counter (OTC) market following its Chapter 11 filing in May 2020. However, the company uplisted its shares to the Nasdaq this week.
Hertz filed on October 15 and set its terms on November 3. On November 9, the company listed on the Nasdaq exchange under the ticker HTZ. Hertz's outstanding warrants will also begin trading on the Nasdaq under the ticker symbol HTZWW.
Shares priced at the high end of its $25 to $29 range at $29 per share. The company offered 44.5 million shares of common stock. At $29 per share, the Hertz IPO raised $1.3 billion.
Hertz is reportedly valued at $13.7 billion after the offering.
As part of its "Repurchase," Hertz plans to buy back 10.3 million shares from the underwriters worth $300 million. In addition, underwriters have a 30-day option to purchase up to 6.7 million shares of stock from selling stockholders.
Goldman Sachs, JP Morgan and Morgan Stanley acted as lead underwriters for the offering.
As always, make sure to research before you invest. IPOs can be volatile for the first few months and share prices are constantly changing. But if IPO investing interests you, check out our top recent IPOs and our IPO calendar. We update the calendar daily to give you the latest news on upcoming and filed IPOs.
If you're looking for the latest investment opportunities, consider signing up for Liberty Through Wealth. This free e-letter is full of market insights from leading experts. You'll hear from bestselling author and investment expert Alexander Green. It's one of the easiest ways to stay on top of market news out there. All you need to do is enter your email address in the box below to get started.
---
Aimee Bohn graduated from the College of Business and Economics at Towson University. Her background in marketing research helps her uncover valuable trends. Over the past year, her primary focus has been researching IPOs and other trends.