Hexo (Nasdaq: HEXO), a penny-stock, has recently been in the news due to a partnership with Tilray. If this sounds familiar to you, good – I mentioned it in my previous article. Like Tilray, Hexo stock has also depreciated greatly in the last year. In fact, it has fallen over over 90% in the last 12 months. However, with a strategic alliance with Tilray on hand, should investors be optimistic? Today we'll be looking at an outlook for Hexo stock. As usual, we'll first explore the company's fundamentals, before moving on to the stock's technicals.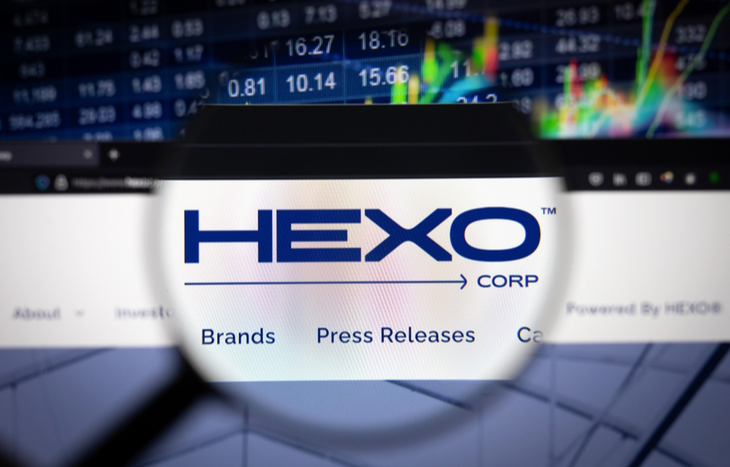 Hexo Stock Fundamental Analysis
Remember how I had very little to say about Tilray which was positive? Well, dear reader, you'll find that the situation is even worse for Hexo. This stock has missed on earnings expectations on each of the last 4. One of them, their most recent, was egregious. The company was expected to announce a loss of five cents per share. Instead Hexo announced a loss of $1.53 per share. Now, there's one massive problem that should jump out at you immediately. Hexo is a penny stock. It currently trades below 63 cents. To announce a $550 million loss, when the company's total market cap is currently under $300 million, is egregious.
Fundamentally, there is little reason to be excited about Hexo stock. Revenue has increased every financial year going back to 2017, up 26x between 2018 and 2021. That's it, that's the most positive piece of quantitative information I have for you. What are the levels of revenue I hear you asking? In 2017 the company had revenue(s) totaling $3.8 million. In 2021, the company had $99 million dollars in revenue. Perhaps the other positive is that last year, revenue was higher than net losses? Last year the company reported net losses of $92 million, compared to [total] revenue of $99 million. In 2020, the company reported net losses of $408 million, compared to $60 million in revenue. The year prior Hexo reported net losses of $53 million, compared to revenue of $36 million. As I said, little reason for quantitative positivity.
Forward Thinking
Looking forward, the company hopes to be "cash flow positive" within the next 12 months. Wall Street doesn't expect them to be profitable for years. Every projection, through 2025, is negative. While it's understandable that the head(s) of a company will say good things about their company, you hope the statements are at least reasonably substantiated.
As it pertains to the news of its alliance with Tilray, not much good was said about it. Just looking at a few articles from the past few weeks, there seems to be little retail optimism. From this article, saying Tilray was making a mistake, to one that said Hexo stock simply had too many risks. In addition, there have been a total of four price targets placed this year. Only one had a positive weight attached to Hexo stock, the rest were neutral. The price targets were between 53 and 90 cents. So, a downside of almost 20%, and an upside of almost 50%.
On April 29, 2019, Hexo stock hit 33.12. It has ridden the wave down ever since. If you would have bought Hexo stock on that day, you would be down over 98%. In general terms, this is also a very valuable lesson in FOMO. Never chase stocks that are doing unreasonably well, and that are already experiencing parabolic run ups. Better to wonder about potential gains than worry about/grieve actual losses.
Technical Analysis
Unlike Tilray, Hexo stock is down year to date, and underperforming the market too. Hexo stock is down 11.28% on the month and 10.24% on the week. However, the stock is up 14.44% on the month. Take that price action as you will, as it seems par for the course with Hexo stock. Technical indicators are all broadly negative. Whereas Tilray had some time periods that were neutral, all time periods for Hexo flash either a Sell or Strong sell signal. The oscillators are more neutral than the moving averages, but not by much. I can't even state that there has been a recent positive movement. Hexo stock has been down every day this week, and back to last Friday, March 25.
Drawing in lines of support and resistance on the 3-month chart, there seems to be an ascending channel. Support seems to be around 58 cents, roughly 4 cents from where the stock is now. Resistance seems to be around 82 cents, 20 cents above where the stock is now. Given recent price action, and support/resistance levels, it seems reasonable to think Hexo will continue its trend. If it hits 58 cents in the next trading session or two, it might begin its reversal towards 82 cents. However, that might simply be an optimistic reading of the charts, so I encourage you to do your own charting.
Conclusions on Hexo Stock
Outside of being a pure technical play, there is little reason for optimism for Hexo stock. That is, of course, assuming perceived support and resistance levels hold. On a purely quantitative basis, there is no reason to invest in Hexo stock right now. Until the company can report a single positive earnings surprise, I would hold out on positive forward-looking statements. If you choose to invest in Hexo, do so with extreme caution.
---