High volume penny stocks have unlimited potential. Especially if they are very young. And that's because there are very few shares. Plus, the price is low. So, when investors make trades, there's a much more dramatic effect on the price. That is, then if they were trading a more expensive stock.
These stocks have very small market caps. But, they are boasting incredible profits. Plus, a few of them are having a dramatic bear. And that's great for investors like you and me. Because it presents an undervalued buying opportunity to make some money.
High volume on a stock is 500k or more trades per day. And these stocks are doing way more than that. All the following stocks are under $5. Plus, they all have volume of 50 million or more. And, gross profit margin is greater than 50%. Watch (buy if you're so inclined) and enjoy these gems! The extreme volume could indicate some insider information.
Just a quick warning: Penny stocks are very volatile. So, do your homework on them!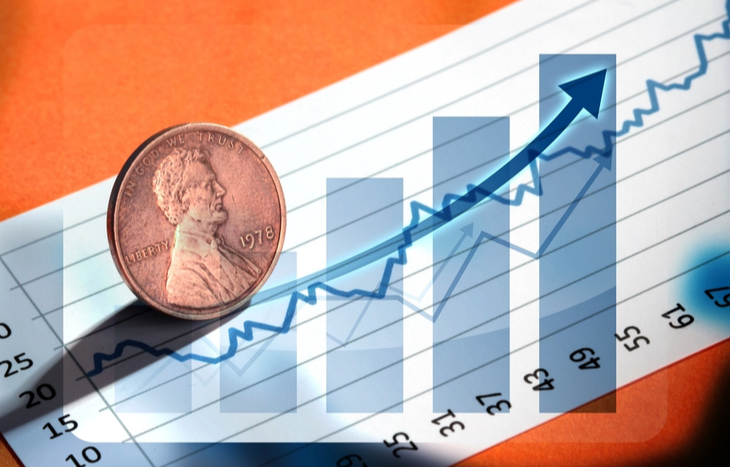 High Volume Penny Stocks to Watch
PHI Group, Inc. (OTC PHIL)
Amani Gold Limited (OTC: BRYYF)
Global Technologies, Ltd. [TPT Global Tech Inc.] (OTC: GTLL)
InCapta, Inc. (OTC: INCT)
New America Energy Corp. (OTC: NECA)
Bergio International Inc. (OTC: BRGO)
All For One Media Corp. (OTC: AFOM)
Friendable, Inc. (OTC: FDBL)
Image Protect, Inc. (OTC: IMTL)
For The Earth Corp. [Integrity Health Corp.] (OTC: FTEG)
ProTek Capital, Inc. (OTC: PRPM)
Most Active High Volume Penny Stocks
No. 11 PHI Group, Inc.
Market Cap: $30 million
PHI is a high volume stock that began as a Nevada company. Then, the company moved to Wyoming. And, this RAIF bought an investment and asset firm based in California. RAIF stands for Reserved Alternative Investment Fund. Plus, it offers advising services and consulting. Most recently, they signed an agreement to buy 70% of a distiller in China.
No. 10 Amani Gold Limited
Market Cap: $600K USD
Amani has gold mines in the Republic of Congo. And they work out of one main area, and have two deposits they are working. The leadership is a little lacking. But, for now, the company seems to be doing well. Because what they've built is very professional. And it's not that they don't have any experience in the field. The employees have some relevant experience that could cross over. But, they seem to be at that point where the company is ready for new leaders. Specifically, those that have more experience. And, those that can really make the business soar.
No. 9 Global Technologies, Ltd. [TPT Global Tech Inc.]
Market Cap: $10 million
This high volume penny stock focuses on expanding its portfolio of various technologies. Plus, they already own several brands. One of them is Markets on Main. And, it's a logistics provider that helps entrepreneurs grow their ventures.
Another one is its hemp line, HMNRTH. And it's an FDA approved CBD brand. They've just partnered up with Nutralife Biosciences to bring its products to market. Plus, they own a few others, too.
No. 8 InCapta, Inc.
Market Cap: $6 million
InCapta is a high volume penny stock providing some unique services.
The company advises radio stations and cloud television. Plus, they serve the grocery and entertainment industries. I don't think they have their website finished. But, it gets the point across. The company owns two subsidiaries. One is called Banana Box. And this is how they provide grocers with wholesale foods. The other is called Leading Edge Radio Network. And that's the cloud radio brand.
No. 7 New America Energy Corp.
Market Cap: $710K
This high volume penny stock provides short-term loans to people. The company uses its car or truck title as collateral. And these loans are high-interest, too. For a long time, the stock price has been very low. And it still is. But, price is beginning to spike up and come back down to normal prices. And that indicates it's trying to push up out of the grave.
No. 6 Bergio International Inc.
Market Cap: $400K
This high volume penny stock is a jewelry brand that hand makes all the jewelry they sell. And the marketing is great. The company's designer takes his time to think about how the jewelry will look on the person who will be wearing it. Plus, he makes sure that the piece will support and empower them without taking over.
No. 5 All For One Media Corp.
Market Cap: $9K
All For One is a high volume penny stock that produces movies and shows. They are targeting an underserved market, tweens. All For One has been creating revenue from various sources. Because they released a full-length movie. And, are using the soundtrack to sell the music from that film.
No. 4 Friendable, Inc.
Market Cap: $300K
This high volume penny stock is focused on finding music brands with huge potential. Then, they connect artists with fans in a streamlined way. And, it provides the artists with the cash flows they need to keep doing what they love to do most. Fans can get VIP experiences. And the artists profit from that.
No. 3 Image Protect, Inc.
Market Cap: $600K
Image Protect's stock hasn't had incredibly high prices. But, that's good because they've gone down since then. And, you know what that means, a nice buy opportunity for investors. Even better, the price looks like it may be starting to pop back up slowly. There have been small spikes after a while of being very low.
No. 2 For The Earth Corp. [Integrity Health Corp.]
Market Cap: $137K
This high volatility penny stock used to be worth thousands of dollars. But, over the years, it kept falling. Now, it's almost worthless. In 2021, they showed some renewed effort. They came out with the HealthSpa in Florida. And, this is exactly what it sounds like. A spa mixed with medical practices. So, when you go there for help, you'll leave feeling truly renewed.
High Volume Penny Stocks No. 1 ProTek Capital, Inc.
Market Cap: $1 million
This high volume penny stock is very focused on speculative markets. But, the markets that have been taking off like crazy. And these include cannabis, blockchain and digital currencies. These industries are still in infancy. But, there have proven to be many use cases and success in them all.
---
Vanessa Adelman graduated with an Interdisciplinary degree. She majored in Entrepreneurship, Painting, Music and Film. Shortly after, she received a copywriting mentorship with Mark Morgan Ford. Then, she earned her AWAI Verification. Now, Vanessa freelances in the financial direct response industry. She's been investing since 2016. In her free time, she enjoys books about money and wealth. She loves being with her boyfriend, hunting, fishing and going on outdoor adventures.