Many investors are wondering if Equillium Inc. (Nasdaq: EQ) stock is a buy right now. Equillium is a biotechnology company that specializes in products for severe autoimmune and inflammatory disorders. And the biotech industry is certainly a hot one these days, thanks to the recent deployment of millions of COVID-19 vaccines.
Wall Street analysts are bullish on this stock, largely on the strength of clinical trials for its anti-CD6 monoclonal antibody, Itolizumab. Successful trials could lead to strong long-term growth.
In this article, we will take a closer look at Equillium stock. Should investors be optimistic about the future? If so, Equillium may indeed be a good stock to buy right now.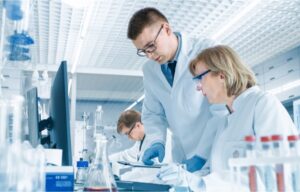 What Is Equillium Inc?
Founded in 2017 and headquartered in San Diego (La Jolla), California, Equillium is a biotech firm developing treatments for severe autoimmune and inflammatory disorders.
The company's first potential product offering is Itolizumab (EQ001), a drug currently featured in clinical trials. And so far, the drug is showing some promise in phase 1 of clinical trials.
Leerink analyst Thomas Smith had this to say about the trials:
These results aligned with biomarker data showing that itolizumab rapidly decreased CD6 expression on CD4 and CD8 T cells. We believe these results are compelling and supportive of EQ's plans to expand dosing into additional GVHD patients at the 0.8mg/kg and 1.6mg/kg dose levels.
As a result, Smith rates the stock as a buy and sets a price target of $18. As of yesterday, Equillium stock closed at $5.86. It has traded as high as $27.05 on the year.
What Are the Fundamentals Supporting Equillium Stock?
Equillium stock is a penny stock with plenty of upside potential. And of course, as is generally the case with biotech startups, the potential for long-term profitability is tied to the success of its initial product offerings.
But because Itolizumab is not in production yet, there is no revenue or income to show at this point in time. The good news, however, is that the company has plenty of cash to finance its current clinical trials. Moreover, the cash is funded mostly through equity and the balance sheet shows very little debt.
Equillium Inc. currently has $53.1 million of cash on hand. Meanwhile, only $13.6 million of total liabilities exist on the books, and $9.7 million of that is long-term debt.
Through increased financing and keeping its expenses reasonable, the company has been able to improve its net cash flow in each of the last four quarters.
Over the past year, the stock has a 53% gain, and with continued success of its clinical trials for itolizumab, it could see a whole lot more in the future.
Should You Buy Equillium Stock?
Biotech startups like Equillium stock are inherently risky. On the one hand, if a product hits it can lead to massive profits. On the other hand, if the product fails your investment may blow up in your face.
Wall Street analysts are currently optimistic about the stock's future prospects. Three out of 4 analysts have rated the stock a strong buy. The fourth rates it simply as a buy.
But a bad turn in the clinical trials of Itolizumab could quickly wipe away those positive sentiments. So, like any biotech penny stock, Equillium remains a risky bet.
If you want to stay on top of currently trending stocks, be sure to subscribe to our free e-letter Profit Trends. Each edition features insights from our Chief Trends Strategist Matthew Carr.
As Matthew follows all of the latest trends in tech and biotechnology, you will receive his best tips, insight and advice when it comes to Equillium stock and other potentially lucrative investments.
---
Brian M. Reiser has a Bachelor of Science degree in Management with a concentration in finance from the School of Management at Binghamton University.
He also holds a B.A. in philosophy from Columbia University and an M.A. in philosophy from the University of South Florida.
His primary interests at Investment U include personal finance, debt, tech stocks and more.