The KinderCare IPO is coming to the market. The company will trade on the New York Stock Exchange under the ticker KLC. Here's what we know…
KinderCare IPO: About the Business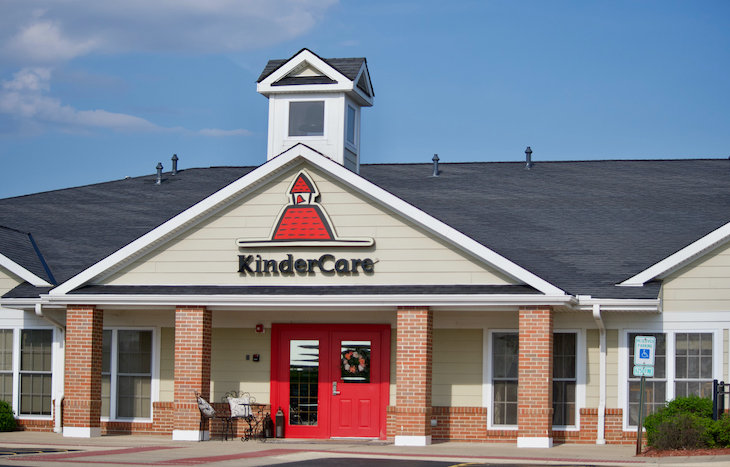 KinderCare is the largest private provider of childhood education and care services in the United States. The company started in 1969 in Birmingham, Alabama. Today, the company has headquarters in Portland, Oregon.
KinderCare has 1,490 early childhood education centers that serve children from six weeks to 12 years old. There are more than 650 pre- and after-school programs run by KinderCare with a capacity of more than 195,000 students.
Between 2018 and 2020, the company acquired 163 centers and opened 47 new greenfield centers. As of October 2, 2021, Kindercare spans across 40 states and the District of Columbia.
KinderCare's three market channels include…
Children six weeks to 12 years old can attend KinderCare Learning Centers in their neighborhoods.
KinderCare Education at Work provides customized family benefits for employers across the country. This includes on-site and near-site early learning centers, as well as backup care for last-minute child care needs.
Champions offers before- and after-school learning programs aimed to spark wonder in school-aged children in local elementary schools.
KinderCare Growth Impacted by COVID-19
Over 17.5 million American workers, or 20% of the workforce, use childcare daily. And the childcare market is forecast to continue growing. According to the filing, the market for education-focused care is projected to grow at a compound annual growth rate of 6.4% between 2021 and 2026.
While KinderCare is a leading childhood education and care provider, its business suffered from the pandemic. The company temporarily closed 1,074 centers and 547 before- and after-school sites in early 2020. Although, 420 child care centers remained open to serve first responders, emergency healthcare providers and families working in essential services.
The company took several measures to manage costs and improve liquidity during the pandemic. This included cutting all non-critical business spending and furloughing employees. KinderCare also temporarily reduced the salaries of the executive team and negotiated rent and benefit holidays or deferrals.
As the effects of the pandemic lessened, KinderCare reopened 1,021 centers and around 320 before- and after-school sites. Many employees were relieved of furloughs and their salaries reinstated.
Check out these 7 education stocks worth watching this year for more education investing opportunities.
COVID-19's worst days are now behind the company. Things are looking up for KinderCare and its finances are reflecting this.
KinderCare IPO: The Finances
Detailed financial information is in the KinderCare IPO prospectus, allowing you to gain more insight into the company's finances. If you're in the market for KLC stock, let's look at the details.
KinderCare highlights some key information for investors. The company's profit and loss statement and balance sheet data are as follows…
Revenue: KinderCare recorded a drop in revenue. KinderCare recorded $1.7 million in revenue in 2018 and $1.9 million in 2019. However, KinderCare's revenue dropped over 26% in 2020. For the fiscal year ended January 2, 2021, the company reported $1.4 million in revenue.
Net Income (Loss): KinderCare's net losses have increased. The company recorded $36.4 million in net losses in 2018. Net losses dropped to $29.1 million for the 2019 year. However, KinderCare's reported net losses skyrocketed over 345% to $129.5 million in fiscal 2020.
Total Assets and Liabilities: KinderCare's total assets and total liabilities have grown. The company recorded $3.3 billion in total assets in 2019. As of October 2021, KinderCare's total assets stand at $3.4 billion. Furthermore, KinderCare's total liabilities stood at $3 billion in 2019 and $3.1 billion in 2020. As of October 2, total liabilities stand at $3.2 billion.
Cash: KinderCare's cash flows have increased. The company recorded $40.3 million in cash as of December 2019. By the end of 2020, cash grew to $53.2 million. Furthermore, the company's cash has nearly tripled since 2020. As of October 2, 2021, KinderCare has $152.5 million in cash.
KinderCare IPO: Use of Proceeds
At its midpoint price range, the KinderCare IPO will raise around $460 million in net proceeds after deducting expenses. As reported in the filing, KinderCare says it will use the proceeds as follows…
Repay outstanding loans amounting to $418.2 million under its first and second lien facilities
Redeem $42.6 million of shares received by its parent company, Partners Group
Pay fees in connection with the KinderCare IPO
The remaining proceeds from this offering will go toward general corporate purposes.
Additionally, underwriters will have 30 days to buy up to 3.9 million shares of common stock. Net proceeds will be approximately $530.8 million if the underwriters exercise their option to buy additional shares in full.
The KinderCare IPO will value the company at what amount? Let's look at the filing details…
KinderCare to Trade on NYSE Under KLC Ticker
KinderCare filed on October 18 and set its terms for the offering on November 8.
The company plans to list on the New York Stock Exchange (NYSE) under the ticker KLC. The company is offering 25.8 million shares of common stock. Shares will price between $18 and $21 per share.
KinderCare will make its public debut on Thursday, November 18. At the midpoint of the proposed range, the company could command a market value of $2.7 billion.
Barclays, Morgan Stanley and Jefferies are lead underwriters for the offering.
The KinderCare IPO hasn't hit the market yet. However, stay tuned for more updates on KLC stock and we'll give you the latest updates.
For more education investing opportunities, check out the PowerSchool IPO and Udemy IPO.
As always, make sure to research before you invest. IPOs can be volatile for the first few months and share prices are constantly changing. But if IPO investing interests you, check out our top recent IPOs and our IPO calendar. We update the calendar daily to give you the latest news on upcoming and filed IPOs.
---
Aimee Bohn graduated from the College of Business and Economics at Towson University. Her background in marketing research helps her uncover valuable trends. Over the past year, her primary focus has been researching IPOs and other trends.