A Krispy Kreme IPO is on the way! The company recently filed to go public with the Securities and Exchange Commission (SEC). Now investors want to know when they can expect Krispy Kreme stock.
But is Krispy Kreme a good investment opportunity? Here's what we know…
Krispy Kreme IPO: The Business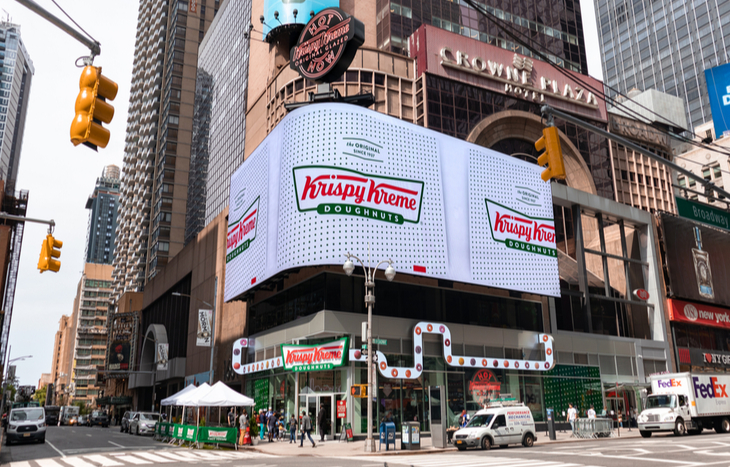 Vernon Rudolph founded Krispy Kreme Doughnuts in 1937. The company known for its original glazed doughnuts is based in Winston-Salem, North Carolina. But it has expanded to sell its doughnuts in 12,000 grocery and retail stores in the U.S., as well as 1,400 shops across 33 countries.
Krispy Kreme is a rival to Dunkin', which investors took private last year. The company was acquired by Inspire Brands, the owner of Arby's, for $8.76 billion. Krispy Kreme is going the opposite route with the announcement of a Krispy Kreme IPO.
But did you know this won't be the first time Krispy Kreme has going public?
The 2000 Krispy Kreme IPO
In 2000, investors saw Krispy Kreme stock for the first time. The doughnut company sold 3 million shares at a price of $21 per share. This was above the original range of $18 to $20. Shares traded on the Nasdaq under the symbol KREM.
At first, the company saw success. A MarketWatch article from 2003 states that profit growth and a jump in revenue from expansion increased shares 545% since their 2000 debut. This made it the best-performing IPO for the time period.
But in 2005, Krispy Kreme filed for Chapter 11 bankruptcy. It was the result of a joint venture with Freedom Rings, a Philadelphia-based franchise. Originally, Krispy Kreme held 70% of Freedom Rings. It bought the remaining 30% before filing for bankruptcy.
Additionally, Freedom Rings' had a debt of $24.1 million. But the debt was never recorded correctly in Krispy Kreme's books. That's because the franchise operations and parent company were consolidated. As a result of the Chapter 11 filing, Krispy Kreme said it would "deconsolidate" the franchise.
By this point, Krispy Kreme was dealing with accounting problems, a regulatory investigation and shareholder lawsuits. As a result of the ongoing issues Krispy Kreme ran into, the company was acquired in 2016 by JAB Holding Company. This effectively took Krispy Kreme stock off the market.
So why is Krispy Kreme going public now?
Krispy Kreme Opens Times Square Store
The COVID-19 outbreak greatly impacted the markets. And in 2021, there's still hesitation. But despite the ups and downs, 2020 was a great year for the IPO market.
According to FactSet, IPOs raised $174 billion in 2020, a 150% year-over-year increase. Many companies hoped to ride this trend into 2021. Big names like Coinbase (Nasdaq: COIN) and Endeavor (NYSE: EDR) went public this year, and a Starlink IPO is promised to come soon.
Additionally, Krispy Kreme is making moves to expand operations. And its biggest pride is its new 24/7 shop in Times Square. The space is a whopping 4,500 square feet. It includes a glazing waterfall for customers to watch the doughnuts be prepared right in front of them. It also has a doughnut-making theater with stadium seating. The company claims it makes 4,560 doughnuts every hour. And finally, it offers an exclusive "Big Apple" doughnut.
Upon opening the location in September, CEO Michael Tattersfield stated…
Today, icons turned on Times Square's newest light – the iconic Krispy Kreme Hot Light – and we are ecstatic to provide New York City residents and visitors not just the world's most awesome doughnuts but a joy-filled doughnut experience that they will never forget.
The final thing Krispy Kreme is doing to bring more brand awareness is free doughnuts. For the remainder of 2021, people can get a free original glazed doughnut every day if they show they're vaccinated.
And that brings us to the big question…
When Will Krispy Kreme Go Public?
Krispy Kreme announced it's going public, but the IPO filing isn't public. This means there is no announced IPO date, share number or price range. Additionally, the company didn't announce a market or ticker symbol. However, it's possible it will trade on the Nasdaq, the same market it debuted on in 2000.
Are you looking for the latest investment opportunities? Sign up for our free Liberty Through Wealth e-letter! It's full of helpful research and tips from our investing experts. And if IPO investing interests you, check out our IPO Calendar to stay up to date on the market's latest offerings.
Although there isn't a confirmed Krispy Kreme IPO date, investors should keep in mind that confidential filings must be made public no later than 15 days before the date. So keep an eye out for that announcement and come back for more updates on the Krispy Kreme IPO.
---
Amber Deter has researched and written about initial public offerings (IPOs) over the last few years. After starting her college career studying accounting and business, Amber decided to focus on her love of writing. Now she's able to bring that experience to Investment U readers by providing in-depth research on IPO and investing opportunities.