After exploding on the scene last year, Lucid Group (Nasdaq: LCID) is trending again before earnings on February 28. With LCID stock down over 27% so far this year, is now the time to buy?
The luxury EV maker is often compared to rival Tesla (Nasdaq: TSLA) in the approach it's taking. That said, Lucid's first EV, "Lucid Air," is being named MotorTrend's 2022 Car of the Year. Also known as the "Golden Caliper's," the award is considered one of the most highly regarded honors in the industry.
With this in mind, EV stocks are taking a backseat after leading the market post-pandemic. The KraneShares EV ETF (NYSE: KARS) is down 13% as investors take profits in an overheated market.
At the same time, experts predict the EV market will be one of the fastest-growing markets in the next several years. Given that EV sales look to reach close to 30% of new car sales by 2030 from 3.4% in 2021, there's a ton of room for growth.
Keep reading to learn what role Lucid plans to play in the EV market and what to expect from LCID stock.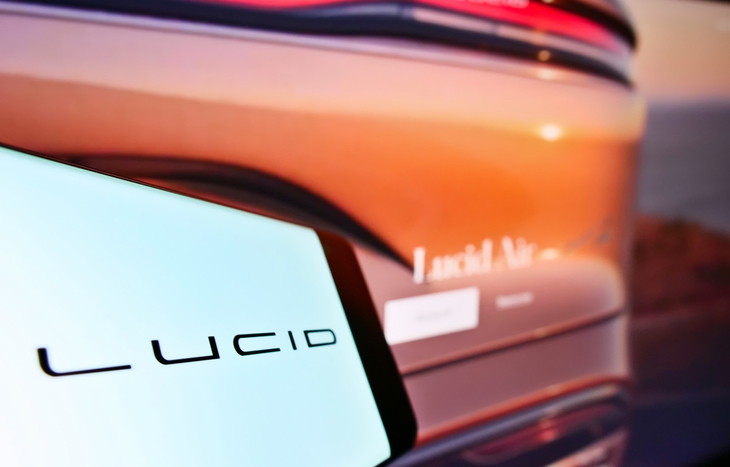 LCID Stock: What to Expect From Lucid's Q4 Earnings
Lucid Motors is at an exciting point in its business cycle. The company is transitioning from development to production as the Lucid Air Dream Edition begins hitting the streets. The deliveries began in October as the team personally welcomed customers.
According to Yahoo Finance, analysts are expecting the following in Q4:
EPS: (-0.35)
Revenue: $36.74 million
Yet as the company ramps production, it will still be losing money. That said, it could be another year before we see a gross profit.
That being said, Lucid expects to sell 20,000 EVs in 2022. But the company also notes the target will depend on several ongoing issues like supply chain issues and production ability.
Speaking of supply chain issues, on Tesla's Q4 earnings call, CEO Elon Musk says multiple industry challenges exist. First, the most limiting factor is the chip shortage, making it hard to get the devices needed to power EVs.
Secondly, port challenges make it more expensive to get supplies on time. Tesla noted a "significant increase in expedited costs," especially for unique parts.
On top of this, Lucid plans on launching another three models this year, all of which will require special parts. On the other hand, Tesla is sticking with its current models to focus on total vehicle output.
It will be interesting to see which strategy is more successful at the end of the year. Will Tesla hold on to its dominant lead in the EV market, or will Lucid creep into its market share?
Battle of The U.S. EV Makers
In case you missed the super bowl between the Rams and Bengals, (spoiler) the Rams won. But the biggest takeaway wasn't from the game. It was from the commercials. It was evident of the changing times with EVs and crypto dominating ad time in the most popular sporting event in the U.S.
For a 30 second ad, the cost is around $7.5 million as over 100 million viewers tuned in. As the industry continues building momentum, this is likely the new normal.
Another key point to consider is Biden's "Rebuilding our Manufacturing to Make More in America" speech. In the speech, Biden addresses his desires for America to become the global leader in EVs. In particular, he pointed out rivals Tesla, Rivian (Nasdaq: RIVN), GM (NYSE: GM) and Ford (NYSE: F).
Even though Lucid didn't get a shout-out, the company plans on playing a major role in the growing EV market. That said, the Lucid will face stiff competition as it looks to grab a piece of the luxury EV market.
Tesla is leading U.S. luxury vehicles with over 936,000 cars delivered in 2021. Lucid will have a long way to go in catching up, but it's not impossible.
We will see if the company can overcome Tesla's issues in what became known as "production hell."
Lucid's Advantage
Although Lucid is just getting its feet on the ground, it does have an advantage. The auto industry is famously known for slim margins and its high barrier to entry.
On the other hand, Lucid is making a higher-end vehicle in its award-winning Air. With this in mind, premium vehicles generally offer more revenue and higher margins. Not only that, but like Tesla, the EV maker is coming in with a strong reputation.
The company claims its Dream Edition R has a 520-mile range. If this is the case, it will beat out the Tesla Model S, known for its long-range ability (405 miles).
The extra 115 miles could be a huge draw for some. But, it's also $74,000 more than the Tesla Model S, which you can order at any time. So, it really will come down to if buyers want the extra bells and whistles that come with the Air.
So far, Lucid is following in Tesla's footsteps in many ways. Yet the company stands apart as well.
First of all, Lucid is doing well in delivering on its promises. Transparency can go a long way in attracting customers as well as investors.
LCID Stock Forecast: Will Lucid Bounce Back?
The upcoming quarter and year will be critical for Lucid Motors. So far, LCID stock is down over 30% this year, with EV stocks falling.
With this in mind, LCID stock is sitting below its 200-day SMA, a sign of further weakness. Nonetheless, the EV maker needs a solid quarter to give it any strength. Even though Lucid will not be turning a profit, the guidance going forward will be most important.
If Lucid continues delivering on its promises and stays on track this year, expect LCID to regain some momentum. On the other hand, investors are fleeing high-valued growth stocks with no profits to manage risk.
That said, if Lucid fails to deliver, we could see more pressure on LCID stock this year. Lucid shares are still up from their 52-week low of around $16. But they seem to have found support around $25-$28.
Until earnings on February 28, don't expect too much. Then after earnings, we should see if LCID stock has any chance of bouncing back this year.
---