LEV stock is trending after receiving a big order for its electric school buses. Yet the stock is still heading in the wrong direction and is now down over 50% this year.
The Lion Electric Company (NYSE: LEV) is a commercial EV maker that went public earlier this year through a SPAC. Despite the initial hype pushing share prices over $35, the momentum is fading, with LEV stock near all-time lows.
If you go on any stock forum right now, there's bound to be some talk about electric vehicles. The hype surrounding EVs has bloomed from several major events this past year. First, EV makers like Tesla are seeing their market cap swell by 150% as investors look to grab a piece of the future.
But more importantly, President Biden is making it clear the U.S. and other nations are moving towards a greener future. In particular, the president is targeting 50% of vehicle sales to be EV by 2030.
So far, EVs only make up about 3% of the total share, meaning sales would need to pick up significantly. That said, LEV stock is in a unique position to capture a fair share of this growth. Keep reading to find out why.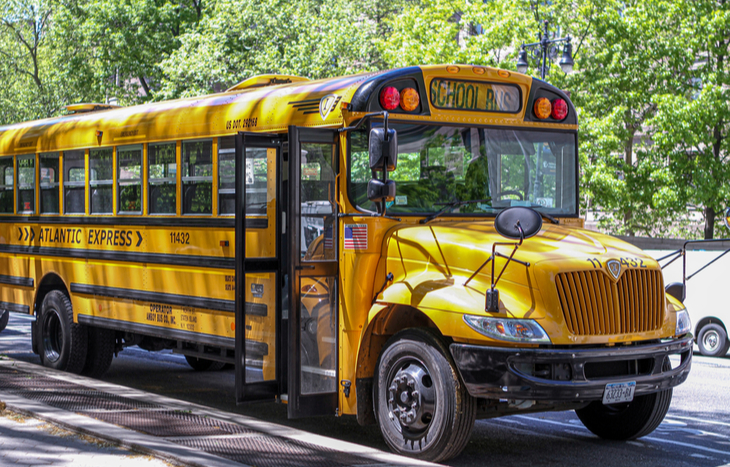 What's The Lion Electric Company All About
The Lion Electric company isn't just any EV stock. It specializes in all-electric medium and heavy-duty vehicles. Furthermore, the company has real products readily available rather than just plans. So far, Lion Electric has seven vehicles.
1 Class 6 Truck
3 Class 8 Trucks
A Shuttle Bus
And 2 School Buses
Not only that, but the EV maker's customers include top brands such as Amazon (Nasdaq: AMZN) and Molson Coors (NYSE: TAP). With this in mind, Lion Electric is leading the charge for commercial EVs in the North American Market.
Being a first-mover in the market, Lion has a real opportunity here. The company currently has two factories ready for manufacturing. One in Montreal with 2,500 vehicle production capabilities per year. And another in Mirabel, Canada, being used to produce electric minibuses.
Moreover, Lion is building its first U.S plant in Illinois and expecting the first vehicles ready in the second half of 2022. The new facility expects production capabilities of around 20K, making it the largest all-electric medium and heavy-duty plant in the U.S.
And lastly, Lion Electric also produces battery packs to power its vehicles. With this in mind, the company is working on a highly automated battery factory in Mirabel, CA, that will be complete in 2H 2022.
Why Is LEV Stock Trending
The Lion Electric Company is doing it all right now. They already have big-time customers making repeat purchases.
But the biggest reason LEV stock is trending is due to its latest order. Earlier this month, the company took an order for 200 of its electric school buses. The news is significant as the order comes from Langs Bus Lines, an operator with over 600 buses in Southern Ontario.
Considering the transportation industry is a big priority to convert to electric, Lion Electric is positing itself to maintain its lead. Transportation is the largest contributor to greenhouse gases of any sector, with 29% of the share. Even more, medium and heavy-duty trucks make up most of the emissions, which happens to be Lion's specialty.
This comes after already receiving several orders for its products. For example,
Last year, Lion announced it's delivering ten electric trucks to Amazon. The company plans to purchase up to 2,500 more by 2025.
In May, First Student, the largest student transport company in North America, announced its ordering 260 all-electric school buses.
And then, in October, Lion received an order from Student Transportation of Canada for 1,000 school buses.
Overall, the orders show Lion Electric is doing the right thing and getting its products into the mainstream. Not only that, but by partnering with top-level companies, the company is leading its market.
LEV Stock Analysis
You may be thinking, "Yeah, that's great, but LEV stock is down over 50% this year." And you're not wrong. But, here's the thing – cleantech stocks overall are down this year after an explosive run in 2020.
The Invesco WilderHill Clean Energy ETF (NYSE: PBW) is also down almost 30% as investors take profits in an overheated sector. With volume seemingly drying up, LEV stock will need to continue showing progress to move the stock higher.
With a market cap of over 1.8 billion, it can seem relatively high for a company with 40 vehicles delivered this past quarter. Blue Bird (Nasdaq: BLBD), one of its closest competitors, sports a market cap half of that (471.5M).
Yet this is the EV market we are talking about where companies are notoriously highly valued. Then you see EV stocks like Rivian (Nasdaq: RIVN) rocking a market cap of $85 billion, and it doesn't seem too bad.
At the same time, LEV stock is sitting near all-time lows with a growing order log. And with a slate of new products, including an all-electric ambulance and bucket truck being released by 2023, look for LEV stock to see more coverage next year.
LEV Stock Forecast: Where Do We Go From Here
Sitting near its lowest price since becoming a public company, it's tempting to scoop up LEV stock at these levels. But the market is relentless this year for EV stocks not named Tesla (Nasdaq: TSLA).
Nonetheless, Tesla also had its fair share of big drops before finally breaking out in 2020. Not that Lion Electric is the next Tesla, but they are leading the market in the same way the EV leader did the past few years.
Wall Street has a common saying that goes something like "Be first or be better." And in Lion's case, they are first to the market with a significant opportunity ahead of it.
Although the company is still in its early stages, it looks to be positioning itself to take command of the commercial EV market. And with big plans from both national and private institutions to transform their fleets to electric, look for Lion Electric to take advantage.
In fact, the new infrastructure plan dedicates $5 billion to purchase new electric school buses. If Lion can grab a piece of the over 500,000 U.S. school bus market, it can further solidify its position.
---
Pete Johnson is an experienced financial writer and content creator who specializes in equity research and derivatives. He has over ten years of personal investing experience. Digging through 10-K forms and finding hidden gems is his favorite pastime. When Pete isn't researching stocks or writing, you can find him enjoying the outdoors or working up a sweat exercising.