Is a Liquid Death IPO coming in the near future? Speculation is at an all-time high after a recent funding round for the popular water company. In fact, co-founder and CEO Mike Cessario has also chimed in on the rumors. Let's take a closer look at this unique company, its recent news and potential market value if it decides to go public.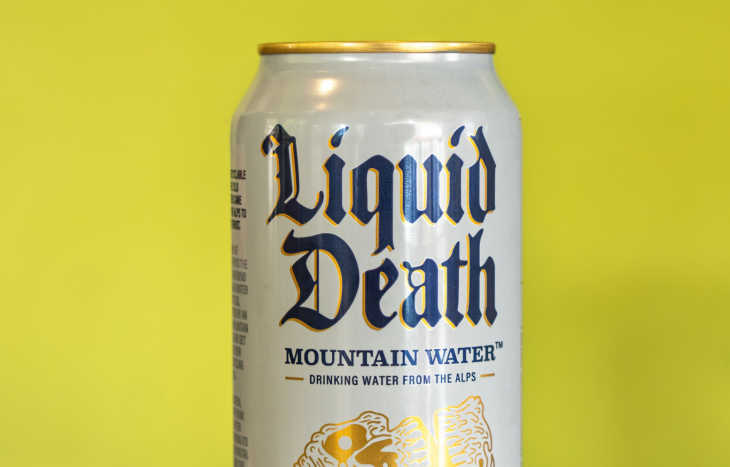 Liquid Death IPO Potential: Company Background
Liquid Death is a canned water company that was first introduced in 2019. Specifically, its water is sold in "tallboy" 16.9 US fl oz cans. Outside of still water, the company also produces flavored varieties of sparkling water. For example, this includes berry, lime and mango.
But it's just water! So why is this company growing so quickly with such heavy competition in its way? It starts with its marketing. Liquid Death goes against the grain of common corporate marketing. Instead, the company takes a more comical and fun-loving approach to connect with consumers. For instance, its tagline is "murder your thirst."
It's also only sold in cans in an effort to "kill plastic pollution." But this also brings in a different consumer base as a nonalcoholic alternative. It's a really appealing and cool can design that is environmentally friendly. Its style more closely resembles a beer than a water bottle.
"If you don't want to drink, this is way more fun," CEO Mike Cessario reportedly said, according to a Bloomberg report. He went on to add that part of the company's success is due to a product that looks "fun and unhealthy like beer or an energy drink."
It has the appeal, its fighting pollution and it's a disruptor in the industry. What more can you ask for? This is why there's so much interest in a Liquid Death IPO. And it looks like an initial public offering may be coming sooner rather than later.
Funding Rounds and IPO Speculation
Liquid Death just recently raised $70 million, led by Science Ventures, in its second funding round. This gives the company a valuation of $700 million! To date, Liquid Death has raised $195 million in total.
According to the report above, the company is on track to bring in close to $130 million in revenue in 2022 after hitting $45 million in 2021. That's massive growth for a 3-year-old water startup. And it's another reason why the Liquid Death IPO speculation is heating up. CEO Mike Cessario is also adding fuel to the flames, saying "it's a path we are exploring sometime in the next two years."
The interest in this company is skyrocketing, and its marketing stratregy will be one that other startups use as a case study for years to come. Cessario has done a great job connecting with consumers by not forcing traditional marketing down their throats. Instead, he's providing a necessary product in a new, fun and exciting way.
Investing in Startups
Liquid Death is currently a private company and there are no specific plans for an IPO. Therefore, you will want to keep a close eye on this company's movement over the coming years.
It's clear that the company will explore the possibility of an IPO in the next two years or so. But in the meantime, there are many investment opportunities that can enhance your portfolio. For access to expert stock tips and analysis, sign up for one of the best investment newsletters. These daily e-letters are packed with stock market insights that cover current trends and provide tips for investors of all experience levels.
The stock market is in a downturn at the moment due to recession fears and high inflation. And while this is never good, it does present investors with more buying opportunities at a lower price point. This also includes various water stocks. There's a wide range of long-term investing opportunities to consider while you wait for the Liquid Death IPO!
---