Low beta stocks are a good match for you if you are looking for something slow growing. Because these are safe and steady growing stocks. Plus, many of them pay dividends to their shareholders.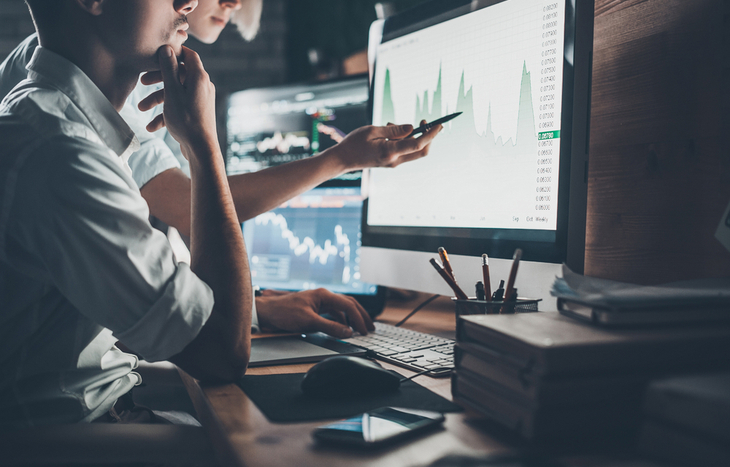 What are Low Beta Stocks?
Low beta stocks are those that have low volatility. They receive a beta score of less than 1. When a stock receives a score of higher than 1, it is more volatile than the S&P 500. It can be easy to lose your money with these high beta stocks.
So, low beta stocks are slow-growing, and much safer to invest in. Plus, there's an interesting experiment done by Tony Yiu.
In it, he compared low beta stocks to high ones. And the low beta stocks outperformed high beta over a three-year timeframe. So, I guess slow and steady does win the race.
Additionally, many low beta stocks pay out dividends to their shareholders. And dividends are great income producers.
How Can You Use Low Beta Stocks to Produce Income?
There are a few ways you can use low beta stocks to produce consistent income. The first is by making your investment and waiting. You'll make money as the price of the stock increases. Then, every once in a while, you can take a percentage of your earnings as income.
You can also use dividends to give you income. Many low beta companies will pay out a dividend to their shareholders.
This is great because you are not only letting your investment grow. But you are also getting income from the dividends. Or, you can put them back into the stock to help it grow faster.
Additionally, you can check out other ways to make income from your low beta investments. Stock options are one way to make extra money. They aren't very popular. And they require some work. But, they can be worth it.
How to Find Low Beta Stocks
Of course, you can go to your search engine and type in something like "best low beta stocks." Many posts will come up, and advise you on wise investments to make.
But, another option is using a stock screener. These are great because you can specify the exact type of stock you want.
Usually, what I do is narrow some stocks down based on industry, profit margins and cash flow. Then, I can slap on a beta filter. In addition, I can specify how low of beta I want.
And sometimes, my specifications are too strict. If that's the case, I'll play with the filters until I find a good amount of stocks to work with. Once I find a nice little handful of them, I'll start sifting through them individually.
And I'll do my deeper due diligence on each company.
When doing due diligence, you want to look at the industry and market. What is their "edge"?
Also, check out the company's leadership. And determine if the core offering is valuable or not. Because these pieces of information are crucial. You need to understand whether you want to own part of that company or not.
And that's another thing, always look at buying a stock as owning a piece of that company. Because you do. And you're directly influencing the growth of that business.
Check out the low beta stocks I've picked out for you below.
Best Low Beta Stocks
Employers Holdings, Inc. (NYSE: EIG)
Gravity Co., Ltd. (Nasdaq: GRVY)
Hormel Foods Corp (NYSE: HRL)
Prudential Bancorp Inc. (Nasdaq: PBIP)
Thryv Holdings Inc. (Nasdaq: THRY)
Low Beta Stocks to Buy
Employers Holdings, Inc.
Beta: 0.01
Market Cap: $1 billion
Dividend: yes
Employers Holdings focuses on one product. And that's workers' compensation insurance. It serves dozens of industries. And those include accounting, personal care and real estate.
Employers focuses on ease of use and affordability for small business owners.
The leadership at Employers Holdings is successful and knowledgeable. They have experience is their roles.
Doing business nationwide, they offer services in almost all fifty states.
Gravity Co., Ltd.
Beta: 0.01
Market Cap: $493 million
Dividend: no
If you like video games, Gravity is an investment for you. It's a South Korean video game producer. And it's best known for creating Ragnarok Online.
This low beta stock has offices in many different countries. Including Thailand, Indonesia and the U.S. Plus, the company has big plans to develop all over the world. It hopes to establish itself in almost every continent. Including Asia, Europe, North and South America and Oceana (Australia and New Zealand).
Those are large goals, and it hasn't hit unicorn status yet. So, Gravity has some room to grow and expand.
Hormel Foods Corp
Beta: 0.03
Market Cap: $25 billion
Dividend: yes
Hormel headquarters in Minnesota, and is a food processing company. This low beta stock is a global business with many prestigious awards and recognitions. One of those recognitions is the "Forbes 2019 Global World's Best Employers 2000." The most recent is "Newsweek's America's Most Responsible Companies 2021".
Hormel is responsible for many of the foods you eat daily. Like Skippy, Hormel Chili and Corn Nuts. And there are even stores in over 80 countries.
Leadership is also great, with management having past success in their fields.
Prudential Bancorp Inc.
Beta: 0.03
Market Cap: $112 million
Dividend: yes
Prudential Bank offers all the normal banking services like savings and checking accounts, loans, etc.
And they also provide commercial loans for businesses and mortgages.
With a market cap of only over $100 million, this low beta stock has a great amount of room to grow. It still has a small cap. It was founded in 1886, so it has a long history of growth and success behind it.
If the company decides to branch out into other states besides Pennsylvania, it'll likely do well.
Thryv Holdings Inc.
Beta: 0.03
Market Cap: $1 billion
Dividend: no
Thryv was founded in 2013, and currently operates as a software as a service (SaaS) company. Amazingly, in 2020, the company reported $1.3 billion in revenue for a twelve-month period. It focuses on ease of use and target small businesses.
Thryv specializes in software that allows small business owners to scale and grow. The software includes everything a small startup needs to thrive. Additionally, it automates tasks and keeps things simple.
This low beta stock is a great stock that seems to still be "under the radar" and growing quickly.
---
Vanessa Adelman graduated with an Interdisciplinary degree. She majored in Entrepreneurship, Painting, Music and Film. Shortly after, she received a copywriting mentorship with Mark Morgan Ford. Then, she earned her AWAI Verification. Now, Vanessa freelances in the financial direct response industry. She's been investing since 2016. In her free time, she enjoys books about money and wealth. She loves being with her boyfriend, hunting, fishing and going on outdoor adventures.