Electric vehicles are becoming more popular, seemingly by the week. With major climate initiatives coming out of the COP26 conference and Joe Biden's infrastructure package, there is even more reason to be confident about EVs going forward. And Lucid Group (Nasdaq: LCID) stock might be a name worth adding to your portfolio.
The bipartisan infrastructure bill includes $7.5 billion for a network of EV charging stations plus an additional $7.5 billion for zero- and low-emission buses and ferries. That money will give a boost to the existing charging infrastructure, such as Chargepoint's 18,000 charging stations in the U.S.
All of this sets the stage for Lucid Group, which began deliveries of its luxury EV, the 2022 Lucid Air, on October 30. While this is not a car for the masses, it has been well received so far. This begs the question of whether Lucid Group stock is worth buying. We'll take a closer look at that question here.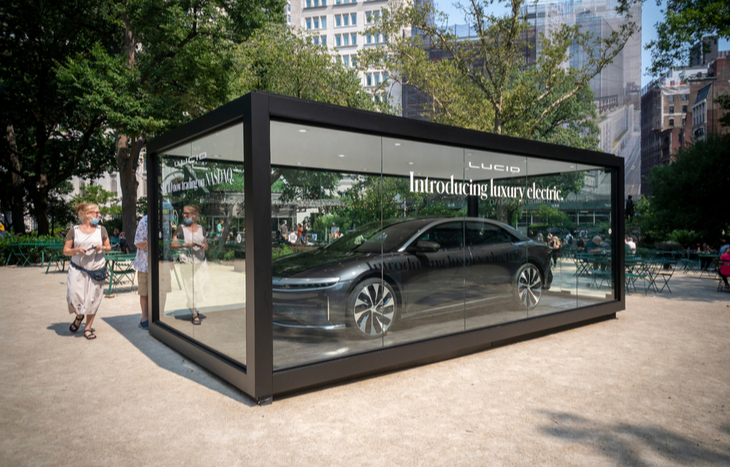 What is Lucid Group?
Lucid Group is an American electric vehicle manufacturer based in Newark, California. The company was founded in 2007 and was previously known as Atieva. Lucid went public in July 2021 after Lucid Motors merged with Churchill Capital Corp IV, leading to the new name, Lucid Group.
Currently, the Lucid Air is the only vehicle available from the automaker. The Air offers a number of impressive specs, including an EPA-estimated 500-mile range. However, the starting price for its luxury electric vehicle starts at $77,400 before incentives. That price point puts it out of reach for most people. However, Tesla took a similar path when it launched its Model S, the only Tesla vehicle available at the time.
Lucid Group is already starting to scale up as well. It opened a location it calls a Lucid Studio on November 6, 2021 in the Washington, D.C. metro area, the company announced in a press release. This follows the growing trend of the direct-to-consumer sales model used by Tesla, among other companies.
Lucid Group Stock Forecast
Lucid Group stock went public on July 26, debuting at a price of around $27 per share. Its share price dropped in late August, dipping to below $18 per share. But remember that Lucid had not begun deliveries of the Air at that point, meaning there were no Lucid vehicles on the road yet. In addition, there were some concerns about possible production delays which may have contributed to the dip.
Predictably, shares of Lucid Group stock are higher since the company started deliveries of the Air. The price jumped from $24 per share in mid-October to about $37 per share before deliveries even started, on October 29th. Since then, shares have only risen further to nearly $45 before dipping slightly to $43.
While some analysts are predicting declines in the share price, investor sentiment remains strong. The Lucid Air isn't perfect, but reviews have a positive sentiment, and Lucid says it is working through the kinks in this initial vehicle release.
If Lucid can continue to improve on the Air and sort through a few issues, it's reasonable to expect shares will only continue to trade higher going forward.
Quarterly Financials
Since Lucid only started deliveries of the Air at the end of October, it shouldn't come as a surprise that the company isn't profitable yet. Despite a market cap of nearly $70 billion, its earnings per share (EPS) is -306.76. We will have to watch how that number evolves as production picks up and Lucid sells more vehicles. For now, Lucid Group stock is just trying to scale up, and earnings naturally will, too.
To give you a sense of just how early things are for Lucid, its earnings report for Q2 2020 shows you reportable revenue with a net income of -$117.28 million. Q2 2021, its revenue was $174K with a net income of -$261.73 million. Its operating income was -$249 million; net income and operating income both dropped by more than 100% year-over-year.
Again, it's clear that these figures come from an automaker that only just started production of its first vehicle. Simply put, these earnings don't tell us much more than that. When production ramps up more, we will start to have a better idea of what Lucid's financials look like. It has its Q3 2021 earnings call on November 15, so that will be one to watch. After all, this is the first earnings call taking place after it started delivering the Air.
Should You Buy Lucid Group Stock?
At the moment, it is (very) early days for Lucid Group. It just began deliveries of the Air, a luxury electric vehicle that could be a direct competitor to the Tesla Model S. Reception of the Air has been largely positive so far, especially for a brand new model. While there are still some kinks to work out, Lucid is working on addressing them with software updates.
MotorTrend's review of the Air says it has "world-class efficiency" and "miraculous packaging." Indeed, the launch of the Air seems to have been a success, even if it's too expensive for the average person.
Thus, there are a lot of reasons to be encouraged by Lucid, especially with governments stepping up their climate initiatives. We don't know yet whether Lucid can be profitable, but all 8,000 of available reservations top-end, $170,000 Lucid Air Dream Edition were taken back in March, well before production began. Thus, it doesn't seem sales will be an issue for the Lucid Air, despite its high price tag.
If you're looking for even better stocks, sign up for the Profit Trends e-letter below. You'll hear directly from investing experts on some of the hottest trends in the market. Don't miss out on the next profitable investment opportunity. Sign up today!
Thus, the question right now is whether Lucid Group stock can scale effectively. That has been one of the biggest challenges for Tesla; if Lucid can produce as many cars as people want to buy, it should have little trouble reaching profitability. And if you believe it can do so, its stock is well worth adding to your portfolio.
---
Bob Haegele is a personal finance writer who specializes in investing and planning for retirement. His hefty student loan burden inspired him to pay off his loans, and now he's helping others get their finances in order. When he's not writing, he enjoys travel and live music.