If you drive an electric vehicle, you are probably familiar with ChargePoint. If not, ChargePoint is the largest independently owned network of charging stations. Not only that, but the company went public in September 2020 and trades on the NYSE. Hence, it is still in the early days of this potentially lucrative investment opportunity. We'll explore that and more in this ChargePoint stock forecast.
ChargePoint is the largest charging station operator in a growing electric vehicle market. However, that doesn't guarantee it is a solid investment going forward. Thus, this ChargePoint stock forecast will take a closer look at ChargePoint and whether you should consider investing in these early stages.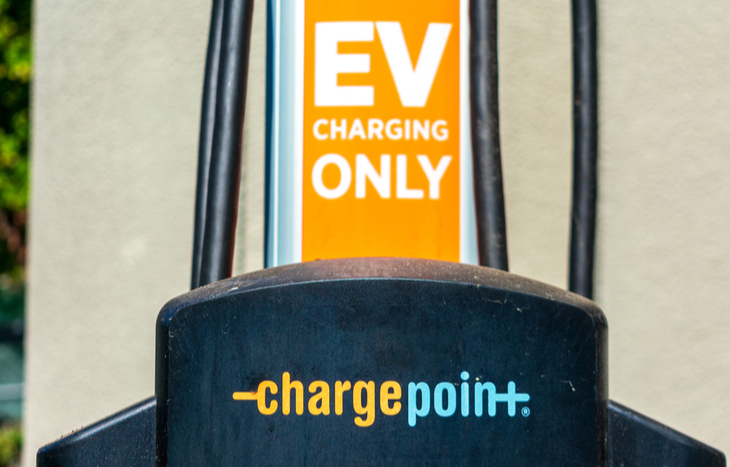 What is ChargePoint?
ChargePoint is the largest operator of electric vehicle charging stations with over 82 million charges delivered with stations in 14 countries. The company was founded in 2007 and is based in Campbell, California.
ChargePoint has been rapidly expanding its market share since before it went public. For example, in 2017 it took over 9,800 EV charging spots from GE. In 2019, it was adding 2,000 charging locations per month. Between September 2020 and November 2019, it added 10,300 charging stations or about 850 per month.
The company went public as part of the increasingly popular special purpose acquisition (SPAC). At the time, its market valuation was $2.4 billion. As part of the deal, it merged with Switchback Energy Acquisition Corporation; the new company is called ChargePoint Holdings Inc. ChargePoint noted that it was able to raise $225 million in private equity, bringing its cash on hand to $683 million.
ChargePoint Stock Predictions
Given the inevitable growth of electric vehicle sales, the ChargePoint stock forecast is bullish. The company is continuing to grow and has recently acquired other companies, such as Viriciti. This new acquisition provides for electric buses and commercial fleets.
This will help ChargePoint expand into Europe and it paid 75 million euros as part of the deal. Thus, ChargePoint is putting its recent cash infusion to good use as it continues to expand its global reach.
All of this looks good for ChargePoint, and analysts and community members alike expect the stock price to increase. MarketBeat reports that the average price target among analysts is $34.89, which would mean a price increase of nearly 65%. CNN Business has a median price target of $39.00 and TipRanks sets an average price target of $35.75.
All of these outlets have either a "buy" or a "strong buy" recommendation. Plus, MarketBeat community members gave ChargePoint 14 "outperform" votes versus three "underperform" votes.
Growth of electric vehicles sales is almost certain in the years ahead. That is due to several governments setting dates after which internal combustion vehicle sales won't be allowed. Given that EV sales will increase over the next year, it seems likely that ChargePoint will realize higher revenue, thus increasing the price of its stock.
Not everyone is quite so bullish with their ChargePoint stock forecast, though. In its analysis of ChargePoint's IPO, SeekingAlpha felt that ChargePoint stock was expensive. This analysis was, of course, done at the time of the IPO, so it is a bit outdated. However, the price at the time of that analysis was $36, which is in line with the price targets mentioned above. So, would ChargePoint still be expensive at $36?
That is not so easy to predict. However, part of the reason for mentioning the SeekingAlpha analysis is that it mentioned some forecasts going several years into the future. In particular, SeekingAlpha pointed to the fact that ChargePoint has a revenue target of $2.1 billion for FY27.
Part of the problem here is the fact that the company expects gross margin that year will only be 42% with an adjusted EBITDA of 16%. This translates to 45% annual growth in what is a competitive market with charging providers like EVGo and Volkswagen-owned Electrify America. And yet, its revenue only increased by about $2 million between 2021 and 2020. These are among the figures investors will want to see increase, and it remains to be seen whether ChargePoint will be able to hit its own targets.
If you're looking for even more EV charging station stocks, click on that link. You'll find some of the best investment opportunities in the industry.
CHPT Investor Sentiment
While community members on MarketBeat are bullish on ChargePoint, not everyone agrees. For instance, Yahoo! Finance says it is overvalued. And that's not all; its short, mid and long-term performance outlooks are all bearish. Its price has come down from a high of nearly $50 in December, so it is not tough to understand why not everyone is so bullish. Plus, it continues to have a negative earnings per share (EPS).
Still, Yahoo! has a one-year price target of $35.60. Again, this is in line with the price targets we see above. So while we see some bearishness here and there, the majority of investors are largely positive. Overall, the ChargePoint stock forecast looks positive.
How to Buy ChargePoint Stock
Since ChargePoint is now publicly traded, buying its stock is a breeze. Here are some ways you can buy ChargePoint stock:
Buy shares in a brokerage account. The simplest way is to buy shares of its stock through an online brokerage. All you have to do is search by name or by ticker and place an order. You can use any brokerage you want, be it Vanguard, Fidelity, Schwab, etc.
Buy shares in an ETF. Maybe you want to invest in ChargePoint, but you don't want to assume the risk of investing in just one company. Luckily, several ETFs include ChargePoint. For example, you can buy shares in VTI, IWD or KOMP. These are just a few of the ETFs that you own a small piece of ChargePoint.
For even more investing opportunities, sign up for Liberty Through Wealth below. It's a free e-letter that's packed with investing tips and tricks. You'll hear directly from bestselling author and investment expert Alexander Green. He's also worked as an investment advisor, research analyst and portfolio manager on Wall Street for 16 years.
---
Bob Haegele is a personal finance writer who specializes in investing and planning for retirement. His hefty student loan burden inspired him to pay off his loans, and now he's helping others get their finances in order. When he's not writing, he enjoys travel and live music.