A McAfee IPO is filed with the SEC. After rumors the company would go public in 2019, the cyber security firm is bringing McAfee stock back to the market after nearly a decade.
But is McAfee a good investment opportunity? Here's what we know…
McAfee IPO: The Business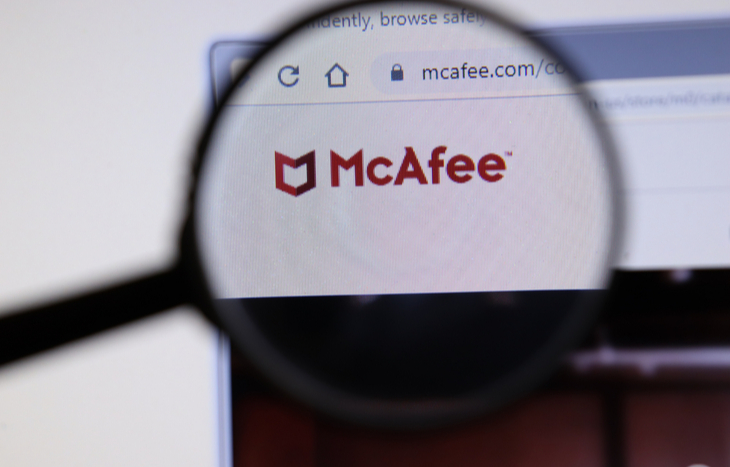 John McAfee founded the company in 1987. McAfee is an American computer security company based in Santa Clara, California. As of June 27, 2020, the company's consumer products have protected more than 600 million devices. Its enterprise products are used by 86% of the Fortune 100 and 61% of the Global 2000.
In McAfee's prospectus, the company says:
We built our platform through a deep, rich history of innovation and have established a leading global brand. Whether we are securing the digital experience of a consumer who is increasingly living life online, or defending many of the world's largest enterprises and governments from sophisticated attacks and nation-wide threats, McAfee is singularly committed to one mission: to protect all things that matter through leading-edge cybersecurity.
After being in the business for 30 years, a McAfee IPO is now coming to the market. But this isn't the first time McAfee stock will be publicly traded.
McAfee Stock History: Intel Corporation
In 1999, McAfee was a publicly traded company. And it stayed that way until Intel (Nasdaq: INTC) acquired it in 2011 for $7.7 billion. This was part of Intel's former CEO's plan to increase company value by adding more security to its processors.
But despite renaming it Intel Security, Intel had difficulties integrating McAfee into the business. Applications were never designed to help Intel's business. So Intel decided to spin McAfee out under its original name.
Then, in 2017, Intel sold a 51% stake of McAfee to TPG Capital. The deal was for $1.1 billion, cutting McAfee's value almost in half. TPG gave the cyber security firm a value of $4.2 billion, based on an equity value of $2.2 billion plus McAfee's debt of about $2 billion. Now the McAfee IPO could give the company a value of up to $8 billion.
If you're interested in investing in McAfee stock, let's look at the company's financial situation.
McAfee Financial Data and COVID-19
McAfee saw steady revenue growth over the last three years. In 2018, revenue was $2.4 billion, up 61.2% from $1.5 billion in 2017. Revenue increased again in 2019, to $2.6 billion, for a year-over-year (YoY) growth of 9.4%. Although that's a much smaller growth percentage, there's a big factor worth noting about the year 2020.
So far, 2020 is mostly known for the coronavirus. It has led to stay-at-home orders and forced companies to initiate remote options for employees. According to Risk Based Security, the number of cyber threats increased 630% from January 2020 to April 2020. The increase in use of cloud services as a result of the coronavirus increased risk for enterprises. But this was good for McAfee's business.
For the last couple of years, McAfee reported a net loss. In 2017, net loss was $607 million. It decreased to $512 million in 2018 and to $236 million in 2019. And for the first six months of 2020, McAfee saw a net profit of $31 million. Although that's only a net income margin of 2.2%, it's a step in the right direction.
But the company notes that cloud computing can hurt the business. McAfee states:
The rapid adoption of cloud applications has increased organizations' attack surface by moving both threats and sensitive data away from the traditional network perimeter, reducing the effectiveness of many existing security products. Cyberattacks have also fundamentally shifted from targeting enterprise infrastructure but also targeting people. As employees use their own devices and home or third-party Wi-Fi networks to access enterprise data and applications they become additional targets, with hackers using phishing attacks on employees in order to gain access to enterprise assets.
This transition presents more growth opportunities. And that could be great for investors. So when will the McAfee IPO happen?
McAfee IPO: The Details
Analysts thought McAfee would go public again in 2019. But it wasn't until September 28, 2020, that McAfee filed with the SEC. It comes after the massive success of the Snowflake IPO and the highly anticipated and long-awaited Palantir IPO. However, McAfee hasn't disclosed how many shares will be offered, nor the offer price. But analysts think the company will aim to raise $2 billion, for an enterprise value of up to $8 billion.
McAfee filed to trade on the Nasdaq under the ticker symbol MCFE. McAfee hasn't announced an IPO date.
If you're looking for the latest investment opportunities, Investment U is the place to be. Sign up for our free e-letter below! It's packed with helpful tips and research from our experts. Whether you're a beginner or an experienced investor, there's something here for everyone.
McAfee needs to choose its timing carefully. But McAfee is a household name in computer security. And if the success of the IPO market is any indicator, the McAfee IPO has a good chance of being prosperous.
---
Amber Deter has researched and written about initial public offerings (IPOs) over the last few years. After starting her college career studying accounting and business, Amber decided to focus on her love of writing. Now she's able to bring that experience to Investment U readers by providing in-depth research on IPO and investing opportunities.