Despite the rise in popularity of alternative meat companies, Americans still love their meat. Almost nothing is more American than hotdogs, burgers, or steaks on the grill. This makes the meat industry a prime target for many investors. However, many meat brands fall under a parent corporation with a different name. This can make it a little difficult to tell which meat stocks to buy. To help out, we're going to take a look at the meat industry as well as a few top meat stocks.
The United States has a population of approximately 330 million. Feeding this country is no mean feat. It's no wonder, then, that the United States meat industry is one of the biggest in the world. In 2017, the U.S. meat industry processed approximately 9 billion chickens, 241.7 million turkeys, and 32.2 million cattle. Despite these incredible numbers, the bulk of the work is done by just a handful of companies. According to the U.S. Department of Agriculture, just 4 companies slaughtered 85% of the United States' cattle in 2018. So does it matter which of these companies you buy stock in? Are some of them considered better investments than others?
Let's take a look at five of the top meat stocks to buy.
NOTE: I'm not a financial advisor and am just offering information and commentary. Please do your own due diligence before making any decisions.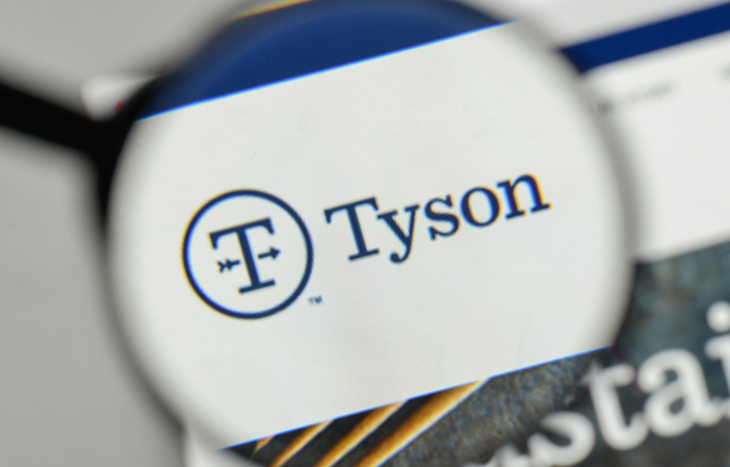 Top Meat Stocks
No. 5 Tyson Foods (NYSE: TSN)
Tyson Foods is the world's second-largest processor of chicken, beef and pork. It's also the United States' biggest exporter of beef. This makes it one of the go-to meat stocks to consider investing in. You probably know Tyson Foods from its brands Jimmy Dean, Hillshire Farm and Ball Park Franks. Tyson alone is responsible for producing one-fifth of the beef, pork and chicken in the U.S.
Despite its success, Tyson Foods is always focused on improving. Looking forward, it hopes to increase productivity by $1 billion by 2024. It plans to do this by improving operation functionality, using artificial intelligence to make decisions, and implementing automation/robotics. Tyson Foods also expects to see increased profitability in 2022. This should happen regardless of the current inflationary environment.
In FY 2021, Tyson Foods reported $47.05 billion in revenue. It also reported a net income of $3.05 billion in net income.
Tyson Foods' stock is up 17% in the last year. It's up 37% over the past five years.
Keep reading for more on meat stocks. 
No. 4 Pilgrim's Pride (Nasdaq: PPC)
Pilgrim's Pride is one of the largest chicken producers in the United States. It's most well-known for its brands Pilgrim's, Just Bare and Gold'N Plump. These brands can be found in supermarkets in over 100 countries. You can also get exposure to Pilgrim's Pride by investing in JBS S.A. In 2009, JBS USA Holdings purchased a 64% stake in Pilgrim's Pride. Today, JBS owns just under 80% of Pilgrim's Pride. We'll discuss JBS a little bit further in the next section.
In 2020, Pilgrim's Pride reported $12.09 billion in annual revenue. It also reported a net income of $94.76 million.
This stock is more volatile than the others. Pilgrim's Pride's stock is down 2% in the last year. It's up 4% over the past five years.
No. 3 JBS S.A. (OTC: JBSAY)
JBS S.A. is a Brazilian company and the largest producer of meat in the world. It processes beef, poultry, and pork. A few of its brands include Swift, Seara and Friboi. Even though JBS S.A. is a Brazilian company, American investors can still buy its stock. You can do this by purchasing shares in JBS ADR. An ADR is an American Depository Receipt. This is a financial tool that allows U.S. investors to get exposure to foreign stocks without physically owning them.
More so than other meat stocks, JBS places a big emphasis on ESG initiatives. Notably, the first 20 pages of its Q3 earnings report talk about JBS's social investments. For example, it donated R$ 700 million to help people impacted by COVID-19. It also recently announced an initiative to be net carbon zero by 2040. If you are an active ESG investor, then JBS may be a good stock to consider.
In 2020, JBS reported R$ 270.2 billion in annual revenue. It also reported a net income of $4.6 billion. Please note that both of these figures are in Brazilian Real.
JBS stock is up 51% in the last year. It's also up 115% over the past five years.
No. 2 Hormel Foods (NYSE: HRL)
Hormel Foods is probably one of the oldest meat stocks in the United States. It got started in 1850. However, this long history does not mean that it's slowing down anytime soon. In fact, Hormel Foods just posted one of its best quarters ever in terms of revenue.
In FY Q4 2021, Hormel announced double-digit sales growth from every single category. CEO Jim Snee attributed this success to "The value of our long-term strategy, the pricing power of our brands and our effective execution in the marketplace." There is also a good chance that pent-up demand from COVID-19 contributed to a surge in sales.
Hormel has grown its earnings per share (EPS) by a 10-year CAGR of 8.6%. It has also increased its dividend for 55 straight years. If you are a dividend investor then Hormel Foods is a great stock to consider.
In 2020, Hormel Foods reported $9.61 billion in annual revenue. It also reported a net income of $908.08 million.
Hormel's stock is up 4% for the past year. It's up 45% over the past five years.
Top Meat Stocks to Buy No. 1 Sanderson Farms (Nasdaq: SAFM)
If you want meat stocks that deal exclusively in poultry, Sanderson Farms is a good option. Sanderson Farms is the third-largest poultry producer in the United States. In 2020, it processed over 4.8 billion pounds of meat.
In 2020, Sanderson Farms reported $3.56 billion in annual revenue. It also reported a net income of $28.27 million. Notably, Sanderson Farms has had a terrific three-quarter stretch since Q2 2021. Since Q1 2021, revenue has grown by 10%, 34% and 41% on a year-over-year (YOY) basis. Even more impressively, net income has also grown by 124%, 1,484% and 402%.
CEO Joe Sanderson attributed this success to increased demand for poultry and poultry products. Interestingly, demand increased for both restaurants and grocery stores. Grocery store demand never really dipped during the COVID-19 pandemic. On the other hand, restaurant demand plunged. Now, restaurant demand is coming roaring back, but it has not cannibalized grocery store demand.
Sanderson Farms' stock is up 17% in the past year. It's also up 80% over the past five years.
I hope that you've found this article valuable when it comes to learning a few of the best meat stocks to buy. Please base all investment decisions on your own due diligence and risk tolerance.
---
A University of Miami grad, Teddy studied marketing and finance while also playing four years on the football team. He's always had a passion for business and used his experience from a few personal projects to become one of the top-rated business writers on Fiverr.com. When he's not hammering words onto paper, you can find him hammering notes on the piano or traveling to some place random.