I know what you're thinking, agriculture stocks? Can you even earn a return? But, believe it or not, the top agriculture stocks are outperforming the broader market right now.
In fact, the S&P GSCI Agriculture Index, a popular index to watch for farming markets, is edging out the S&P 500 this year. Also, with bottlenecks crippling supply chains in LA, food prices are being driven up.
Investors are flocking to commodity stocks as a result, in expectation of higher inflation. Mostly oil & gas and materials are seeing higher demand.
But, with food being an essential factor for life, agriculture, mainly farming stocks, deserve some consideration. With that in mind, let's look at the top agriculture stocks to invest in right now.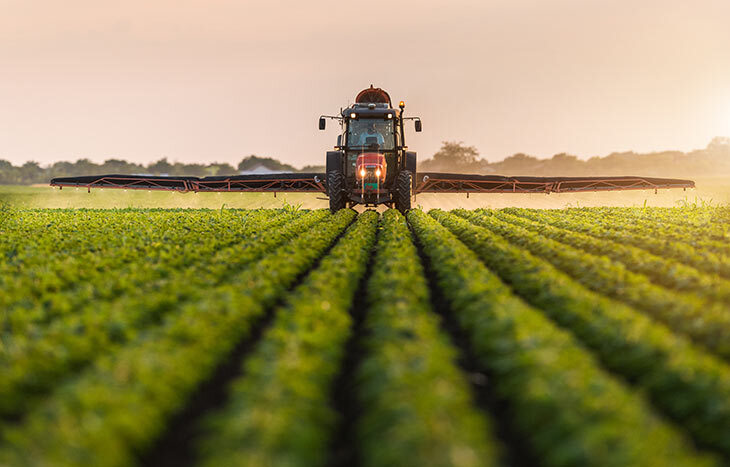 The Top Agriculture Stocks List
Not only did the pandemic reveal the need for stronger farming support, but leaders are gathering as we speak to discuss climate change.
Climate change is a hot topic in agriculture. Its products are some of the most heavily affected by the changes. That said, let's see how the top agriculture stocks are preparing themselves for the future.
No. 5 Farmland Partners (NYSE: FPI)
Market Cap: 521.8M
Focus: Agriculture REIT
1 Year Rev Growth: (-4.5%)
Farming and crops are major reasons leaders are meeting to discuss ways to help reduce their impact. Since crops can be heavily affected by weather events like droughts, they are doing everything they can to protect the world's food supply.
Because of this, farmland is becoming a valuable asset. As a matter of fact, Bill Gates is now America's top Farmland owner. Not only that, but farmland values increased 7% per acre in 2020. And even more, it's expected to increase in value further this year.
With this in mind, Farmland Partners is a real estate company focusing on obtaining high-quality farmland. Then, Farmland provides loans to farmers to use its land. The company owns around 157,000 acres of farmland across 16 states.
Despite a slight drop in revenue this past year, the outlook looks strong for top agriculture stocks, the farming industry and farmland.
No. 4 AppHarvest (Nasdaq: APPH)
Market Cap: 569.6M
Focus: Produce & Food Products
1 Year Rev Growth: N/A
Another trend to look out for – homegrown food, or food grown in the U.S. And that's where AppHarvest comes in.
The company is relatively new, founded in 2018, but it's on a big mission – building a sustainable, homegrown food supply. With this in mind, AppHarvest has some of the largest indoor facilities in the U.S. And what's more, the company just started growing this past year.
Not to mention, the company is developing cutting-edge technology to support the industry. For instance, the company uses advanced farm tech to study and improve its products.
Most importantly, the company is partnering with a leading distributor to sell all produce AppHarvest grows. The produce will go to top retailers like Walmart, Wegmans, and Publix.
If you're looking for growth stocks, AppHarvest is an excellent candidate for continuing momentum.
Keep reading to find the top agriculture stocks to invest in right now.
No. 3 The Mosaic Company (NYSE: MOS)
Market Cap: 14.24B
Focus: Crop Nutrients
1 Year Rev Growth: 44%
As the world's leader in several crop nutrients, The Mosaic Company plays a vital role in agriculture.
The nutrients are essential for use in fertilizer to keep the soil healthy. And without Mosaic, much of the world's food supply would be vulnerable.
With that in mind, Mosaic operates in three segments – phosphates, potash and mosaic fertilizantes. All three units are growing in revenue, with the company reporting its strongest earnings in over a decade.
Soil health is crucial in farming, landing Mosaic on the top agriculture stocks to invest in list.
No. 2 Bayer (OTC: BAYRY)
Market Cap: 57B
Focus: Crop Science
1 Year Rev Growth: 7.96%
Bayer is one of the largest pharmaceutical companies in the world. Many people will know Bayer from its top-tier consumer products like Aspirin and Claritin. What's more, the company operates a profitable crop science unit.
The company's portfolio includes things like:
High-quality seeds
Pest management solutions
State of the art customer service
With this in mind, Bayer's crop solutions include brand names like Roundup and DroughtGard.
Additionally, in February, the company announced an agreement with farm tech supplier Horsch. Because of this, farmers can now use innovative digital tools to enhance their supply.
Bayer's innovative crop solutions, combined with its core business, land it second on the top agriculture stocks list.
The Top Agriculture Stocks – No. 1 Caterpillar (NYSE: CAT)
Market Cap: 113.4B
Focus: Machinery
1 Year Rev Growth: 25%
If I had to guess, Caterpillar is probably the most well-known company on this list. Best known for its bright yellow equipment, Caterpillar is the world's leading construction & farming equipment manufacturer.
The business is having a fantastic year, with revenue growing by double digits in the last three quarters as industrial projects are picking up. Even more, the looming infrastructure bill is set to benefit Caterpillar further as construction projects are a main priority.
Caterpillar's leading market position should help the company continue growing its business. Moreover, the company is committing to rewarding shareholders with $2 billion returned in Q3.
All things considered, Caterpillar is the top agriculture stock to invest in with a strong balance sheet, growing top & bottom line, and high brand recognition.
The Top Agriculture Stocks to Invest In – Now's the Time to Get Started With Farming Stocks
When it comes to grabbing your share of the food inflation situation, these are some of the top agriculture stocks to invest in. These stocks are innovators in its industry, leading the way towards a better future.
For the same reason, these companies are dedicated to supporting arguably the most essential industry in farming.
By identifying trends, you too can find the best investment opportunities. Sign up for the Profit Trends e-letter below. This free e-letter is crafted by leading market experts.
And in general, farmland is setting up nicely in terms of value. High-quality land is only becoming more of a focus in the future as much of the land is not ideal. Don't miss out on the next biggest thing in real estate by checking out these top agriculture stocks to invest in.
---
Pete Johnson is an experienced financial writer and content creator who specializes in equity research and derivatives. He has over ten years of personal investing experience. Digging through 10-K forms and finding hidden gems is his favorite pastime. When Pete isn't researching stocks or writing, you can find him enjoying the outdoors or working up a sweat exercising.