It's a little crazy to think that "meme stocks" wasn't a phrase around this time last year. Now, it's an entirely new stock category that even gets its own article. If you're new here, there is no official definition for meme stocks. Essentially, "meme stocks" are just stocks that become wildly popular on social media, for any number of reasons. Meme stocks often experience intense inclines and declines in price. This usually happens regardless of how the underlying business is performing. Due to this volatility, a lot of investors stay on the lookout for the next best meme stocks to invest in.
The main appeal of buying a meme stock is the thought that it could spike at any moment. This doesn't happen with larger companies like Apple, Microsoft and Amazon. These stocks will probably do well over the span of a few months or years. However, it would be incredibly rare for Apple's stock to surge by 100% in a matter of weeks. For meme stocks, a 100% surge is just another day in the life.
The meme stocks in this article all share the same two traits.
They are popular on social media and have a cult following.
They have the potential to surge at any given moment.
On that note, let's take a look at the five best meme stocks to watch.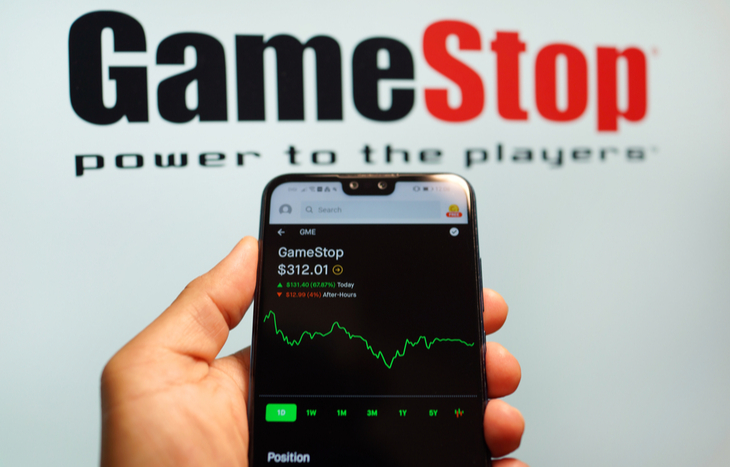 Meme Stocks Watchlist
No. 5 GameStop (NYSE: GME)
GameStop is actually the stock responsible for creating the phrase "meme stocks." This stock got popular when it experienced a short squeeze in early 2021. This event resulted in the price surging 1,900% in a matter of weeks. What's interesting is that a short squeeze is usually just that…short. During a short squeeze, the price of a stock will skyrocket and then come falling back down shortly after. That hasn't really happened with GameStop.
GameStop's price is hovering around the $115 per share range for the first half of 2022. Even at $115 per share, GameStop is still up about 381% for the past five years.
Many investors insist that the short squeeze is still going on. The claim is that the short-sellers never actually exited their short positions. Instead, they are still waiting for the price to return to normal levels. On the other side, GameStop bulls are still holding onto their shares and buying more. This is what creates these price swings.
By this point, GameStop has its own subreddit (r/GME). You can read plenty of commentary on the stock here. You can also check out the forecast that I wrote on GameStop back in October 2021.
Now, onto a slightly unexpected meme stock.
No. 4 Tesla (Nasdaq: TSLA)
It's an interesting take to lump the world's most valuable car company in with other meme stocks.
I'll take this moment to remind you of the criteria for meme stocks. Or at least my criteria. First, meme stocks need to be incredibly popular on social media and have a cult following. Second, they need to have the potential to surge at any moment. Tesla has both of these things in spades.
Tesla honestly might have the biggest cult following of any stock out there. How else do you explain its valuation? Right now, Tesla is worth more than the next several automakers combined. This is despite selling just a fraction of the cars that Ford, Toyota and Volkswagen do. It's also one of just a few trillion-dollar companies in the world. Tesla was able to reach this valuation partly because it's a meme stock. Many Tesla investors would rather sell their home than their Tesla stock.
Don't get me wrong. Tesla also has an incredible product. It has hit several key milestones recently that give investors a right to be excited. However, as a meme stock, it is not governed by regular financial rules. For example, Tesla is valued higher than Meta Platforms. In Q3 2021, Tesla brought in $1.62 billion in net income. Comparatively, Meta brought in $9.19 billion.
In 2020, during a pandemic mind you, Tesla's stock price surged 900%. It sold off slightly before surging another 100% in the second half of 2021. Meme stock investors don't care that Tesla might be overvalued. They have faith in Elon Musk and are going to continue buying regardless.
Tesla's stock is down 28% so far in 2022. It's also up over 1,296% over the past five years.
No. 3 Digital World Acquisition Corp. (Nasdaq: DWAC)
Digital World Acquisition Corp. is better known as Truth Social. Truth Social is also known as Donald Trump's social media platform.
This meme stock burst on the scene in October 2021 via SPAC. It surged over 800% in its debut but has lost 50% of its value since it peaked. I say that Truth Social "burst on the scene" because it had relatively little fanfare prior to going public. Usually, with SPACs, rumors about an acquisition will swirl for months. Personally, I didn't hear about Donald Trump's social media site until the day it went public.
This could be partly because Truth Social hasn't formally launched yet. According to the app store, you can expect it to be listed on February 21, 2022. According to its website, "Truth Social is America's "Big Tent" social media platform that encourages an open, free, and honest global conversation without discriminating against political ideology."
Digital World Acquisition Corp…
Cult following? Check.
Potential to surge at any moment? Check.
Digital World Acquisition Corp. is down about 12% so far in 2022. It is up 81% since it went public in 2021.
Moreover, since the app should be live in the next few months, be sure to add this to your list of meme stocks to watch.
No. 2 Virgin Galactic Holdings (NYSE: SPCE)
Virgin Galactic Holdings is Richard Branson's space tourism company. If you're not familiar, it essentially offers rides into space for the very wealthy. Virgin Galactic went public via SPAC in late 2019. Since then, it has rallied 200+% about three different times. Each time, it has fallen back down in a matter of weeks.
In a weird way, Virgin Galactic taps into the same cult that follows Tesla and Elon Musk. In addition to Tesla, Elon Musk owns a private spaceflight business called SpaceX. SpaceX is doing lots of incredibly exciting things. The only problem is that SpaceX is private, so investors are unable to get a piece. In fact, there are very few public companies that are pure space companies. Virgin Galactic Holdings is one of them. The same investors who want to get a piece of SpaceX are most likely the ones buying SPCE.
So far, Virgin Galactic has mainly been unprofitable. However, it only recently started selling tickets. Additionally, as we know with meme stocks, making money hardly matters anyway. Any good news related to flights or ticket sales has the potential to send this meme stock skyrocketing.
Virgin Galactic is down about 45% so far in 2022. It is down 26% since it went public in 2019.
Best Meme Stocks to Buy No. 1: Blackberry (NYSE: BB)
The Blackberry that you are thinking of is no longer Blackberry's business. This meme stock has struggled for years to move on from its reputation as an outdated mobile phone provider. These days, Blackberry has plenty of more exciting initiatives. Just take a look at this definition:
"BlackBerry Limited is a Canadian cybersecurity company specializing in enterprise-critical event management solutions, endpoint protection, and securing the Internet of things by using artificial intelligence and machine learning against cyber threats."
"Using artificial intelligence and machine learning to protect against cyber threats" certainly sounds like a relevant business model in today's day and age. Apparently, the folks at WallStreetBets agree because Blackberry is one of the most commonly referenced stocks.
Despite its popularity, Blackberry is not as volatile as others on this list. this meme stock has only gone down in 2022.
Blackberry's stock is down about 38% so far in 2022. It is also down almost 39% over the past five years.
I hope that you've found this article valuable when it comes to learning a few of the best meme stocks to buy. As usual, please base all investment decisions on your own due diligence and risk tolerance.
---
A University of Miami grad, Teddy studied marketing and finance while also playing four years on the football team. He's always had a passion for business and used his experience from a few personal projects to become one of the top-rated business writers on Fiverr.com. When he's not hammering words onto paper, you can find him hammering notes on the piano or traveling to some place random.