Metaverse penny stocks are stocks involved with the metaverse industry. Or, they are likely to become involved in one way or another. Additionally, they are priced around or below $5. Therefore, if you want to invest in the metaverse, these penny stocks are a great place to start.
And a warning about metaverse stocks: The metaverse is very new. This makes the correlated stocks incredibly speculative. When a stock or industry is speculative, there's no concrete evidence that it will do well. However, it's showing immense potential. In other words, for metaverse penny stocks, it's important to do your due diligence. But for now, have fun checking out these stocks.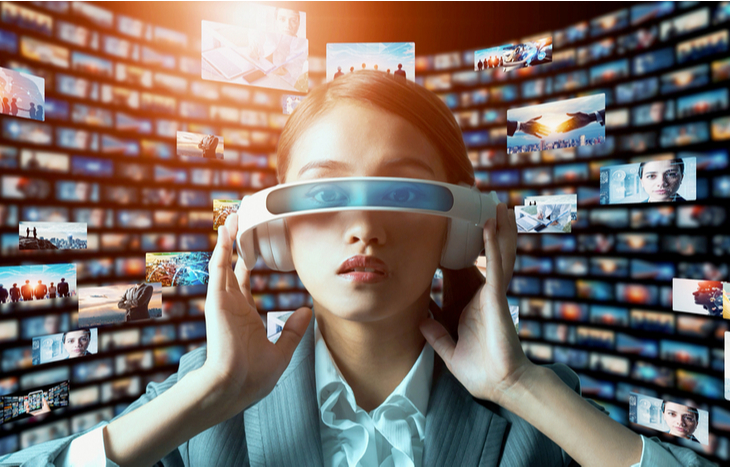 What is the Metaverse?
The metaverse is technology that combines the digital realm and physical world. This combo makes an experience that engages all the human senses. To explain further, video games and virtual reality taken to the next level.
Facebook has gotten most of the credit for coming up with the idea and creating the technology. However, there are also many other companies that are working on their own version. Below, I've outlined some stocks that touch the metaverse in one way or another.
Best Metaverse Penny Stocks to Buy
No. 7 Cinedigm Corp. (Nasdaq: CIDM)
Cinedigm is probably the company you associate with going to the movie theatre. That is, if you still go to the theatre. It's an entertainment company, and has recently partnered up with Hallmark. Cinedigm will be the first to distribute paid movies and content for Hallmark. In the coming months, I expect Cinedigm to rise because of this partnership.
Why do I classify Cinedigm as a metaverse penny stock? CIDM is a digital entertainment company. There are many applications of this in the metaverse. Also, there's been some talk of NFT creation. It's a bit of a stretch, but still a real possibility.
No. 6 Meta Materials Inc. (Nasdaq: MMAT)
Meta Materials Inc. could be a major player in the metaverse penny stocks industry. The company creates new technologies by studying and manipulating light and energy. For example, its website hosts explanations of holography. Some others include functional surfaces and AR glasses.
Meta Materials focuses on creating an output that's lower cost and more sustainable. And it's in love with the idea that major breakthroughs in tech have come from the manipulation of basic elements. Examples the company uses are the Stone Age and Bronze Age, etc.
It works in several industries including Automotive, Consumer Electronics and Aerospace/Defense. In addition, Meta Materials has so many possible scientific and technological breakthroughs. And it focuses on bringing those to consumers and other large industries.
There's little reason it won't be a great metaverse penny stock. Even if it doesn't get in on the metaverse action. Moreover, I'm curious about the coincidence of the name. Facebook rebranded as Meta and is creating the metaverse. That makes sense.
This company is also called Meta Materials, and is a tech company. So far, public knowledge is the two have no relationship. But you never know. There could be something going on in the background. Even if there isn't, Meta Materials is getting some big publicity from Zuckerberg's rebrand.
No. 5 Immersion Corp. (Nasdaq: IMMR)
Immersion deals with touch feedback technology and haptics. This tech allows you to feel the digital world, as if it's real in front of you. This metaverse penny stock was founded in 1993. It's headquarters is located in San Jose, California.
Right now, it produces haptics for gaming consoles, phones and cars. But it's also developing products with StrikerVR.
These products include items to aid in a virtually realistic world. For example, they're working on a virtual gun that feels like the real thing. Plus, other recreation-focused items. Things like a baseball bat and fishing pole that will make it feel like you're doing that activity.
No. 4 Alpha Esports Tech Inc. (OTC: APETF)
I've recommended Alpha many times before. Now, in a recent press release, the company is combining its technology with the metaverse. This is an attempt to create a unique experience for customers.
Alpha focuses on esports, which is competitive gaming. These are physical events that people gather for, like a ball-sport tournament. There are lots of lights, and they're usually housed in a stadium or event center.
Blockchain, mobile gaming and e-commerce are other major industries Alpha addresses. In addition, they do business with professional hockey and rugby teams, casinos and gaming companies. The company also has constant developments, which are great for its outlook.
No. 3 Sino-Global Shipping America Ltd. (Nasdaq: SINO)
Sino-Global provides services and solutions to global shipping companies.
I'm sure you're wondering why a shipping services company would be in this list as a metaverse penny stock. In March of 2021, Sino-Global purchased 60% of Super Node LLC. Super Node is a private blockchain developer.
Plus, Sino is growing into the NFT market. It's an unexpected player for this stock list. But it's one that seems to be getting its foot in the door of the industry. Over time, it could become a very worthwhile stock in the metaverse industry.
No. 2 Enthusiast Gaming Holdings (Nasdaq: EGLX)
Enthusiast Gaming is a company whose primary focus is video gaming journalism. It's a Canadian company that targets gamers and esports fans. Building large networks of gamers and building communities is its mission. The company has great leadership, all with track records of success.
Enthusiast will more than likely be indirectly affected by the metaverse. Esports will bring in more meta opportunities. And this metaverse penny stock will likely cover those extra events and happenings.
No. 1 Metaverse Penny Stocks: Hall of Fame Resort and Entertainment Co. (Nasdaq: HOFV)
Hall of Fame uses the popularity of football. It combines football, fantasy football, gaming and experience-oriented technology. This is to give customers a unique feel and experience with their company.
It has a resort themed all around football legends. It's even created some NFT's for players and characters. At the resort, it looks like there's a lounge, where players compete. A bar and grill, hotel and Hall of Fame Village are also part of the resort. Given the nature of the business, it's likely they'll get involved with metaverse experiences, too.
---
Vanessa Adelman graduated with an Interdisciplinary degree. She majored in Entrepreneurship, Painting, Music and Film. Shortly after, she received a copywriting mentorship with Mark Morgan Ford. Then, she earned her AWAI Verification. Now, Vanessa freelances in the financial direct response industry. She's been investing since 2016. In her free time, she enjoys books about money and wealth. She loves being with her boyfriend, hunting, fishing and going on outdoor adventures.