The gaming industry has seen a flurry of activity recently. To start, Sony acquired the Halo-maker Bungie for $3.6 billion. Then, Take-Two acquired Zynga for $12.7 billion. Not to be outdone, Microsoft dropped a cool $68.7 billion to buy Activision Blizzard. But, there's one legacy video game company that owns enough titles to rival all these companies. It also just released its FY 2022 earnings. Let's take a look at whether or not this a good time to buy Nintendo stock?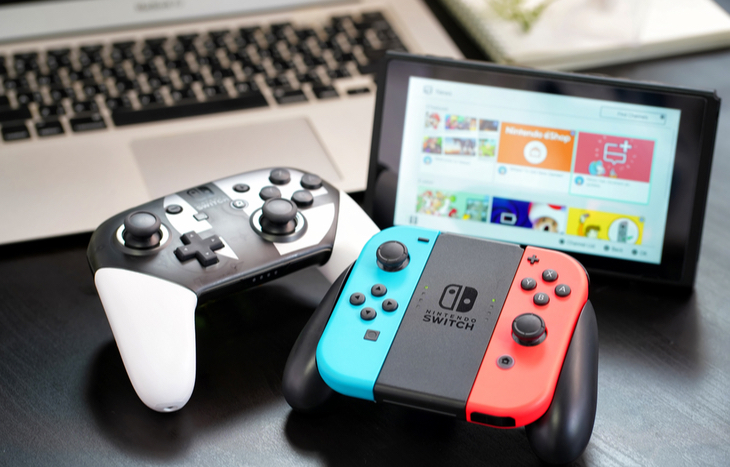 What does Nintendo Own?
Intellectual property is perhaps the most important factor for a gaming company. Intellectual property for a gaming company is like the athletes on a sports team. The company's entire success depends on its IP. Most sports teams really only need one star player in order to have a winning record.
On that same note, gaming companies don't even necessarily need dozens of franchises. They just need one hit. For example, Activision Blizzard created the wildly-popular game Call of Duty in 2003. Since then, it has created 19 more CoD games.
With that said, Nintendo (OTC: NTDOF) owns the following gaming franchises:
The Mario Universe
Donkey Kong
Metroid
Pokemon
Super Smash Bros
The Legend of Zelda
Kirby
Animal Crossing
It owns a handful more, but these are the most popular ones. So far, Nintendo has done a great job so far of cashing in on these franchises. In fact, it has 39 games whose sales have crossed 1 million.
As far as its gaming consoles, Nintendo's most recent is the Nintendo Switch. Approximately 102 million people use the Switch. This is a little less than a third of the total U.S. population.
Let's break down Nintendo's most recent earnings report.
Nintendo's Latest Earnings
For the FY 2022, Nintendo stock reported annual revenue of JPY 1.7 trillion (approx $13.3 billion). It also reported a net income of JPY 478 billion ($3.7 billion). Both of these numbers were fairly consistent year-over-year (YOY). Annual revenue was down 3.6% and net income was down .56%. Despite the lack of growth, Nintendo has a comfortable profit margin of 28%.
During the call, Nintendo also announced a year-end dividend of 1,410 yen. This is approximately $11.03 per share. Since Nintendo's ADR trades at $458 per share, this gives Nintendo a dividend yield of 2.4%. On top of that, Nintendo declared a 10-1 stock split. This stock split is set to occur in October.
One thing to note is that stocks can sometimes jump on a stock split. The general thinking is that a cheaper stock will make it more affordable to retail investors so more people will buy it. This phenomenon is a little irrational, but it happens.
As far as its sales, Nintendo sold about 23 million Switches during the past year. This brings its total sales to nearly 104 million since the console was released in 2017. Notably, this makes the Switch more popular than the Wii which was also a highly-popular console. The biggest market for the Switch was the Americas, which makes up approx 43.5% of sales.
Additionally, Nintendo lowered its sales forecasts for 2021. It only expects to sell 21 million Switches for FY 2023. It blamed this decline on the shortage of semiconductors among other factors. The demand is there for the Switch but the supply isn't.
With all that in mind, let's examine if you should buy Nintendo stock.
Is Nintendo Stock a Good Buy?
The biggest advantage of buying Nintendo stock is the staying power of its franchises. By this, I mean its franchises have been popular for decades. In fact, I remember playing Mario and Pokémon games when I was growing up in the late 1990s. Two decades later, Nintendo is still churning out quality games with its beloved characters. Pending a massive cultural shift, this trend should continue.
Nintendo knows what it's good at and continuously executes. If you are looking for a reliable gaming stock to buy then Nintendo is a great choice. With that said, Nintendo stock also probably isn't going to 10X over the next five years.
By this point, Nintendo's days of high growth are far behind it. It is a safe and reliable stock to buy. But, it's likely not going to experience outsized growth over the coming years. This is evident from its latest earnings report. After digging through the report, there really wasn't any groundbreaking news. Its numbers were fairly consistent but down slightly across the board.
Nintendo is also still battling the semiconductor shortage. This directly impacts its ability to sell its most popular product, the Nintendo Switch. Nintendo has already lowered its sales forecast for this year. This likely means that next year could be another year of declining revenue. To be fair, Nintendo is not the only company that's lowering forecasts. But, either way, it's not good news for investors.
I hope you've found this article valuable in learning about Nintendo stock. Please remember that I'm not a financial advisor and am just offering my own research and commentary. As usual, please base all investment decisions on your own due diligence.
---