Mobile gaming has slowly turned into a massive industry. In 2021, the total video game market was approximately $175.7 billion. Of this total, smartphone games accounted for approximately $79 billion. This means that nearly half of the total video game market comes from smartphone games. And, there has also been a flurry of acquisitions within the industry recently. Suddenly, there is a whole new group of companies that are now considered mobile gaming stocks.
Right now, many companies are crafting big strategies for the metaverse. Most companies expect that consumers will first experience the metaverse through video games. Hence, this is one reason why many large companies have suddenly acquired gaming companies. However, these acquisitions are just the tip of the iceberg. What's more important is what these acquisitions could lead to.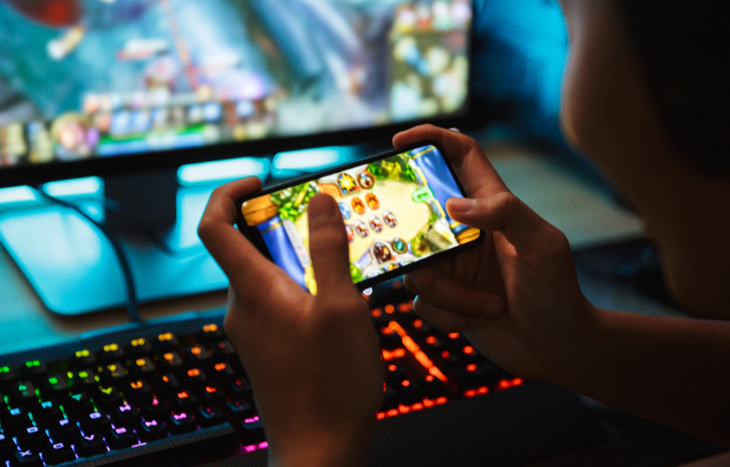 Mobile Gaming Stocks: Winning A Customer's First Purchase
Winning a customer's first purchase is very important. By winning the initial purchase, you win the opportunity to create brand loyalty.
For example, think about one of the world's top athleisure companies: Lululemon. Let's say that a new customer chooses to buy Lululemon joggers over a handful of other competitors. After a few months of using them, the customer is very impressed. Now, they know that Lululemon makes quality products. When these pants need to be replaced, the customer will surely come back to Lululemon. And, they are also more likely to try other Lulu products.
This same concept could apply to the metaverse. When it comes to the metaverse, many customers' first experience will be through video games. The companies that control these games will have the first opportunity to control the customer's whole metaverse experience. This could be just one explanation for the recent flurry of mobile gaming acquisitions.
In an effort to control consumers' first metaverse experience, many companies are splurging on video game providers. With that said, let's take a look at six companies that just became mobile gaming stocks.
NOTE: I'm not a financial advisor and am just offering my own research and commentary. Please do your own due diligence before making any investment decisions.
Top Mobile Gaming Stocks
Microsoft Acquired Activision Blizzard
Microsoft (Nasdaq: MSFT) is slowly becoming an "everything" stock. By this, I mean that it offers such a wide array of products and services. To start, Microsoft is already considered a software, hardware, cloud computing and social media stock. Now that it has acquired Activision Blizzard (Nasdaq: ATVI), it's definitely one of the top mobile gaming stocks as well. This deal was an all-cash transaction of just under $70 billion. Moving forward, Microsoft will have access to Activision's most notable franchises, which includes:
Call of Duty
Candy Crush
World of Warcraft
Overwatch
Diablo
Starcraft
Most of these franchises are playable across mobile, PC and console. And, this acquisition ties in incredibly well to Microsoft's existing product portfolio. Remember that Microsoft already owns Xbox, the Surface Laptop and the HoloLens VR headset. It can now rollout versions of these games that fit specifically for its existing products. Microsoft even stated that this acquisition will provide the building blocks for the metaverse.
Once this acquisition closes, it will make Microsoft the third-largest video game company by revenue.
Sony Acquired Bungie
Sony (NYSE: SONY ) is the next big tech company to become one of the top mobile gaming stocks. Shortly after Microsoft's announcement, Sony released plans to acquire Bungie. Bungie is the company behind Destiny, Pathways To Darkness and Marathon. It is also well known for developing the Halo franchise. However, Bungie no longer controls the rights to these games. Halo is now controlled by Microsoft.
Sony is buying Bungie in a deal reportedly worth $3.6 billion. That makes it significantly smaller than Microsoft's purchase of Activision. Additionally, Bungie will still operate as an independent studio. The Bungie team will work alongside Sony's PlayStation team. However, it will just technically be owned by Sony.
Take-Two Acquired Zynga
Take-Two Interactive Software (Nasdaq: TTWO) is another company that's been on the move recently. In January 2022, it announced plans to acquire Zynga (Nasdaq: ZNGA). This deal is reportedly worth $12.7 billion. Take-Two is best known for its franchises Grand Theft Auto, Red Dead Redemptions and the 2K sports games. However, this acquisition will make Take-Two a much bigger competitor among mobile gaming stocks. This is because Zynga has a lengthy portfolio of mobile games. Some of its biggest titles are:
Words with Friends
FarmVille
Zynga Poker
Take-Two's acquisition of Zynga is a good barometer of the industry. This deal was announced in January 2022. At the time, it was the biggest deal in the industry. But, just one month later, it was completely dwarfed by Microsoft buying Activision. This just shows how quickly things are moving in the mobile gaming world.
The New York Times Acquired Wordle
The New York Times (NYSE: NYT) isn't quite the tech giant that Microsoft or Sony is. However, it recently acquired Wordle. As I write this, Wordle is the No. 1 free app on Apple's app store. This is enough to earn the NYT a spot on this list of mobile gaming stocks.
Wordle has had quite an interesting past few months. About a year ago, it was relatively unheard of. Six months ago, it was a viral sensation. Now, it's part of one of the biggest media companies in the world. In a matter of months, gameplay exploded from 90 people to over 300,000. The deal reportedly closed for low seven figures. Despite being a relatively small deal, it could still play a key role in boosting revenue for NYT.
That's it as far as the biggest moves for mobile gaming stocks. Microsoft, Sony, Take-Two and NYT have all made their move. Now, it's just a race to see how quickly these companies can turn popular titles into growth.
With that said, there are two other mobile gaming stocks that are definitely worth taking a look at.
Other Top Mobile Gaming Stocks
Spin Master Corp.
Spin Master Corp. (TSE: TOY) is a Canadian children's toy and entertainment company. It is the company responsible for Etch A Sketch, Paw Patrol, Rubik's Cube and Bakugan. Most of these games have been around for years. They also hardly qualify as mobile games. However, Spin Master is also the company behind Toca Boca.
Toca Boca is a digital universe designed for kids. Its titles include Toca Life World, Toca Hair Salon and Toca Mystery House. At one point, all of these franchises were ranked incredibly high in the Kids Apps section of the app store. The Paw Patrol kids app is also one of the highest-ranking kid's games.
Netflix
Netflix's gaming sector is in its infancy. However, Netflix (Nasdaq: NFLX) may only need a few years to turn into one of the top mobile gaming stocks. I feel confident saying this for two reasons. First, Netflix already has over 220 million users. This is a massive audience that could quickly help Netflix earn market share. Second, Netflix has a large database of intellectual property. Think mobile games based on Stranger Things, Squid Game and The Witcher.
Here's what you need to know about Netflix's video game service:
5 mobile games are already available.
All you need is a Netflix subscription. There's no additional fee.
Games are Android and iOs friendly.
Users can play games offline.
I hope that you've found this article valuable about the major acquisitions going on with mobile gaming stocks! As usual, please invest based on your own research and due diligence.
---