No one ever said they want to spend the rest of their lives in a nursing home. Unfortunately, the reality is that's where a significant portion of the elderly and disabled population end up. Demographically, about 16.5% of the American population is currently over 65. By 2050, 22%, or more than one out of five Americans will be seniors. The value of nursing home stocks should reflect that rapidly aging cohort.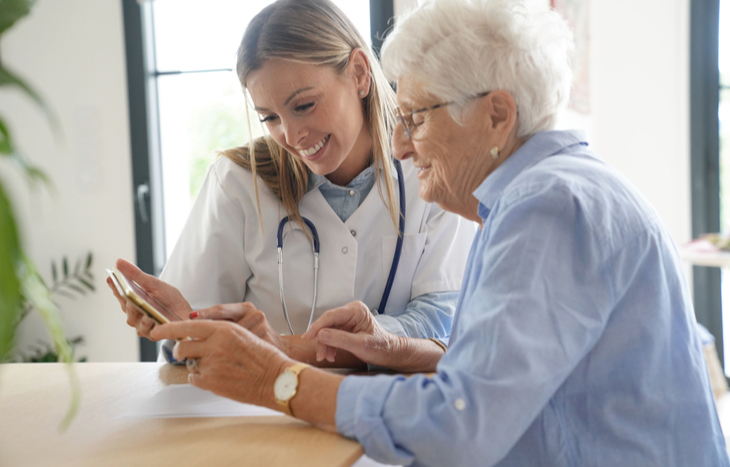 The Eldercare Industry
The eldercare industry consists of various sectors. For instance, these include:
Independent living
Assisted living facilities
Skilled nursing facilities
Nursing homes
We'll concentrate on companies whose primary business involves skilled nursing facilities and nursing homes. The difference between the two is that the former is a temporary residence for those undergoing medical rehabilitation, and the latter is a home for residents requiring 24/7 care. In fact, there is a fair degree of overlap between them.
Keep reading for more info on nursing home stocks.
No. 3 National HealthCare Corporation (NYSE: NHC)
Headquartered in Murfreesboro, Tennessee, National HealthCare Corporation operates 75 skilled nursing centers, 24 assisted living facilities, 35 home care agencies, 29 hospice agencies and five retirement communities. Other services include rehab facilities, senior care pharmacies, memory care and a hospital. NHC has been in business for 50 years. It's the country's oldest publicly-traded long-term healthcare company. Additionally, most of its facilities are located in the southeastern U.S.
In 2021, its net operating revenues and grant income totaled $1,074,302,000. That was an increase of 4.5% compared to 2020's net operating revenues of $1,028,217,000. However, most of that increase was attributable to the June 2021 controlling equity acquisition of hospice provider Caris Healthcare.
As of May 17, 2022, the stock's 52-week history ranges from a low of $61.89 to a high of $78.42. On May 5, the nursing home stock announced a 3.6% dividend increase for the second quarter over the first quarter of 2022.
No. 2 Omega Healthcare Investors (NYSE: OHI)
Omega Healthcare Investors is a triple net equity Real Estate Investment Trust (REIT). OHI has been investing in senior care for 30 years, providing capital for operators of skilled nursing facilities and assisted living facilities. It partners with 64 of "the most future-focused, growth-oriented" operators in the U.S. and U.K. The REIT has helped these operators accelerate their growth strategies via $1.45 billion in unsecured credit.
On May 2, 2022, the company announced results for the first quarter of 2022. Additionally, net income was $195.2 million or $0.79 per common share. CEO Taylor Pickett said OHI's near-term Funds from Operations (FFO) and Funds Available for Distribution (FAD) financial results were affected by the nonpayment of rent by several operators. However, as the impact of the Omicron variant receded, portfolio occupancy improved as the quarter progressed. This nursing home stock declared a $0.67 per share cash dividend on common stock.
In the first quarter, OHI acquired 27 care homes in the U.K. for $100 million. Earlier in the quarter, it acquired three other U.K. care homes. Two were purchased for $8 million and the third for $5 million. It also bought a Maryland skilled nursing facility for $8.5 million in this period. Under its capital renovation and construction program, OHI invested $20 million in this quarter. Additionally, as of May 17, OHI's 52-week range was $24.81 to $38.19.
No. 1 Sabra Health Care REIT (Nasdaq: SBRA)
Based in Irvine, California, and operating since 2010, Sabra Health Care REIT invests in skilled nursing facilities, behavioral health facilities, and senior housing throughout the U.S. and Canada. While there are Sabra-owned properties in 41 states, the bulk of its U.S. holdings is located in Texas and California. This nursing home stocks portfolio currently consists of 416 real estate properties for investment. For example, these include:
279 Skilled nursing facilities
59 Senior housing communities
50 Senior housing communities operated by third-party managers
13 Behavioral health facilities
15 Specialty hospitals
Taken together, these investment properties total 41,445 beds or units.
According to its first-quarter 2022 earnings report, Sabra collected 99.5% of its forecasted rents from the beginning of the pandemic up to April 2022. While there were "initial headwinds" related to the Omicron variant, the company's seven largest skilled nursing tenants saw sizable occupancy increases during this quarter. The company has approximately $1 billion in liquidity,
The company declared a quarterly cash dividend of $0.30 per share of common stock. In addition, as of May 17, the company's 52-week range was $11.44 to $19.02.
Nursing Home Stocks Challenges
Nursing home residents were particularly vulnerable to COVID-19. Many of these elderly residents died during the earliest days of the pandemic. In addition, staffing shortages exacerbated the dire conditions in many nursing homes during this time. Due to long-term triple net leases, REITs were insulated to some degree, as long as operators continued to pay the rent.
There is also a move by the government to push private equity out of the skilled nursing sector. In 2021, 89% of the $3.7 billion spent on skilled nursing transactions involved private buyers. The view is that Wall Street's acquisition of nursing home stocks was resulting in a lower quality of care and higher costs in nursing homes.
Nursing Home Stocks Considerations
By 2030, less than a decade from now, every Baby Boomer will be over 65. Those over 85, the group most likely to need nursing home care, is growing even faster. Although nursing home stocks were hit badly by the pandemic, the sheer number of elderly people and a caregiver deficit should mean such facilities are the only option for many in the near future.
---