I have to admit, every time I see the latest Nvidia stock news, it involves another multi-billion-dollar industry. And this time, it's no different.
Nvidia (Nasdaq: NVDA) is breaking out into all-time highs as the company grows at a record pace. Up over 140% this year, Nvidia stock is leading the market by powering industries like gaming, AI, and most recently, the Metaverse.
During the company's earnings call, CEO Jensen Huang said the Metaverse will be one of the biggest graphics opportunities yet. In fact, Huang detailed how 40 million individuals could potentially use its software for $1,000 a year.
With this in mind, let's see how the most recent Nvidia stock news can propel the chipmaker to new highs.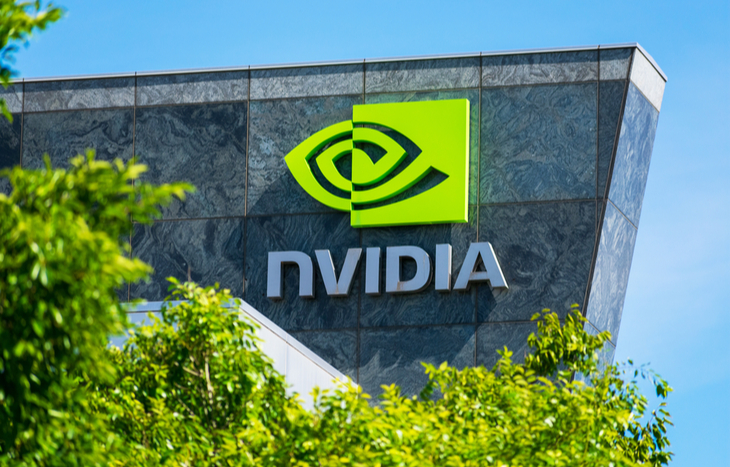 Nvidia Stock News – A Massive Market Opportunity
If you haven't heard of it yet, the Metaverse is the future. It's an online simulation of real-world objects. But, in Nvidia's case, they refer to it as the 'Omniverse.' According to Huang, it can save time and money.
I know what you're thinking, "how can an online gaming world save businesses money?" But, Nvidia's Omniverse is much more than that. It's a digital workspace for individuals (or businesses) to meet and interact.
Think of it this way… You don't have to rent the space, waste time traveling or even dedicate time outside of work to gather. Not only that but you can also:
Build 3D models
Hold live simulations
Visualize products
Develop games
And so much more
And on top of this, it's all in real-time, meaning you can see instant results. Nvidia has a great video on its website that shows the software's potential. You can construct drawings, build models, and show layouts.
For example, a car manufacturer can use it to improve its logistics, making it more efficient. Or just to meet with coworkers digitally. Now, you can see how businesses can save with the platform Moreover, Time Magazine is calling it one of the year's best inventions of the year.
Not to mention, according to Nvidia stock news, the company devices power the entire digital space. From the computer chips to the software running it, the Nvidia is behind it all.
With this in mind, Nvidia is in a good position to capture a fair share of the potential $814 billion Metaverse market by 2028. After all, Nvidia is known for its gaming technology that brings players closer to the game than ever.
Another Record Earnings
After yet another record-breaking earnings, Nvidia stock is breaking out into all-time highs. Up over 40% in the past month, the chipmaker doesn't look to be slowing down anytime soon. Altogether, revenue soared 50% year-over-year YOY to a record $7.1 billion. Here are the biggest takeaways from the report.
Record Revenue – Propelled by record sales growth in Gaming (+42%), Data Centers (+55%) and Professional Visualization (+144%).
Operating Income – Grew 91% from last year to 2.7 billion.
Net Income – Advancing 84% on the year to 2.5 billion.
EPS Growth – Up 83% annually to $0.97 per share.
Omniverse Avatars – New software to design digital AI Avatars. The program uses Nvidia's speech AI, computer vision, simulation and more.
Automotive Segment – Also saw growth of 8% YOY to $135 million.
Most importantly, Nvidia is critical in many rapidly growing markets such as gaming, cloud, and AI. As a result, as these industries grow, Nvidia's earnings are growing alongside them.
All things considered, Nvidia's performance over the past year is second to none. With over 38% revenue growth in the past eight quarters, the company is full speed ahead. Look for Nvidia to continue the strong momentum going into next year.
Keep reading for more information on Nvidia stock news.
Nvidia Stock News – Helping Solve Climate Change?
A gaming company solving climate change? It can't be. But it is. Nvidia is building a digital earth, or Earth-2, with the hopes of protecting the planet.
While earth is experiencing new challenges daily with droughts, hurricanes, and flooding, Nvidia is using its technology to help fight back. The 'New Earth' will feature GPU computing, Deep Learning, and AI Supercomputers to develop models. Not only that, but it will also have super-deep resolution, capable of enhanced simulation.
Nvidia stock news reveals the company plans to build the world's most powerful AI supercomputer while dedicating it to climate efforts.
XPeng Taps Nvidia to Power G9
When electric vehicle maker XPeng revealed its G9 SUV this past week, all eyes were on the technology powering it. The intelligent SUV is built on Nvidia Drive Orin, a supercomputing platform.
Nvidia's chip is powerful, and the brains behind features such as:
Autonomous driving
Confidence views
Digital Clusters
Infotainment
And passenger interaction.
Most importantly, Drive Orin replaces complex systems with one convenient chip. With data showing EV sales could reach nearly 30% of all car sales in the U.S. by 2030, Nvidia is flexing its abilities. If more automakers start adopting the technology, look for another fast-growing revenue stream.
Considering the Latest Nvidia Stock News – Is It Time to Buy?
Nvidia looks unstoppable, returning over 250% in the past two years. And the most recent Nvidia stock news hints the chipmaker is just getting started.
With the company leading some of the fastest-growing AI, gaming, and data storage markets, Nvidia looks to continue its momentum. All of these markets have huge potential.
Artificial Intelligence – Expecting to grow 33% annually.
Gaming – Expecting to grow 13% annually.
Data Storage – Expecting to grow 12.5% annually.
And top of this, these are just Nvidia's core business. It doesn't include things like smart driving, the Omniverse, and other opportunities.
Sign up for the Profit Trends e-letter below if you're looking to stay ahead of the game with the latest Nvidia stock news. The free e-letter covers breaking trends like AI and EV's. Check it out today!
All in all, Nvidia is a top-tier company that's expanding its reach. There's a common theme on Wall Street of buying the leaders. And Nvidia is no doubt a leader in the future of technology.
---
Pete Johnson is an experienced financial writer and content creator who specializes in equity research and derivatives. He has over ten years of personal investing experience. Digging through 10-K forms and finding hidden gems is his favorite pastime. When Pete isn't researching stocks or writing, you can find him enjoying the outdoors or working up a sweat exercising.