Oracle (NYSE: ORCL) stock has been a software juggernaut for decades. The company specializes in Enterprise Resource Planning (ERP) software. Companies use ERP software for critical functions, such as accounting, project management, compliance and supply chain operations.
Famous founder Larry Ellison started the company in 1977. Initially, Oracle was named Software Development Laboratories. Later, the company was renamed and went public in 1986. Ellison started the company to manage data for its customers.
Before Oracle, businesses used large amounts of data to run their businesses and make decisions, but the data was unorganized. Oracle solved this problem by creating hardware and software systems that quickly and easily store and retrieve data. Customers loved it!
In years past, Oracle's customers stored data on-site. The data storage took up large amounts of space, and the hardware was costly. Oracle's software allowed for efficient use of the data. Nowadays, data owners can store data in a cloud-based data center. In addition, the owners can easily access data from their computers. Many Oracle customers have switched their data to the less costly cloud data centers.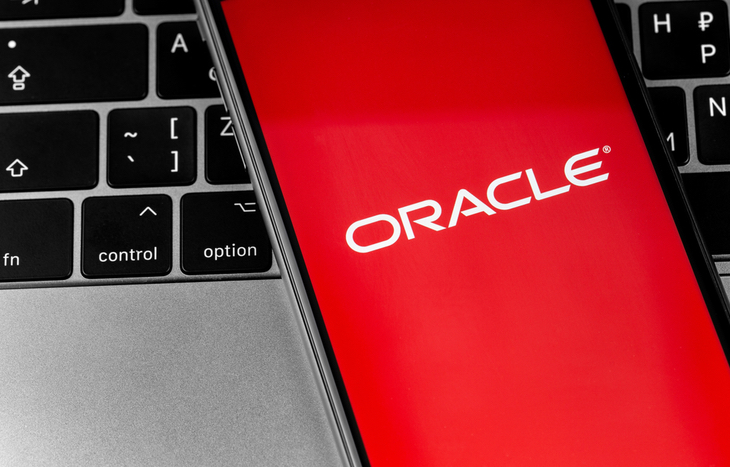 Oracle Stock Earnings
Oracle reported fiscal second-quarter 2022 results on December 9, 2021. Total revenue was up 6% to $10.4 billion for the quarter. The company reported that its cloud-based revenue was up 22% to $2.7 billion. In addition, the company said that adjusted earnings per share were up 14% to $1.21.
Management held a webcast to talk about the results. They also had a Q&A at the end of their chat. A replay of the webcast can be found here.
Though Oracle's third-quarter 2022 ends February 28, 2022, the company has not officially announced the earnings report date just yet. When they report, analysts expect earnings per share for the quarter to be $1.
Cerner Acquisition
In December, Oracle announced that it would be buying out Cerner Corp (Nasdaq: CERN) for $95 per share. In total, the deal is worth $28.3 billion. The buyout would be one of the largest in Oracle's history. The companies expect the deal to close sometime in 2022.
Cerner is one of the largest software sellers in the healthcare industry. Customers use Cerner's software to keep patient data. Customers can use the software to improve doctors and nurses ability to treat patients.
About the merger, Mr. Ellison said, "Working together, Cerner and Oracle have the capacity to transform healthcare delivery by providing medical professionals with better information, enabling them to make better treatment decisions resulting in better patient outcomes."
Also, CEO Safra Catz said that once the deal is completed, the overall revenue and profits of the company will increase right away.
Cloud Transition
Cloud-based data centers (The Cloud) have changed how data is stored and accessed by its owners. Data owners no longer need to store large computer hardware systems at their place of business.  The cloud data centers now hold the hardware which can be accessed from anywhere by users. Companies can rent storage space in the data centers at a lower cost.
Software has also changed. Before, software users had to insert a disk into their computer and install the program. When a company updated the software, the process started again. Though software can be very useful, installing and updating take time. The more employees that used the software, the more downtime there was.
The cloud lets software users download and upgrade software in much less time. The upgrades typically happen at night. So, there is almost no downtime. You may have had an overnight upgrade at your job.
The cloud has been a game-changer for the data and software industry which Oracle dominated. The cloud also brought new entrants to the industry. Now, companies like Amazon Web Services (Nasdaq: AMZN), Microsoft (Nasdaq: MSFT), Google (Nasdaq: GOOG) and other cloud providers have challenged Oracle.
Is Oracle Stock a Good Buy?
Oracle has grown its business quickly over the last few decades. Customers rely on Oracle's software and data services to run their businesses.
As companies switched their data and software to the cloud, Oracle was slow to make the change. For instance, revenue for the last three fiscal years has been almost flat. Though Oracle now offers its services on the cloud, new cloud customers have gone with other providers.
On the other hand, Oracle has not been losing many customers. If a customer wished to transition its data to a new data center or change ERP software, it would be a massive and costly job. Therefore, current Oracle customers have mostly chosen to switch to Oracle's cloud service.
Oracle Stock Forecast
For Oracle stockholders, there are a few things to think about. First, there is probably not a big risk of losing revenue. At the same time, revenue growth may be hard to come by because the industry is more competitive.
At the same time, the Cerner merger could be a bright spot. Cerner is a market leader in a huge healthcare data industry. The combined company could do some great things.
---