Penn stock is making headlines for its rapid growth since acquiring a piece of Barstool Sports. And don't expect Penn National Gaming (Nasdaq: PENN) to leave the spotlight anytime soon. With Barstool Sports' innovative content creation and committed fanbase, Penn's potential is through the roof.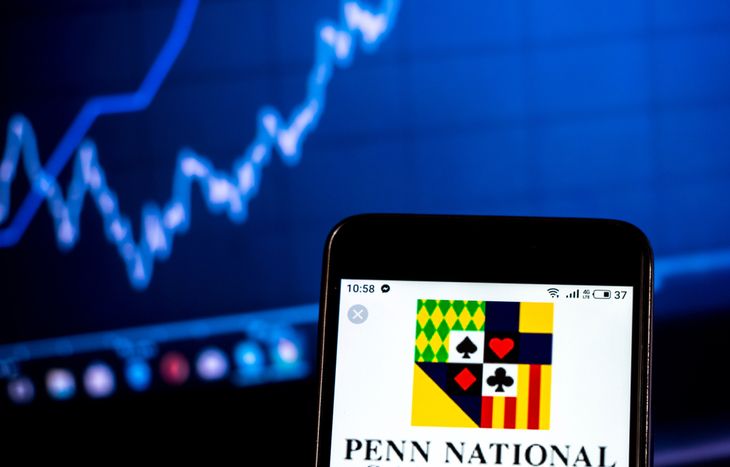 The Potential of Penn Stock
Penn National Gaming has been on the radar for quite some time. However, most investors were focused on their casinos. And rightfully so. Penn operates 43 facilities across the U.S. and Canada.
But the power behind the rise of Penn stock isn't its growing Hollywood casino brand. It's Dave Portnoy. Barstool Sports has become a digital media goliath. Its fanbase is passionate and loyal and its content is evolving quicker than any of its competitors.
Barstool Sports' founder, Dave Portnoy, is creating an empire despite the backlash from mainstream media. In fact, he embraces it. His personality alone has played a major role in Barstool's popularity. And his supporting cast is full of characters that fit perfectly into the world of Barstool.
Bringing in CEO Erika Nardini was another master stroke from Portnoy. That move has pushed the company towards the forefront of sports and pop culture. And Penn National Gaming will continue to reap the benefits.
It's hard to predict the overall potential of Penn stock. But it's clear that Barstool Sports will be a major player behind its growth.
Penn Stock Price History Pre- and Post-Barstool Sports Acquisition
Penn National Gaming's initial public offering (IPO) came way back in May of 1994 for less than $0.20. It remained a penny stock for the next ten years!
Its growth was slow but steady. That is, until its acquisition of a 36% stake in Barstool Sports. The deal includes an option for Penn to increase its stake in the company to have control or full ownership within three years. And what a deal that may turn out to be for Penn.
At the time of the announcement in January of 2020, Penn stock was trading below $30 a share. After a dip at the beginning of the coronavirus pandemic, shares have skyrocketed above $120 with no signs of slowing down.
This meteoric rise is a result of the power of Dave Portnoy and Barstool Sports. Barstool may face countless criticisms and backlash, but it isn't going anywhere. It's thriving. And it's expanding into new markets on a daily basis. There's no denying it.
Barstool's Pardon My Take, led by Big Cat and PFT Commenter, is the top sports podcast in the world today. The company also released its own sports betting application, the Barstool Sportsbook. The fans are pouring in and Barstool's numerous brands, such as Call Her Daddy and Davey Day Trader, continue to thrive.
Take One Bite, for example. Dave Portnoy tries pizza all over the country and rates it on a scale of one to ten. It's simple. It's sometimes filmed on his phone. But it's brilliant. He brings on celebrity guests and everyone eats it up.
Will Penn stock continue to rise as Barstool Sports continues to grow? Only time will tell. But early signs suggest this is a train you don't want to get off of.
Investing in Gaming Stocks
Gaming stocks are trending in the right direction. And most investors are beginning to take notice.
To stay up-to-date with the latest stock trends and market movement, sign up for the Profit Trends e-letter below. The experts at Profit Trends provide daily stock analysis and tips for investors of all experience levels.
Penn National Gaming has discovered its path to rampant success. And one thing is for sure. Barstool Sports has earned its place as a digital media giant whether you like it or not. If you don't believe me, just watch Penn stock as it continues to soar.
---
Corey Mann is the Content Manager of Investment U. He has more than 10 years of experience as a journalist and content creator. Since 2012, Corey's work has been featured in major publications such as The Virginian-Pilot, The Washington Post, CNN, MSNBC and more. When Corey isn't focusing on Investment U, he enjoys traveling with his wife, going to Yankees games and spending time with his family.