Crypto
Quantstamp Crypto: Why the QSP Token Has Taken Off
The price of Quantstamp crypto (QSP) has been on fire this week. And while the crypto markets have been on a decent roll of late, Quantstamp certainly stands out. Its price is up more than 100% in the past few days. And there's good reason to be bullish on this crypto… At least for a little while.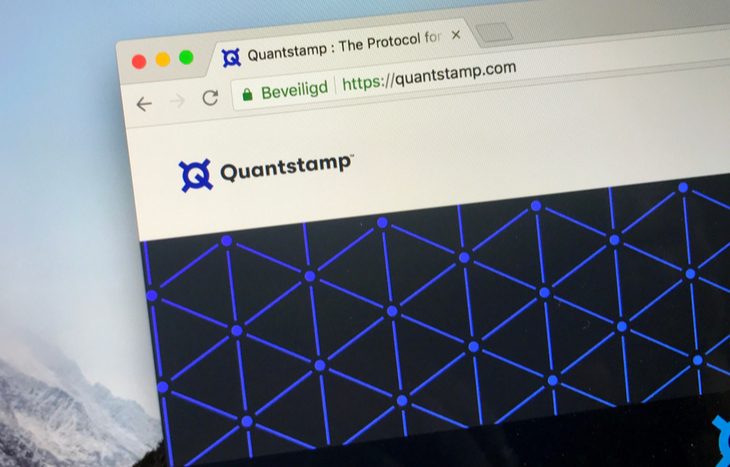 Trading volume has rocketed upwards. At the time of writing, volume was up more than 11,000%. And more than 85% of that volume has consisted of "buys." So why are so many investors looking to Quantstamp crypto all of the sudden? Well, security for starters.
Quantstamp is one of the leading outfits tackling blockchain security. And it's not taking that mission lightly. Its goal is to secure the entirety of the decentralized internet. In the process, Quantstamp's technology has protected more than $200 billion in digital assets.
To date, Quantstamp has partnered up with more than 250 operations to conduct security audits for their blockchains… Many of which are household names. It has the privilege to call the likes of Toyota, Solana, OpenSea, Crypto.com, Etoro, Binance, Siemens and scores of other all happy customers.
With the rash of security breaches that have happened in the crypto space lately, it's no wonder Quantstamp crypto's value is on the rise. And the team behind Quantstamp likely made a lot of new friends recently. It recently issued a bounty at the popular ETHDenver Festival. And making a splash at the first event-based decentralized autonomous organization in the world is always good for some press.
Quantstamp Crypto Goes Random
At ETHDenver, Quantstamp issued a bounty for a decentralized app (DApp) that utilizes randomness on Ethereum. The idea here was that any such DApp would guarantee the randomness is not exploitable, and actually be useful. All submissions needed to be accompanied with a description of the user experience, where the randomness comes from and how it is unexploitable.
Those that submitted were eligible for a $2,500 prize. While a winner has yet to be announced, it's certainly a novel way for the company to add some new tech to its back pocket. And there's no doubt that harness the power of randomness is good for increasing security, on any blockchain.
But such an addition would only be one more arrow in Quantstamp's already impressive quiver. Quantstamp crypto helps power a robust suite of security monitoring software.
All-Day, All-Night Security
Quantstamp's security system is designed to monitor activity all day and all night. The truth is, you never know when some hacker might pop up and try to manipulate smart contracts or steal funds. That's why Quantstamp's system is always keeping a watchful eye. And again, we think this is a big reason why Quantstamp crypto is on the rise.
This security system has the ability to monitor and scan 5 million transactions per day… every day. By doing so, it can detect and counter suspicious activity going on in a blockchain. It does this by keep a close eye on changes in smart contract ownership. It also makes note of changes in token supply.
But it's not only concerned with crypto. The system that Quantstamp crypto powers also offers security in the NFT space. You've probably heard of the digital artist Beeple. If not, he's the guy that sold an NFT at Christie's auction house for more than $69 million. Well, he's a client of Quantstamp.
Quantstamp also secures the NFTs for NBA Top Shot and SuperRare. And if any of you reading this have a precious Axies you call your own, you can also thank Quantstamp for keeping them safe and sound.
The Bottom Line on Quantstamp Crypto
Admittedly, we spend a lot more time highlighting the impressive systems deployed by this team than the Quantstamp crypto token. But that's simply because there is so much to like.
It's also worth mentioning that despite the impressive run Quantstamp crypto has been on, it's still trading well below its all-time high of $0.87. In fact, it's roughly 90% below that high-water mark.
Short-term, the widespread buying frenzy is likely to peter out soon. And that is likely to act as downward pressure on Quantstamp crypto's value. But long-term, this token has a lot of potential. As blockchain technology moves into more industries, Quantstamp's technology is likely to play an ever-increasing role.
Add to this the increasing interest of Web 3.0 (and security system needed to implement it), and it's likely Quantstamp will have its hands full for a while. Because of this Quantstamp crypto is likely to be very useful for organizations. The token can be used to pay for smart contract audits. And it can also be earned by running verification nodes. And the token also gives holders voting rights on future network upgrades.
While buying volume has been on a recent surge of late, we expect Quantstamp crypto to play an increasingly important role in the crypto space over time. For short-term traders, right now might not be the best time to buy. But those with a long-term buy-and-hold strategy, this token is likely to reach new highs in the coming years. And that would means it's currently trading at a sizable discount.
Quantstamp crypto might not be a sure thing, but the vast amount of partners utilizing this token mean that at the very least this won't result in a rug pull.
---