A Quibi IPO is on investors' minds. The new streaming platform launched earlier this week. And the startup has more than $1 billion in private funding. With that kind of value, investors are calling for Quibi stock.
But will investors ever see a Quibi IPO? Here's what we know…
Quibi IPO: What Is Quibi?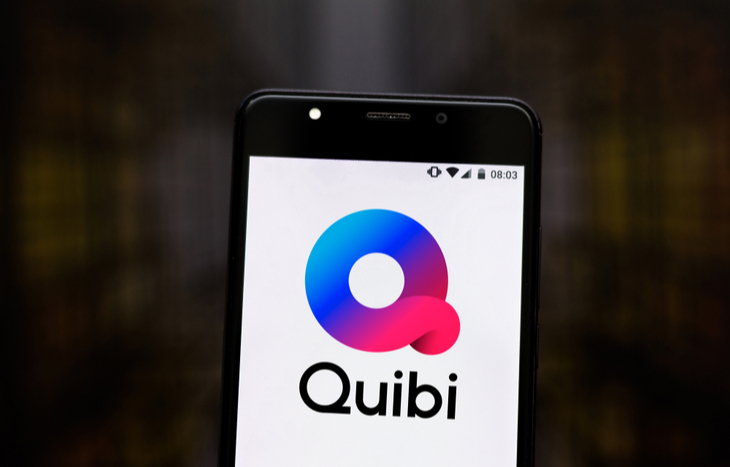 Jeffrey Katzenberg and Meg Whitman co-founded Quibi. The name is a mix of the term "quick bites." It's a streaming service made only for mobile devices. And its content consists of short videos, 10 minutes or less.
Katzenberg is the former chairman of Walt Disney Studios. He was also a co-founder and former CEO of DreamWorks Animation. Whitman is the former CEO of both eBay (Nasdaq: EBAY) and Hewlett-Packard (NYSE: HPQ). Together, they hope to fill an empty market space in today's busy world.
Quibi content is short for a reason. It's made to be watched while waiting in line for coffee, riding a bus or waiting for someone to show for a meeting. People often turn to their phones during these moments. And Quibi wants to give them something to turn to.
The streaming platform launched Monday, April 6. Although, the founders thought about delaying the launch due to the coronavirus. With quarantines, people aren't out and in situations Quibi was made for.
But the company moved forward. It knew streaming services would be in high demand. And Quibi could provide fresh content.
What Content Will Quibi Have?
Quibi hopes to cover a range of content. And critics have already reviewed some of the first shows. However, there are three main categories.
Scripted Titles: movies, scripted shows
Unscripted Titles: reality TV, competitions and documentaries
Daily Essentials: news, entertainment and lifestyle
When asked if shows will have multiple seasons, Katzenberg said…
Some of them are closed-in stories that have a beginning, a middle, and an end, and you're done. And others have the opportunity to have ongoing, continuing seasons [or]… a sequel.
While each video is one episode for shows, movies will be released in chapters. Katzenberg believes Quibi is "evolutionary" with its content form.
The first generation was two-hour movies that were created and designed to be watched in a single sitting in a movie theater. And the next generation was these very long, episodic and serialized stories that had either 13 or 26 chapters to them, and they were designed to be watched an hour or half-hour at a time in front of the TV set. What Quibi is setting out to do is the next form of film narrative – the two to two-and-a-half hours long in chapters that are seven to 10 minutes, with great talent, and designed to be watched on your phone.
To start, Quibi launched 50 shows on its platform. But the company plans to have 175 shows in the first year for a total of 8,500 episodes.
Now here's where investors wanting a Quibi IPO should be interested. Quibi isn't just bringing content to viewers in a different way. It's changing how content is filmed.
Quibi Creates "Turnstyle" Mode
Quibi is unique because its content is made specifically for the phone. While other streaming services can be viewed on mobile devices, the content wasn't created for mobile view.
At Quibi, Whitman worked with a team to develop a new way of viewing shows. Quibi calls it its "turnstyle" mode. This allows viewers to enjoy content whether in portrait (vertical) or landscape (horizontal) view.
However, producers will need to shoot multiple versions of a show to do this. The different shots will be blended together with Quibi's new technology.
When talking about it, Katzenberg said…
You can toggle back and forth to either of those literally instantly. Nobody's been able to do that yet, and this group of engineers and designers has actually done this in a pretty seamless way.
In addition to "turnstyle," Quibi also plans on providing interactive content. It would likely be similar to the movie Bandersnatch, a Netflix movie that allows viewers to choose different paths in the storyline.
Quibi believes the phone aspect will allow the company to go even further in interactive content. One idea is Steven Spielberg's horror series. It will be available to stream only after sunset, depending on the user's location.
But new technology isn't the only factor drawing in investors. A Quibi IPO is of interest because unlike most startups, Quibi has a focused goal.
Quibi Focuses on Target Audience
Quibi is a startup. And many startups don't make it. One big reason is they try to be too many things. However, the company's founders are seasoned veterans. They made sure Quibi focused on its target audience.
The target audience is people aged 18 to 44. But the focus is the 25- to 35-year-old millennial, according to Katzenberg.
We are not kids; we are not family. Someday, maybe we will be that, but we're not tackling that going in, because it's just a whole other audience and whole completely different type of content and programming, and we frankly don't have the bandwidth to try and be all things to all people.
It's clear Quibi knows what it's doing and for whom. And that's something investors look for in a startup. But in the question of a Quibi IPO, investors want to know about financials.
Quibi IPO: Let's Talk Numbers
First, like any streaming service, Quibi is a subscription. That means viewers pay a monthly fee for access to content. Quibi's price is $4.99 a month with ads or $7.99 without ads. However, Quibi is offering a free 90-day trial. And some T-Mobile users may be qualified for a free year of subscription.
Next, Quibi has a second source of income. Before the platform went live, Quibi sold $150 million worth of ads. Partners include T-Mobile, Taco Bell, PepsiCo and Walmart, just to name a few.
Finally, Katzenberg and Whitman raised $1.75 billion in private funding. And that's before the platform launched.
But Quibi needs that money. Creating content isn't cheap. The company's content budget for the first year is $1.1 billion. According to Katzenberg, the most expensive shows will cost $100,000 per minute, or $6 million an hour.
In addition to content cost, Quibi will spend about $470 million on marketing. That includes both the platform, such as the Super Bowl commercial, and individual shows.
So, the big question on your mind is…
Will Quibi IPO?
The truth is we don't know. It's possible a Quibi IPO will happen if the platform is successful. And its competition is mostly public companies. Those include Netflix (Nasdaq: NFLX), Amazon (Nasdaq: AMZN) and Disney (NYSE: DIS).
An IPO could raise funds. But Quibi doesn't seem to need funding yet.
Additionally, neither Katzenberg nor Whitman promised Quibi stock. Even if they did, it likely wouldn't happen anytime soon due to the coronavirus's effect on stock markets.
If you're looking for the best investment opportunities, Investment U is the place to be. Sign up for our free e-letter below! You'll receive the latest tips and research from our experts. Whether you're a beginner or experienced investor, there's something for everyone.
There are many other great startups that might go public. For example, check out Rivian, a Tesla competitor with great potential. And while it may be too soon to tell for Quibi, an IPO isn't out of the question. The question now is if Quibi will be successful. If it is, investors should add a Quibi IPO to their list of IPOs to watch.
---
Amber Deter has researched and written about initial public offerings (IPOs) over the last few years. After starting her college career studying accounting and business, Amber decided to focus on her love of writing. Now she's able to bring that experience to Investment U readers by providing in-depth research on IPO and investing opportunities.