The Rivian IPO is coming to the market. The electric vehicle unicorn filed confidentially in August and the paperwork is public. Here's what investors should know…
Rivian IPO: About the Business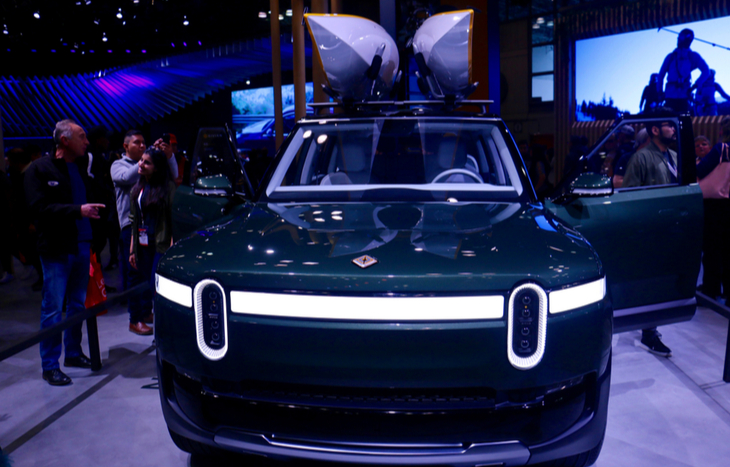 Robert "RJ" Scaringe founded Rivian in 2009. After growing up with a passion for cars, Scaringe committed to building his own vehicle brand at the age of 18. After obtaining a mechanical engineering degree from MIT, he set out to create desirable, environmentally friendly cars.
Rivian is based in Irvine, California, with its manufacturing plant in Normal, Illinois. The company originally worked on an electric sports car before switching to electric pickup trucks, sport utility vehicles (SUVs) and vans. And with investments from giants like Ford and Amazon, the company is making impressive strides against high-profile EV manufacturer Tesla.
In 2019, Rivian announced plans with Amazon to develop 100,000 electric delivery vans by 2025 as part of Amazon's Climate Pledge. The volume represents the largest order of EVs ever. Earlier this year, Amazon began testing Rivian's electric delivery vans in California.
This September, Rivian began delivering its first consumer vehicle, the R1T. The fully electric pickup truck sells at around $75,000. In December, the company plans on launching the R1S, its first passenger SUV for around $78,000. Both models offer various options for upgrades and customization. Even a $5000 pull-out kitchen and cooktop powered by the car's battery can be added.
Global Chip Shortarge Affecting Plans for Ramping Up Production
Rivian has accelerated its plan for ramping up production. But the complexity of debuting electric cars with different specs means production will take longer. The company already sold out its first batch of EVs set to build in 2021. And the ongoing chip shortage is causing big problems for the auto industry. Check out these top semiconductor stocks.
This could mean most prospective buyers won't receive their purchase before the first quarter of 2022. In the filing, Rivian warned…
We expect vehicle demand to outpace our production volumes in the near-term as we work to fulfill customer preorders and continue to add to our backlog of preorders.
The company stated it has over 48,000 preorders for its consumer vehicles in its filing. The company's factory in Illinois has an estimated output of 150,000 annual units. By the end of 2023, Rivian hopes to increase production to 200,000. In the S-1, Rivian states…
We expect to ramp vehicle production for our launch products at our Normal Factory and plan to expand our manufacturing footprint in Normal, Illinois as well as build additional domestic and international factories to support future growth.
The Rivian IPO may prove to be an exciting prospect for investors with a commitment to sustainable initiatives. Because the first models are entering the market, there is no reported revenue or profit for now. But there are already quite substantial net losses and expenses reported. Here are some figures…
Rivian IPO: Financial Information
Detailed financial information is in the Rivian IPO prospectus, allowing you to gain more insight into the company's finances. If you're in the market for RIVN stock, let's look at the details
Rivian highlights some key information for investors. The company's profit and loss statement and balance sheet data are summarized as follows…
Net Income (Loss): Rivian's net losses have more than doubled. For the 2019 fiscal year, the company recorded $526 million in net losses. Rivian's net losses skyrocketed to over $1 billion in 2020. Net losses are on track to keep increasing. For the six months ended June 2021, the company's reported net losses stood at $994 million.
Cash: Rivian's cash flows are increasing. The company recorded $2.3 billion in cash as of 2019. By 2020, cash rose to $3 billion. The company's cash is continuing to increase with $3.7 billion reported as of June 2021.
Operating Expenses: Rivian's operating expenses have increased. The company recorded $409 million in operating expenses for the 2019 year. By 2020, expenses rose to over $1 billion. The company's operating expenses are continuing to increase with $990 million reported for the six months ended in June.
Total Assets and Total Liabilities: Rivian's total assets and total liabilities have grown significantly. The company recorded $2.6 billion in total assets and $258 million in total liabilities as of December 2019. By June 2021, total assets rose to $6.5 billion and total liabilities rose to $907 million.
Rivian raised $2.5 billion after its most recent funding round in July led by Amazon, Ford and T. Rowe Price. Since 2019, the unicorn has raised around $10.5 billion in funding.
The company plans to use the proceeds to fund growth and expansion plans. So how much money can the Rivian IPO raise? Let's look at the filing details…
When Does Rivian IPO?
Rivian confidentially filed for a listing on August 25. The filing became public to investors on October 1. The company has not set terms for the offering yet. Check out this step-by-step guide to going public to learn more about the initial public offering process.
The company has not yet determined the number of common shares it will offer or the expected pricing for the IPO. Rivian will trade shares on the Nasdaq exchange under the ticker symbol RIVN.
The company has a $100 million placeholder for deal size as the exact offering details are unknown. Renaissance Capital reported the deal size could be estimated upwards of $6 billion. Assuming the rumor is true, the Rivian IPO could be one of the largest market debuts in recent years.
There is no confirmed Rivian IPO date, price range or share number. The offering is rumored to take place in mid-November. The company is planning to go public at a valuation as high as $70 to $80 billion, according to Bloomberg.
Morgan Stanley, Goldman Sachs and JP Morgan are leading the offering.
Rivian is expected to compete most closely with Tesla and Lucid Motors. For other EV investing opportunities, check out these Chinese EV stocks. You can also check out these EV charging station stocks.
As always, make sure to research before you invest. IPOs can be volatile for the first few months and share prices are constantly changing. But if IPO investing interests you, check out our top recent IPOs and our IPO calendar. We update the calendar daily to give you the latest news on upcoming and filed IPOs.
If you're looking for the latest investment opportunities, consider signing up for Liberty Through Wealth. This free e-letter is full of market insights from leading experts. You'll hear from bestselling author and investment expert Alexander Green. It's one of the easiest ways to stay on top of market news out there. All you need to do is enter your email address in the box below to get started.
---
Aimee Bohn graduated from the College of Business and Economics at Towson University. Her background in marketing research helps her uncover valuable trends. Over the past year, her primary focus has been researching IPOs and other trends.