The idea of a Rivian IPO excites investors. The electric vehicle (EV) market is growing and they want a piece of the action. While Tesla (Nasdaq: TSLA) is the leading electric automaker, the younger and less-known Rivian is making waves. The company recently revealed new vehicles and announced more funding. Now, investors are wondering if Rivian stock will follow soon.
The company hasn't yet manufactured its vehicles for retail. But big-name investors are putting money toward the project. And when someone like Jeff Bezos invests, people want to know why.
There are rumors a Rivian IPO will come before the end of 2021. If Rivian decides to go public, investors should be ready. Here's what we know so far…
Rivian IPO: The Business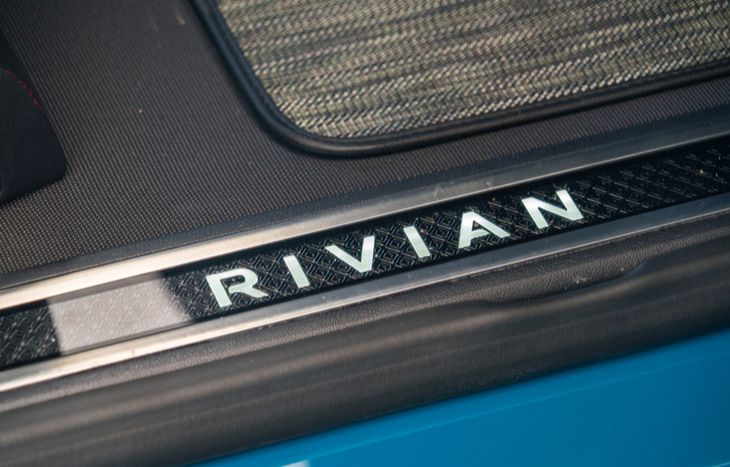 Robert "RJ" Scaringe founded Rivian in 2009. The company develops vehicles, products and services for sustainable transportation. Although Rivian is an American company based in Michigan, it also operates in the U.K. and British Columbia. Currently, the company is looking for a European factory location. This will expand its operations and help increase future production.
It's taken Rivian nearly a decade to introduce its two vehicles. It wasn't until 2018 the world got a glimpse at the Los Angeles Auto Show. And in 2020, customers were able to preorder. Rivian plans for an annual production capacity of 300,000 vehicles. However, it will build up to 40,000 in its first full year.
But despite the long waiting period, Rivian has an exciting mission:
We believe there is a more responsible way to explore the world and are determined to make the transition to sustainable transportation an exciting one. We designed our emissions-free Electric Adventure Vehicles to challenge what's possible.
And it's not just the "possible" the company is challenging. Analysts have referred to Rivian as the "Tesla killer." It's rapidly moving in on the EV market, and the company has some big names to back it up.
However, investors should ask…
Can Rivian Catch Up to Tesla?
Elon Musk's Tesla has led the charge to EVs. The company has sent promises of more eco-friendly cars for years. So it's no surprise the company's stock is hitting all-time highs.
Tesla is expanding across the globe. It got a new factory in China up and running in less than a year. And not only did the company have an impressive time frame, the Chinese government is fully backing Tesla's operations. In a push to green vehicles, China's government offers subsidies and exemption from the 10% purchase tax.
But Rivian is making strides in taking Tesla head-on. And it has major support.
Rivian Stock: Funding and Partnerships
Since 2019, Rivian raised almost $8 billion from investors…
$350 million from Cox Automotive
$500 million from Ford
$700 million from Amazon
$1.3 billion from funding round led by T. Rowe Price
$2.5 billion from funding round led by T. Rowe Price
$2.65 billion from funding round led by T. Rowe Price
Not only did Jeff Bezos invest in Rivian, he's already hired the company. After visiting the facilities and getting an exclusive look, Bezos ordered 100,000 delivery vans designed for Amazon (Nasdaq: AMZN). Rivian will build three different models with the capability to go around 150 miles on one charge.
The first vans are expected to hit the road in 2021. The companies expect 10,000 vans to be on the road by 2022. Bezos hopes to have all 100,000 by 2030.
In addition to Amazon, Ford (NYSE: F) is also working with Rivian. The two automakers are in agreement to develop a Ford-branded EV with Rivian's technology. This will be Rivian's fourth vehicle. And although Ford's exact amount of ownership is unknown, some analysts recommend Ford stock as a backdoor investment in Rivian.
As shown above, big-name investors are getting in on Rivian. That demonstrates the demand for EV companies. It also shows that a Rivian IPO could be successful. But many investors have one question about Rivian stock: can the company be more successful than Tesla?
Rivian IPO vs. Tesla IPO
Back in 2010. Tesla debuted on the public market. The company released 13.3 million shares of common stock for $17 apiece. The Tesla IPO raised $226 million for the company.
However, Tesla had already released products. Its first car was the Roadster in 2008. It had enough power to travel 224 miles when fully charged.
That's why analysts speculate a Rivian IPO will come soon. Rivian revealed its two EVs in November of 2018. And with the recent preorders, the company plans to get the vehicles out within the year.
Scaringe commented…
This is a critical year for us as we are launching the R1T, the R1S and the Amazon commercial delivery vehicles. The support and confidence of our investors enables us to remain focused on these launches while simultaneously scaling our business for our next stage of growth.
T. Rowe Price portfolio manager Joe Fath added…
We have been eagerly anticipating the arrival of 2021, and with it, the exhilaration of Rivian starting to deliver its revolutionary products to customers. It is invigorating for us to continue our journey with such a talented, mission-driven team building a robust organization for the long term.
The Vehicles
The two vehicles are the R1T pickup truck and the R1S SUV. Both EVs share some great characteristics…
Up to 400 miles or more per charge
From 0 to 60 in three seconds
Quad-motor system
Wading depth over three feet
Up to 750 HP
Max towing capability of 11,000 and 7,700 lbs., respectively
Compared with Tesla's truck, Rivian has kept a more traditional design. On the other hand, there's a large price gap between the two companies. Tesla's truck has a target price of $50,000 whereas Rivian's starts at $69,000.
But Rivian does have one advantage: it can learn from Tesla's mistakes. One example is Tesla's post-sales service. Tesla's cars are expensive to maintain, comparable with BMW. Scaringe mentioned that Rivian is "spending a huge amount of time solving service." Post-sales service is an important part of car ownership. It could be the difference in keeping customers in the future.
So in summary…
When Will Rivian IPO?
According to people familiar with the matter, the Rivian IPO date could be as early as September 2021. But it's possible it might not come until early 2022. Additionally, Rivian is hoping to go public with a valuation of $50 billion or more. The sources also claim Rivian is in talks with banks about its plan to go public.
If you want to learn about more investment opportunities, sign up for our daily e-letter Profit Trends. Our experts provide the best tips and trends so you can reach your financial goals. And if IPO investing interests you, check out our IPO Calendar to stay up-to-date on the market's latest offerings.
Investors won't know if an IPO will be successful until after the launch of Rivian's EVs. But if the product is everything the company claims, then investors should keep an eye out for a Rivian IPO.
---
Amber Deter has researched and written about initial public offerings (IPOs) over the last few years. After starting her college career studying accounting and business, Amber decided to focus on her love of writing. Now she's able to bring that experience to Investment U readers by providing in-depth research on IPO and investing opportunities.