A Quora IPO is on the way. The question-and-answer platform has reportedly kicked off preparations for a public debut.
So, when can investors expect the public debut?
Quora IPO: About the Business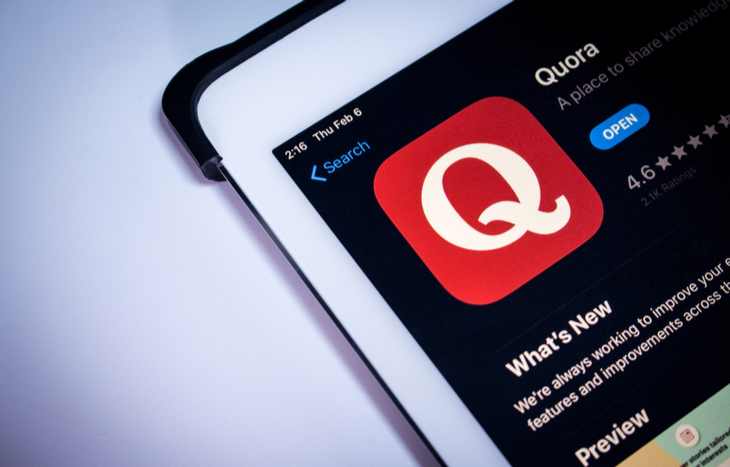 Quora is a knowledge-sharing platform. Adam D'Angelo and Charlie Cheever, two former Facebook executives, founded the company.
Quora is a valuable tool for anyone looking to find and share information. In other words, the platform is famous for matching questions with answers. Every question and answer originates from users. This means that every piece of content is created, edited and organized by users on the site.
The company has dominated search engines since its 2009 inception. Moreover, Quora goes a step further than other research tools. We know that users post questions and get responses. However, Quora aims to provide the highest-quality questions and answers. To do this, the platform allows other users to upvote and downvote answers. And the best, or most popular, responses get voted up.
You'll likely find Quora at the top of your search results if you search for an answer to a question online. It's no secret that Quora has become a well-known brand. As a result, the company could hold a $4 billion valuation after the Quora IPO.
Quora IPO Could Land Company $4 Billion Valuation
Quora is privately held right now. The company has raised at least $286 million in funding. However, the company hasn't raised any money since May 2019. At the time, Quora held a valuation of around $2 billion. And the figures could double in a public debut.
Quora could see a valuation of more than $4 billion in the IPO, according to Reuters. In other words, the company's valuation would have more than doubled from its previous private funding round. Although taking into account the rise in social media stocks, the increased valuation of Quora seems reasonable.
Quora's last publicly reported revenue was $20 million in 2018. And that put the company's $2 billion valuation at 100 times its revenue. That's a steep valuation but it might be justified by the growth. So, how does the company make money?
How Does Quora Make Money?
Quora makes money primarily through advertising. The company, however, has had trouble generating revenue beyond advertisements. CEO Adam D'Angelo said that ad revenue "is not enough to meaningfully support creators."
To combat this, the company released a subscription feature in August 2021. It allows content creators to charge a fee for content. In a 2021 blog post, Quora's CEO Adam D'Angelo said…
Today, we are launching two new subscription options for creators. We want to make sharing knowledge more financially sustainable for creators, which will in turn let them share more knowledge with the world.

This is important to our mission, since even though many people are motivated and able to spend their time writing on Quora just to share their knowledge, many others could share much more with financial justification to do so.

We want to empower as many people as possible to share their knowledge, whether they are intrinsically or extrinsically motivated, since we believe the vast majority of knowledge in the world is still not available on the internet.
The CEO added that the market has "evolved" and users are willing to pay for valuable content. Furthermore, enabling monetization for users could encourage knowledge sharing and help generate company revenue.
In the announcement, D'Angelo noted that the company is on track to become cash flow positive from ad revenue alone. And the company is taking a huge financial leap with the Quora IPO. Here are the filing details…
Quora IPO Filing Details
Quora has reportedly kicked off preparations for an IPO in early 2022, according to people familiar with the matter. The sources say that Quora has held talks in recent days to hire investment bankers and lawyers to prepare for its debut in New York.
The sources requested anonymity due to the confidentiality of the Quora IPO preparations. Additionally, they noted that the timing and size of the IPO would depend on market conditions.
There is no additional information at this time. However, potential investors should start preparing for the company to make further announcements.
Plans for the Quora IPO are still in their infancy. The company is still in the initial stages of going public. However, stay tuned for the latest updates on Quora stock. You can learn more about the IPO process in this step-by-step guide to going public.
As always, make sure to research before you invest. IPOs can be volatile for the first few months and share prices are constantly changing.
Furthermore, if IPO investing interests you, check out our top recent IPOs and our IPO calendar. We update the calendar daily to give you the latest news on upcoming and filed IPOs.
---