Crypto
Ripple Price Prediction
Securities and Exchange Commission (SEC) intervention is rarely a positive indicator when it comes to evaluating a potential investment… especially when it results in a trading halt. Yet, a pending SEC lawsuit involving Ripple hasn't dampened investor sentiment about this cryptocurrency. In fact, many are eager to get their hands on XRP once it begins trading again. 
Why are investors bullish on a coin that's suspended? What's a hypothetical Ripple price prediction for 2022? Looking ahead starts with understanding the recent interest in this coin and the obstacles it still needs to overcome to grow. If you're interested in Ripple and thinking about diving in pending a potential run-up, here's what you need to know.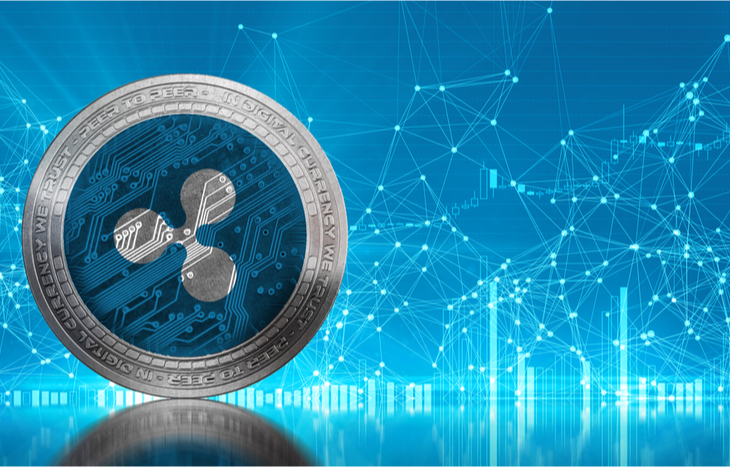 What is Ripple?
Ripple is the exchange token used on RippleNet, a decentralized payment network designed to facilitate transactions all around the world. RippleNet is akin to the traditional SWIFT payment network between global banks, with the caveat that it utilizes blockchain technology to improve expedience, transparency and security. 
As a cryptocurrency, Ripple is somewhat unique. It's a pre-mined coin designed to be an intermediary for fiat currencies around the world. The idea is simple: convert fiat currency to Ripple, facilitate an incredibly efficient exchange, then convert Ripple to the landed fiat currency. The conversion and transfer process also works for other cryptocurrencies, such as Litecoin or Bitcoin. 
Ripple's advantage in the crypto space is in facilitation. Because the coin itself (XRP) serves as a medium of exchange and is intrinsically tied to RippleNet, it's in a prime position to handle any and all monetary transactions on the blockchain. As the Metaverse grows and decentralized currency becomes a standard, Ripple will have an important role in ensuring liquidity and compatibility.
Ripple Performance As of Late
Despite some ups and downs in 2022, Ripple's price has remained near-flat in the first quarter. This is largely due to the fact that most brokers have suspended trading of the coin. Ripple opened the year at $0.82 and has hovered between $0.77 and $0.86 over the past 30 days. Like most other cryptocurrencies, Ripple lost significant market cap in January amidst the crypto flash crash; however, it recovered very quickly in February and has remained stable ever since. 
Some exchanges still allow investors to buy Ripple, but trading has halted across the spectrum of crypto brokers. While trading is suspended pending the culmination of the SEC investigation, holders are eagerly awaiting an opportunity to resume. It's this eagerness that makes Ripple a prime candidate for price appreciation in the coming year. That is, pending the outcome of SEC intervention. 
Key Drivers and Chief Obstacles for Ripple
Far and away the biggest obstacle facing Ripple in 2022 is the SEC lawsuit. In a nutshell, the SEC alleges that Ripple Labs (creators of the coin), launched and distributed XRP as an unauthorized security. Ripple Labs argues that XRP was not offered as a security. Moreover, that the company didn't receive fair notice of noncompliance from the SEC. The legal battle has lasted for the better part of 18 months. 
The good news for Ripple holders and prospective investors is that the lawsuit is likely to culminate in 2022. Should the culmination re-trigger trading in open markets, Ripple could find itself with an influx of investors that drive the price up quickly. 
In the midst of its lawsuit, Ripple Labs hasn't wasted any time in planning for the future. The creators have continued to forge partnerships that expand its RippleNet platform. According to a statement by the company, "the number of transactions on RippleNet more than doubled, with a payment volume run rate of over $10bn." This includes a surge in global payments, stemming from Asia-Pacific and Middle East regions. 
Another bullish tidbit: Ripple Labs has been a major buyer of XRP over the past two quarters. The company appears to be making preparations for open market trading once again. 
How High Will Ripple Rise in 2022?
Any Ripple price prediction must consider the outcome of the SEC lawsuit. Harsh penalties in favor of the SEC could drive the price down and scare away investors once the coin begins to trade openly again. Conversely, a ruling in favor of Ripple Labs is likely to open the floodgates to eager investors who see the coin's potential. 
The bullish case for XRP in 2022 is $1.50. This puts Ripple's market capitalization around $72 billion, good for fifth in current crypto market caps. To achieve this, Ripple will need to find support at $1: something it has yet to accomplish, having retreated from this threshold three times in the past year. Active trading on good news can and should help establish this support. 
The bearish case for Ripple? The coin could fall as far as $0.25-$0.30, retracing to levels maintained in 2020. That's just prior to SEC action and the trading halt. It's worth noting that Ripple's chart currently shows a descending wedge. Specifically, this signals support at $0.60—enough to cushion the fallout from an unfavorable SEC ruling. 
Is Now a Good Time to Invest in Ripple?
Investors confident in the stability and growth of the crypto market as a whole can feel confident opening a position in Ripple at its current price. The coin has already shown its potential to peak above the $1 and as it trends back toward that threshold, it could find significant support once it crosses. At the current juncture, Ripple's price prediction is a positive one. 
As it resolves its legal troubles and the company recommits to the success of its crypto offering, the foundation is set for strong performance in the coming years. In a boom-or-bust crypto market, Ripple could be the slow-and-steady coin that wins the race.
---