Local solar panel installation companies have knocked on the doors of many suburban neighborhoods selling solar panels in recent years. In addition, metal roofing has become more popular recently. With solar roof panels and metal roofing going up around the U.S. so rapidly, readers may be interested in roofing stocks.
A family's biggest investment is typically their homes. The roof over their head provides shelter from rain, snow, and hail. Equally as important, the roof keeps rain and snow from damaging the home's inside. If a damaged roof lets water damage the inside, the cost to repair the damage could be enormous.
That is why a family needs to ensure their roof is updated and replaced before further damage happens. That is why roofing stocks tend to see fewer ups and downs than traditional construction stocks or home builder stocks.
Metal roofing has also become more acceptable to homeowners. Though homeowners have replaced their roofs with shingles in the past, more are going with metal nowadays. The reason is simple, metal lasts longer than shingles. Therefore, homeowners won't have to replace their roofs as often with metal.
On the other hand, solar panels give homeowners the chance to make up the cost of the solar panels with lower electricity bills. Solar energy is gathered by solar panels and then converted into electricity used in the home. Green-minded homeowners have been installing them at a fever pitch around the U.S. Investors paying so much attention to new roofing choices may be looking to take advantage of the trend.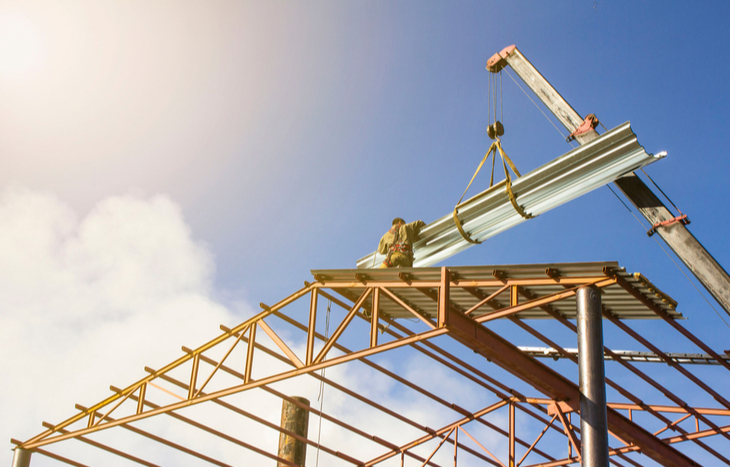 Best Roofing Stocks
A recent article shows that new homes make up over a third of homes for sale. As the number of existing homes for sale has fallen, the number of new homes should increase. Data from the National Association of Home Builders shows that the number of permits to build homes has also risen in 2022.
If these trends continue, it could mean great things for the new home construction market. Of course, all the new homes need roofs. Because roofs need to be replaced, roofing stocks tend to have fewer ups and downs than homebuilding stocks. Therefore, investors may be looking for the best roofing stocks. If you're one of those investors, below is one roofing stock to consider.
Owens Corning (NYSE: OC)
Owens Corning has three business segments, its largest is roofing. The roofing segment makes shingles and roofing material used in new homes and replacement roofs. Owens Corning's roofing segment is its largest and highest-margin segment. Another segment is insulation, which readers may recognize from its Pink Panther ads. The company's third segment is composite materials. Following a great year in 2021, Owens Corning's stock is trading at a P/E ratio of just over 9x and a dividend yield of 1.5%.
Though there is a trend toward metal roofing, homeowners usually buy it to replace existing roofing. New homes typically use shingles. Homeowners can add solar panels if they choose to add them to a shingle or metal roof.
Solar and Metal Roofing Stocks
Solar panels have been popping up on the roofs of homes worldwide. Keep in mind that many different solar energy stocks do different things. Some make parts for solar panels, some make energy storage, and some make the panels that go on roofs.
With the growing popularity of home solar energy, all the different solar energy stocks may have huge growth ahead of them. If you're specifically looking for solar roofing stocks, check out this one listed below.
First Solar (Nasdaq: FSLR)
The problem with traditional silicon solar panels is that they don't operate well in low light. In addition, they don't work well in scorching temperatures either. First Solar has solved the problem by using advanced thin-film photovoltaic (PV) panels. On top of operating better in poor conditions, First Solar's panels stay cleaner and shed snow better than other panels.
Though there are a growing number of metal roofs today, metal roofs still only make a small amount of total roofing. That could mean that metal roofing has a long growth runway if the trend continues. If you think that the value of metal roofs will continue to attract more and more buyers, below is one metal roofing stock to consider.
Builders FirstSource (NYSE: BLDR)
Builders FirstSource is a distributor of metal roofing and other building materials. The company uses its large scale to buy building materials at volume discounts and sell them to local builders.
Risks
Though roofing stocks, especially solar, have grown sales rapidly, they come with risks. Like any other stock, investors should carefully consider each risk before investing. Risks that are ignored or not seen can wreak havoc on your account when you thought you had a winner.
The great thing about solar panels is that their price has come down dramatically in recent years. That means that homeowners can afford to install solar panels on their roofs more easily. In addition, lower the lower cost means that it is easier to recoup the cost by using the electricity in homes instead of buying it from the electricity grid.
One of the reasons that costs have come down is competition. In the early years, solar panels were growing. When opportunistic folks say the growth, they want a part of the action, and new solar panel companies began to pop up. When more companies fight for customers, they reduce the price to get homeowners to buy their solar panels.
Lower prices may be great for homeowners, but it is not so great for solar panel companies. When solar panel prices fall, so do profits. Sometimes, profits can even be negative. The risk is that if sales of solar panels continue to grow and bring new companies, profits may not grow or remain negative.
Investors in stocks with low profits risk that the stock will fall and lose money. If profits stay negative for too long, the stock may risk going bankrupt. Even if a company does not go bankrupt, investors expect profits to rise over time. Make sure you think about risk before investing in any stock.
---