The green energy revolution is coming and investors are clamoring to capitalize on it before it arrives. The simplest and most accessible exposure comes in the form of solar energy. In fact, there is no shortage of solar startups and even well-established solar companies ready to ramp up as infrastructure investments shift toward more sustainable ends. The solar energy stock list of viable investments is growing by the year. 
However, investors looking toward a solar future need to think about what types of companies they're interested in. Where in the value stream do you believe there's the most potential for return on solar energy solutions? Once you've identified that segment, it's also important to thoroughly vet each company in that space. Specifically, it's best to start by looking at companies getting the most traction in their respective segments. 
If you're looking to make an investment in solar, take a peek at our solar energy stock lists below. We've identified a range of companies, including several that appear undervalued, a few primed for growth and a handful of struggling companies with long-term potential.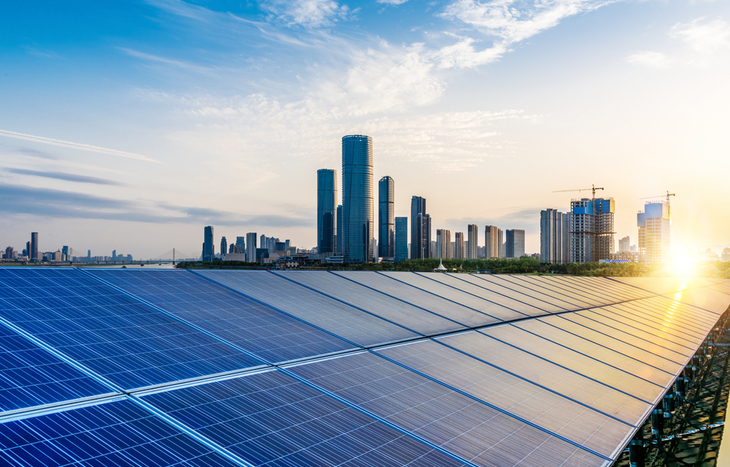 3 Value Solar Energy Stocks
For investors seeking value within the burgeoning solar sector, it's important to look closely at fundamental valuation metrics. The following companies have enticing price-to-earnings (P/E), price-to-book (P/B) and price-to-sales (P/S) ratios, as well as healthy sales figures and margins to propel them forward as they continue to grow. If you're looking for a value, start with these under-appreciated companies:
Daqo New Energy Corp. (NYSE: DQ).

Not only is Daqo New Energy Corp. profitable where many other solar enterprises aren't, the company has extremely strong fundamentals that make it appealing vs. its current valuation. With a

P/E of 4.42 on sales of $1.68B and income of $749M

, the company has plenty of room to run.

First Solar Inc. (NASDAQ: FSLR).

With a market cap of nearly $9B, First Solar Inc. is among the largest pure-play solar companies. It's low P/B of 1.50 signals an attractive buy, especially on rising sales and a 20% operating margin. 

Canadian Solar Inc. (NASDAQ: CSIQ).

An attractive Forward P/E of 11.12 and P/C of 2.58 has many value investors looking at Canadian Solar Inc. While poor margins (<5%) are a blemish on its fundamentals, the company has

strong leadership and great sales

that signal a positive future. 
3 Solar Energy Growth Stocks
Growth investors will have no trouble finding opportunities in the solar sector. There are companies at every point in the value stream rife with potential to grow on the heels of increasing demand for sustainable energy solutions. These companies have growing sales, low debt load and room to run. Here are a few growth stock options to consider in 2022 and beyond:
SolarEdge Technologies Inc. (NASDAQ: SEDG).

SolarEdge Technologies Inc. has been on a run since 2019, gaining more than 800% over the last three years. The company has exceptional momentum, with a low debt load and strong sales growth powering it. It's one to watch in 2022 and beyond.  

JinkoSolar Holding Co. Ltd. (NYSE: JKS).

Global market exposure

makes the runway for JinkoSolar Holding Co. Ltd. An enticing growth stock prospect. The company has good sales growth and gross margins, but has work to do in bringing down its debt load and improving its profit margins. It's a stock primed to reward buy-and-hold investors.

Enphase Energy Inc. (NASDAQ: ENPH).

Enphase Energy Inc. is a company primed to succeed through partnerships: a tactic that it's already proving successful in. As the solar infrastructure grid comes online, this company stands poised to help power it through battery technology and systems software. Investors can take solace in the company's good gross margins and growing sales as they try to swallow its astronomical P/E.
3 Struggling Solar Energy Stocks in 2022
The flipside of struggle is opportunity, so long as a company is able to right-size itself and fall back on strong fundamentals. As some solar companies struggle to set their feet in an uncertain and expanding industry, the following players could grow significantly once they establish a strong foundation:
Sunrun Inc. (NASDAQ: RUN).

This stock has suffered mightily over the past six months on poor earnings and

turbulence in its largest market

, California. This, coupled with struggles maintaining profitability, have depressed the stock. Yet, at a P/B of 1.11 and a simple moving average that's on the rise, it's worth looking at RUN in 2022.

Sunlight Financial Holdings (NYSE: SUNL).

Sunlight Financial Holdings has traded sideways for the past six months, struggling to break resistance at $6.15. The company occupies a niche market space in solar financing, but sits in an industry that's heavily reliant on both upstream producers and downstream demand. Nevertheless, its unique position in the market makes it an interesting play—especially at a depressed price. 

SunPower Corp. (NASDAQ: SPWR).

As it goes through a restructure, SunPower Corp. is consolidating to focus more on residential solar panels: namely, selling and installing. Selling off its commercial and industrial business lines will give the company more flexibility and room to grow, and it already has a

sizeable backlog in 2022

. 
Capitalize on the Solar Future
Solar energy stands poised to become a cornerstone of sustainable infrastructure. Already, there's a burgeoning industry of solar energy companies vying for dominance across all phases of the technology, from conception to production. Investors seeking to capitalize on the inevitability of a solar future are sure to find value in these companies. Whether you're prospecting for value, enticed by growth stocks or see opportunity in short-term struggles, solar offers tremendous potential for ROI.
---